al Fresco Fall Welcome Festival
Thursday, August 25, 2022 | 11AM - 2 PM
Music Building Lawn & Walkway
Don't miss "al Fresco," our annual Fall welcome festival featuring free food, giveaways, and tons of campus and community resources tables! This year's festival features live performances by  Citizen Flannel and Jack Pavlina  (brought to you by Associated Students, Inc.) and DJ Quam in the mix! Performances begin at 11:30 AM. Food service begins at 11 AM - until it's gone! 
Due to the potential for crowding at info tables and the stage area, masks are encouraged at this outdoor event, to help prevent the spread of COVID-19. For more information, visit the yellow tab at the top of this webpage.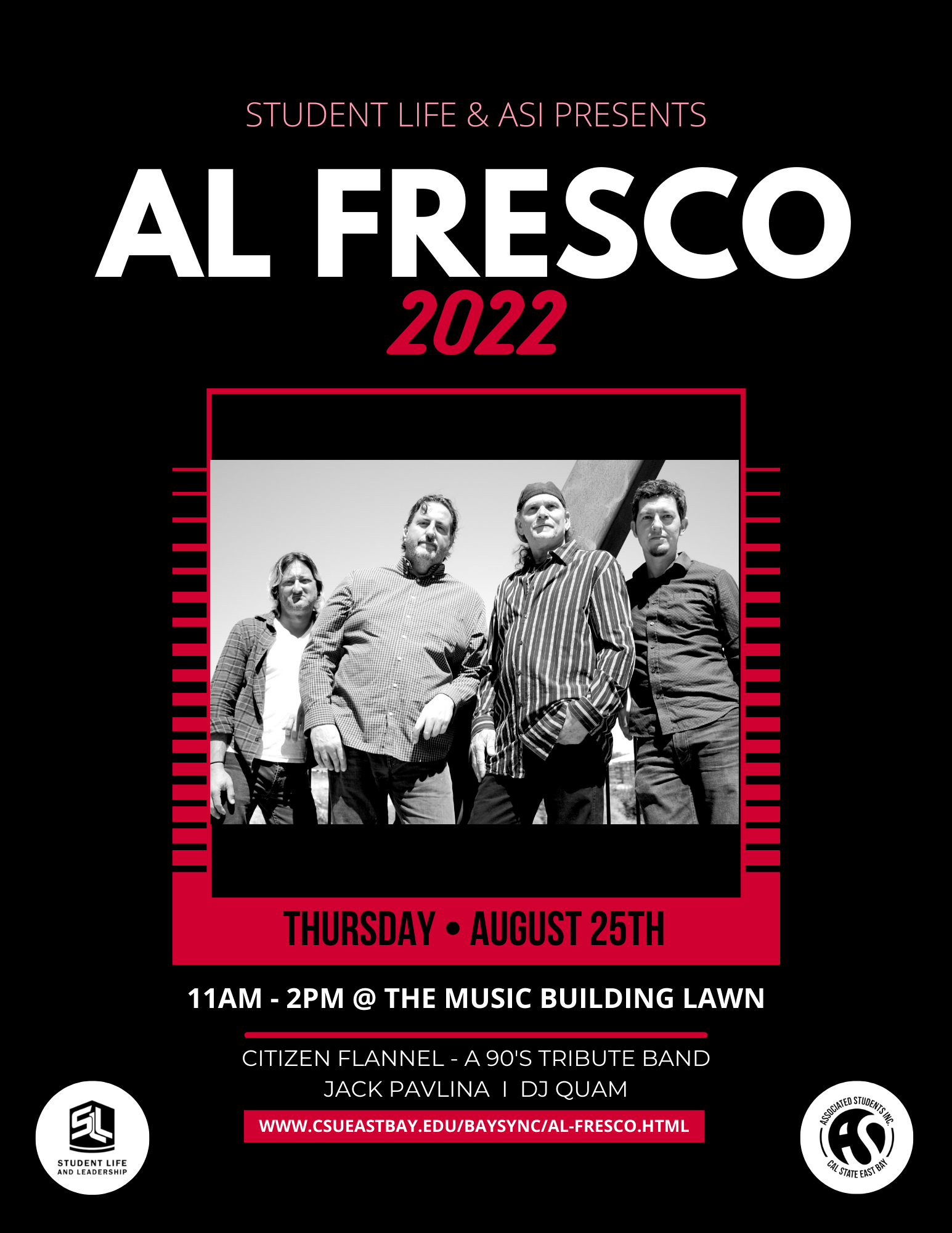 Please contact studentlife@csueastbay.edu with any questions regarding this event. For individuals requiring accommodations for this event, please contact Accessibility Services at as@csueastbay.edu or by phone at (510) 885-3868.
Table Reservations & Volunteer Information
Showcase your student club/organization, department, or program!
Campus departments and services, student clubs and organizations, and community partners are invited to sign up to host a table at al Fresco 2022! Table space is limited and will be assigned on a first-come, first-served basis. Due to space limitations, only one table reservation per department/organization/agency will be approved. RSVP HERE! 
Volunteers Needed!
Thank you for your interest in volunteering for al Fresco 2022! This year's event will take place on Thursday, August 25, 2022, at the A&E/MB Walkways from 11 AM -  2 PM. 
This event cannot happen without the help of our campus community. Every year we need over 50 volunteers to set up, clean up, assist with the entertainment stage, serve food, direct people, and fulfill many other volunteer tasks. This is a great opportunity for students, staff, and faculty to meet new people and greet our new and returning students! Please help us by volunteering your time between the hours of 10AM -3PM. Click here to sign up as an al Fresco Volunteer! 
Email studentlife@csueastbay.edu with questions or concerns.