Michael Massey
Assistant Professor
E-mail:
Phone:

(510) 885-3439
Office:

North Science building, room 352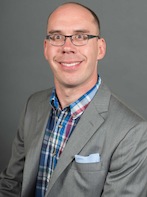 Michael Massey is an assistant professor in the Department of Earth and Environmental Sciences. He teaches primarily Environmental Science (ENSC) courses, and his research focuses on soil and water chemistry.
Professional Focus
Mike's professional focus is natural science and environmental science education and research. An understanding of the natural world and natural/human processes that alter the environment is crucial for 21st century citizens and scientists. Aside from the classroom, teaching laboratory, and field, Mike's disciplinary research specialty is the environmental chemistry of nutrients and contaminants in soil. He uses spectroscopy (measuring how light interacts with matter) to study natural processes and mechanisms. In particular, Mike focuses on x-ray spectroscopy using instruments ranging from handheld x-ray analyzers all the way to large particle accelerators (e.g., the Stanford Synchrotron Radiation Lightsource at the SLAC National Accelerator Laboratory).
Education
Ph.D., Stanford University
M.S., Colorado State University
B.A., Stanford University
Courses
Fall Quarter 2016

| Course # | Sec | Course Title | Days | From | To | Location | Campus | Textbook Info |
| --- | --- | --- | --- | --- | --- | --- | --- | --- |
| ENSC 2801 | 01 | Global Environment Problems | TTH | 10:00AM | 11:50AM | SC-S143 | Hayward Campus | View Books |
| ENSC 4140 | 01 | Hazardous Waste Management | MW | 10:00AM | 11:50AM | SC-N346 | Hayward Campus | View Books |