Pat Klobas Faculty Profile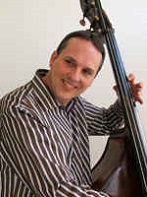 Pat  Klobas
Lecturer, Double Bass
Pat Klobas joined the California State University East Bay Music Department faculty as Lecturer of Classical and Jazz Double Bass in the Fall of 2001 and continues to this day. Also at Cal State East Bay Mr. Klobas has taught "History of Rock and Roll" on line for the years 2016 and 2017 and as a classroom lecturer Pat taught "What to Listen for in Music" which covered Gregorian Chant through the Beatles, winter and spring 2018. In addition to Cal State University, Pat teaches for the Oakland East Bay Symphony MUSE program, is the Oakland Youth Orchestra bass section coach, teaches for the San Francisco Symphony Education Department at the Golden Gate Bass Camp and has an active private studio.


A highly skilled bassist and teacher in the jazz and classical fields, Pat is in demand as a performer, teacher, producer, composer and clinician. Pat started his professional career in his teens as an electric bassist performing rock music around the Portland, Oregon area. At the age of fourteen, Pat's band was the opening act for the popular group Steppenwolf. As a high school senior, Pat received the Rice Music Award of Achievement from Beaverton High School. After high school Mr. Klobas relocated to San Francisco to start his classical music study of double bass. Mr. Klobas has studied double bass with Stephen Tramontozzi, Charles Siani, Shinji Eshima, Joe Lescher, Herman Jobelman and Charles Chandler. Pat's jazz teachers/influences include Rufus Reid, Richard Davis, John Clayton, John Patitucci and Ray Brown.

In the field of jazz and popular music, Mr. Klobas is known in the San Francisco Bay Area as a first call session bassist. Pat has shared the stage with jazz/R&B artists Mary Wilson of the Supremes, Rosemary Clooney, Wycliff Gordon, Michael Feinstein, Bruce Forman, Greg Osby, Steve Turrie, Marty Morrell and the American Jazz Philharmonic. His numerous Latin music shows and recordings include performances with Indian Master Tabla percussionist Zakir Hussain, Latin percussionist Pete Escovedo and steel drum virtuoso Andy Narell. Mr. Klobas performs regularly with the San Francisco Symphony Pops Orchestra rhythm section as well as the California Symphony Pops and the Sun Valley Summer Symphony Pops. Pat has his own band called the Klobas/Kesecker Ensemble performing original compositions and arrangements throughout the Bay Area.

As a classical bassist, Mr. Klobas performs as acting assistant principal bassist with the Marin Symphony, and as section bassist in the Sun Valley Summer Symphony. He is a substitute for the San Francisco Opera, San Francisco Ballet, California Symphony, Oakland Symphony, Symphony Silicon Valley, The Skywalker Symphony, Merola Opera, the Turtle Island String Quartet and Quartet San Francisco.

Performing with Broadway/Opera stars and musical theater productions are part of Pat's numerous musical experiences. Some of Pat's favorites shows were with Kristin Chenoweth, Idena Menzel (both stars of "Wicked"), Opera stars Jessye Norman, The Three Tenors (Pavoratti, Domingo, Carreras), American Songbook master Michael Feinstein, Brian Stokes Mitchell, Elaine Stritch, Bob Hope, the Shorenstein Nederlander productions of the world premiere of White Christmas. Other SHN shows include Pippin', The Producers with Martin Short and Jason Alexander, Porgy and Bess, Les Misérables, 42nd Street, West Side Story, Ragtime, and many others.

As a recording artist Pat Klobas' recent list of credits include Star Wars Trilogy with John Williams conducting (Grammy® nominated), Linda Ronstadt Winter Light, No Gravity Klobas/Kesecker Ensemble, recordings for Turtle Island String Quartet, Randy Newman, Kitaro, and the San Francisco Chamber Jazz Quartet. Skywalker Symphony movie soundtracks include Spy Kids, Predator ll, Ricochet, Soap Dish, Why Charlie Brown, Why? and many others.
Masters of Music Degree in Performance, San Francisco Conservatory of Music
Bachelor of Music in Performance, San Francisco State University
Spring Semester 2023

| Course # | Sec | Course Title | Days | From | To | Location | Campus |
| --- | --- | --- | --- | --- | --- | --- | --- |
| MUS 663A | 03 | Grad. Applied: Jazz Strings | ARR | | | ARR | Hayward Campus |
| MUS 663A | 04 | Grad. Applied: Jazz Strings | ARR | | | ARR | Hayward Campus |