Nicholas Tocco Faculty Profile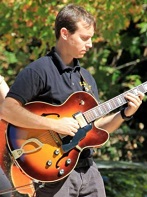 Nicholas  Tocco
Lecturer, Jazz Guitar
Nicholas Tocco began his musical journey in his hometown of San Diego at the age of three and a half, when he began piano lessons. At the age of seventeen Nick decided to focus his efforts on a new instrument, the guitar. While working towards a Mathematics degree from University of California, Santa Barbara, Nick also performed with many groups such as the Santa Barbara City College Jazz Ensemble, the UCSB Jazz Ensemble, and the UCSB Classical Guitar Ensemble. After graduating from the Mathematics program, Nick decided that he wanted to pursue a career in music.


Nick was accepted into the Graduate Program in Jazz Studies at San Diego State University..  It was here that he was able to explore in a deep way all areas of music including arranging, composition, conducting, pedagogy, and performance.  Nick was the guitarist in the San Diego State Jazz Ensemble, and also a founding member of the original jazz quintet Frame of Reference.  He was invited to teach at the National Guitar Workshop (Los Angeles Branch) in both 2008 and 2009.

After graduating from the Master's Degree program., Nick stayed busy as both a teacher and performer.  He taught both private guitar and piano lessons to over 50 students, working with all ages and all musical styles.  This experience allowed Nick to hone his teaching skills and learn how to become a patient, efficient, and effective instructor.  

In 2011 Nick made a decision to further commit himself to Music Education and to pursue a teaching credential from San Diego State University. Since graduating in 2012, he has worked as both a regular and long-term substitute music teacher at the elementary, middle, and high school grade levels working with band, orchestra, and choir students.  Nick has been Instrumental Music Director at Hayward High since August 2013.  He currently works with the Jazz Band, the Concert/Marching Band, Piano Class, Guitar Class, and Orchestra.  He firmly believes that music has the power to change and enrich the lives of his students, and is excited about being at a school that values music education.  Nick is looking forward to carrying on the music program's strong traditions, its sense of pride, and its commitment to excellence. Nick joined the faculty of California State University, East Bay as instructor of jazz guitar in 2015.