2021-2022 Radical Educator Speakers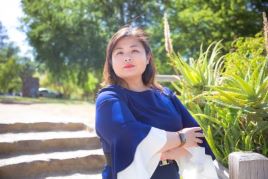 Diana Recouvreur
Diana Recouvreur received her Ph.D. in school organization and education policy from the University of California, Davis. She has spent time working with and supporting students in various carceral spaces (from juvenile hall to prison). In 2016-2017, as part of a legislative mandate from California's 2015 Budget Act, she helped conduct the evaluation of Career and Technical Education programs in California state prisons. She also spent multiple years working in health policy research for California Health Policy Strategies on the Reentry Health Policy Project, which sought to address the medical and behavioral health needs of Californians transitioning back into communities, post-incarceration. Her other work has included volunteering with the Sacramento Area Youth Speaks program as an annual summit Crew Leader (2013-2018) and UC Davis's chapter of Get on the Bus.
 Her research looks at California's corrections to education pipeline and how community colleges are supporting students as they return to their communities from jails and prisons. Through the lens of global sustainable development, she examines the complex issues at the intersections of race, poverty, criminal justice, education, and health. She believes that there needs to be continued and increased investments in the community structures that serve those with unmet needs, and especially the institutions that can increase the social mobility of those living in poverty.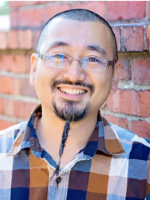 Kazu Haga
Born in Japan, Kazu (he/him) has been engaged in social change work since participating in the Interfaith Pilgrimage of the Middle Passage at the age of 17. He would go onto spend one-year living in Buddhist monasteries throughout South Asia studying the relationship between nonviolence and Buddhist dharma. He has over 20 years of experience in nonviolence, restorative justice, training and organizing and has been trained by elders such as Dr. Bernard Lafayette and Rev. James Lawson.

He spent over 10 years working in social justice philanthropy while being directly involved in many movements. He has been a Kingian Nonviolence trainer since 2009, is a Core Member of the Ahimsa Collective and is the author of Healing Resistance: A Radically Different Response to Harm. He is a trainer at the East Point Peace Academy.
David Stovall
David Stovall, Ph.D. is a professor in the department of Black Studies and in the department of Criminology, Law & Justice at the University of Illinois at Chicago (UIC).  His scholarship investigates three areas 1) Critical Race Theory, 2) the relationship between housing and education, and 3) the intersection of race, place and school. In the attempt to bring theory to action, he works with community organizations and schools to address issues of equity, justice and abolishing the school/prison nexus.  His work led him to become a member of the design team for the Greater Lawndale/Little Village School for Social Justice (SOJO), which opened in the Fall of 2005. Furthering his work with communities, students, and teachers, his work manifests itself in his involvement with the Peoples Education Movement, a collection of classroom teachers, community members, students and university professors in Chicago, Los Angeles and the San Francisco Bay Area who engage in collaborative community projects centered in creating relevant curriculum.  In addition to his duties and responsibilities as a professor at UIC, he also served as a volunteer social studies teacher at the Greater Lawndale/Little Village School for Social Justice from 2005-2018.