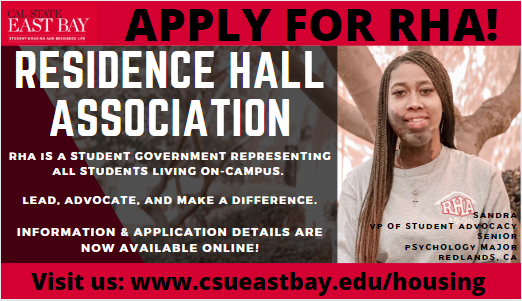 Resident Hall Association Selection Process
Student Housing and Residence Life is excited to announce that we are currently in the process of hiring for the 2020-2021 Residence Hall Association (RHA) Executive Board. We encourage those that are interested to review the RHA selection information included below. If you have any questions regarding the process, please contact Shelley Marshall, at shelley.marshall@csueastbay.edu.
Step by Step Guide for Applying For RHA
Step 1:
Review the minimum application requirements:

Candidates must be currently enrolled at Cal State East Bay and have lived in a residential setting for a full academic year prior to Fall 2021.
Candidates must enroll for both the Fall 2020 and Spring 2021 semesters and living on-campus
Candidates must have a minimum cumulative GPA of 2.5 at the time of application and maintain this GPA throughout the selection process and start of the RA position.
Candidates must be in good conduct standing. Good conduct standing is defined as not being found responsible for a policy violation during the semester of application or being on probation. Good conduct standing must be maintained throughout the entire selection process and start of the RA position.
Review the Duties for each RHA Executive Board Position you are interested in Position Duties Document.
Step 2:
Attend an information session to learn more about the RHA Executive Board positions and selection process.
Wednesday, January 15, 2020, from 7 - 8 pm @ Virtual Chat
Wednesday, January 22, 2020, from 7 - 8 pm at University Village Den
Step 3:
Complete an online application by Sunday, February 2, 2020. Please note that the application includes completion of a bid submission so you will want to leave yourself plenty of time to complete the application.  
Your Bid should include the following:
Title Page
Letter of Introduction
Resume
Experiences/Previous Involvements
One Letter of Recommendation
Below are some sample bids to use as a guide.
Sample Bid 1: Click Here
Sample Bid 2: Click Here
Sample Bid 3: Click Here
Step 4:
Applications will be screened to determine who will move forward to the interview process. This includes the completion of a GPA and conduct check as well as a review of the application materials.
Step 5:
After application screening, all candidates who are moved forward in the selection process will be asked to participate in the interview portion of the process. Interviews will take place Wednesday, February 12, 2020, through Friday, February 14, 2020. More information will be provided about this process to those who are advanced.
Step 6:
Those who are moved forward in the process should expect to receive a conditional offer letter via email the week of February 17, 2020. You will need to respond to this email to officially accept your offer in order to begin the on-boarding process. Those who are not selected or are offered a role as an alternate will also receive letters at this time.
Step 7:
Offers are conditional pending completion of a livescan background check. All candidates who accept their conditional offer will be asked to complete a livescan. You will be sent more details regarding how and when to complete the livescan after conditional offers are made. Please note you will not be charged to complete this livescan.
Step 8:
Once livescans are completed, you will also need to complete a hiring packet, which includes completion of I-9 Employment Verification paperwork for payroll. Thus it is recommended that you gather all documents needed for completion of this paperwork in advance so it does not delay your on-boarding process. For more information about documents you may need, please refer to the following link: https://www.uscis.gov/i-9-central/acceptable-documents/acceptable-documents
Step 9:
All Residence Hall Association Executive Board Members are required to attend transitional meetings and complete position shadowing with current board members in the Spring semester. This included an RHA transition Outing on April 11 and meeting the week of April 17-24.