Early Bird Application Process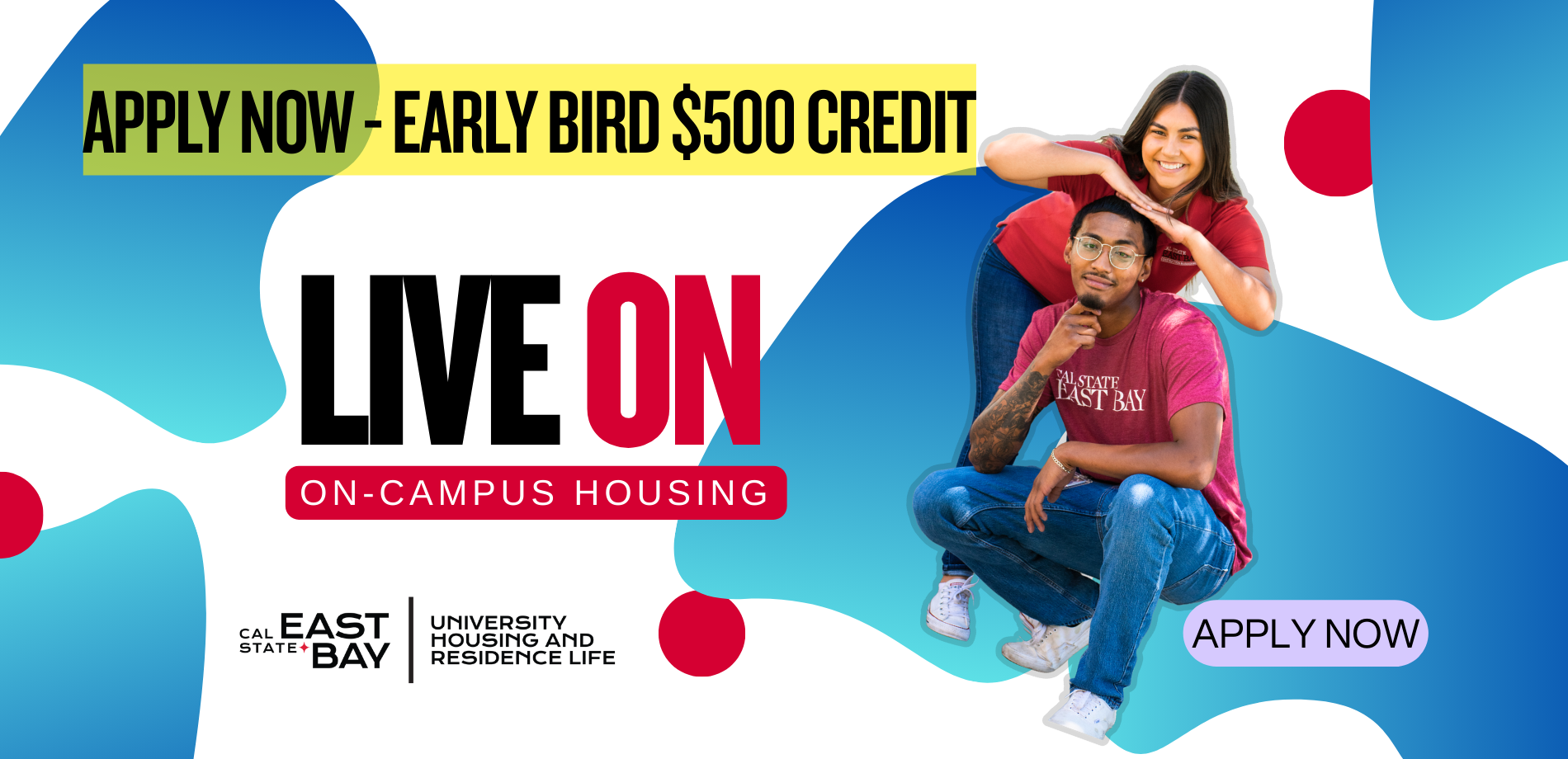 Continue your journey as a Pioneer in Student Housing and Residence Life!
The Early Bird Application is aimed towards first-time freshmen and new transfer students, however, it is open to all individuals interested in living on-campus. This application offers priority benefits for a limited time only! The application will open on Monday, March 14, 2022, and it will close on Sunday, April 10, 2022. Room assignment times will not be on a first-come-first-serve basis but instead randomly generated by our database, however, in an attempt to best manage the process in terms of room selection consolidation, priority may be assigned to those with larger roommates groups. Aside from the consolidation piece, all those who complete their contract during the Early Bird Application Process will have equal chances when it comes to room selection times regardless of when the application was submitted as long as it's within the application timeframe.
Timeline
| | | |
| --- | --- | --- |
| Date | Event | Time |
| Wednesday, March 9, 2022 | Information Session (Live Zoom) | 7:00 PM |
| Monday, March 14, 2022 | Early Bird Application Opens | 10:00 AM |
| Sunday, April 10, 2022 | Early Bird Application Closes | 5:00 PM |
| Sunday, April 17, 2022 | Roommate Group Creation Deadline | 5:00 PM |
| Wednesday, April 20, 2022 | Room Selection Time and Waitlist Notification | End of Day |
| Monday, April 25, 2022 | Room Selection Begins | 10:00 AM |
| Thursday, April 28, 2022 | Room Selection Ends | End of Day |
| Monday, May 2, 2022 | Room Swap Request Begins | 10:00 AM |
| Friday, May 6, 2022 | Room Swap Request Closes | 5:00 PM |
Communities
Living communities are designed to help residents meet other residents in their same academic standing and for the residence halls to provide educational opportunities for their specific needs.
First Time Freshmen

Double/ triple occupancy bedroom suit (Juniper/ Sequoia)

New Transfers

Double occupancy bedroom suite (Tamalpais)

2nd year

Double occupancy bedroom suite (Tamalpais)
Double/Triple occupancy bedroom apartment (Calaveras)

3rd year+


Single occupancy bedroom apartments (Shasta and Diablo)
Double occupancy bedroom apartments (Coloma, Sierra, Sonora)
Virtual Tours
To give all students the opportunity to see their housing options for the upcoming year Student Housing has launched its first-ever virtual tours. Check out the links below:
Accommodations
To best accommodate our diverse student population, we offer Open Gender, Co-Ed, non-traditional age, ADA complaint, service animals, and emotional support animals housing options.
If any of the accommodations mentioned are required it is important that applicants self-identify during the housing application and contract.
Application Information
The $40 non-refundable application fee and a $500 initial payment are required to complete the contract.
If you are not able to make the full payment there is a payment plan option but you must first complete the form.
The $500 initial payment will be applied towards Fall 22 rent fees.
Methods of payment
Electronic check – no service fee


Routing and account numbers are needed

Credit/Debit Card – 2.75% service fee
Have your Net ID and password ready
Review the License Agreement
Understand the meal plan options
Know the important dates
Understand the different occupancy types to select occupancy preferences
Clear any past due balance
Application and Contract Process
Application: Log on to the Student Housing Portal using your Net ID and password.

Students with a Fall balance will not be able to apply
Students with a Spring balance will be able to apply and join a roommate group but have to clear the balance prior to room selection or they will not be able to receive an assignment.

Once you log on, follow the prompts through to completion.
Contract: Once the application fee has been paid, the portal will redirect to the online contract


Complete all portions of the online contract.
Submit $500 initial payment through the housing portal.
Electronically sign the contract to complete the process.
Note: Contract is not complete without initial payment.
Roommate Group creation and Room Selection Process
For more information regarding this part of the process, please visit the Roommate Group and Room Selection page for detailed information.