Winter Break Closing Information
Please review the information below prior to leaving campus for the winter break. If you are planning to remain on campus for the break, you will not need to fully shut down your apartment/suite but you should still ensure your space meets health and safety guidelines especially regarding cleaning. You will also need to complete the Winter Break Check-Out Form to let us know you will be remaining on campus.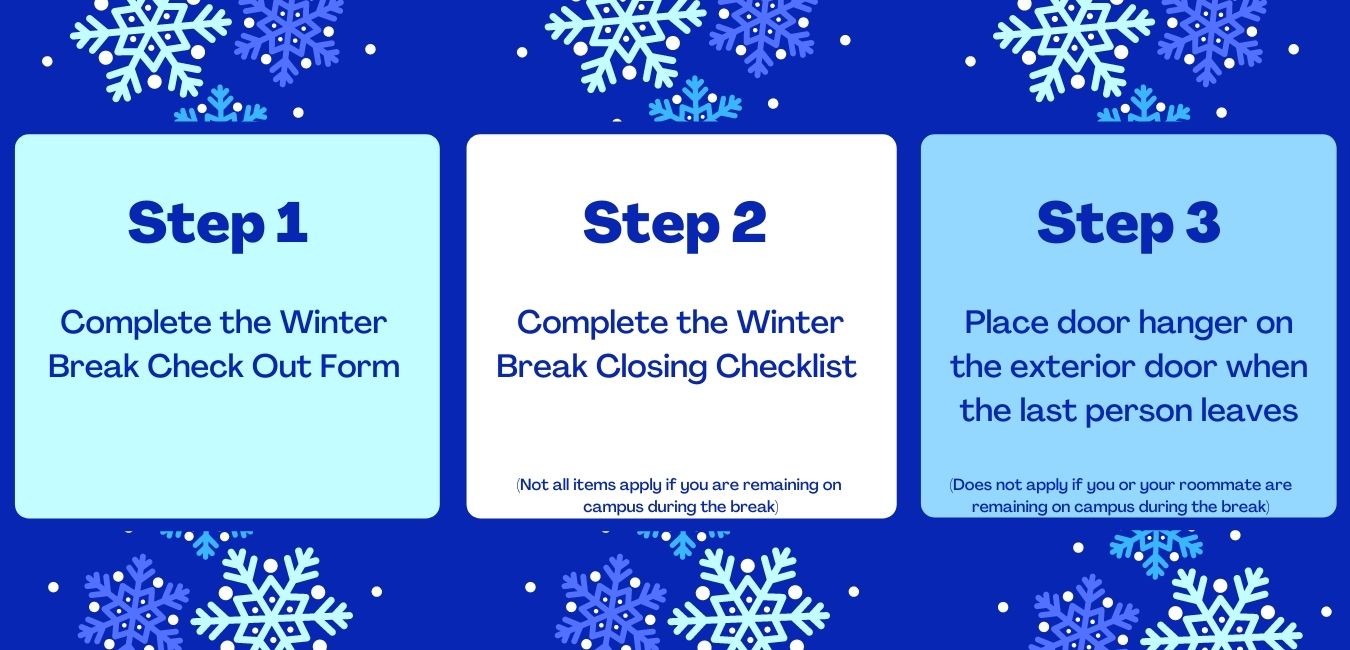 Step 1: Complete the Winter Break Check-Out Form.
Step 2: Complete the Winter Break Closing Checklist.
(Not all items apply if you are remaining on campus during the break.)
Step 3: Place a door hanger on the exterior door when the last person leaves.
(Does not apply if you or your roommate are remaining on campus during the break.
Winter Break Check-Out Form
All residents need to complete a Winter Break Check-Out Form. These forms are due by November 23. Resident Assistants will be checking in with all residents to help with the completion of these forms.
Winter Break Closing Checklist
Each apartment/suite will receive a door hanger with a checklist of tasks that need to be completed in your space before leaving for the break. Please complete all items before you leave to ensure the health and safety of the building over the break. When the last person in the apartment/suite is ready to leave, the Winter Break Closing door hanger should be placed on your exterior door with the side that says "Have a Great Break" facing outward. Please note, Housing staff will be entering all apartments/suites after residents have left to ensure they have been properly shut down. Failure to complete any of the items could result in your apartment/suite being documented and/or charged for cleaning by our staff.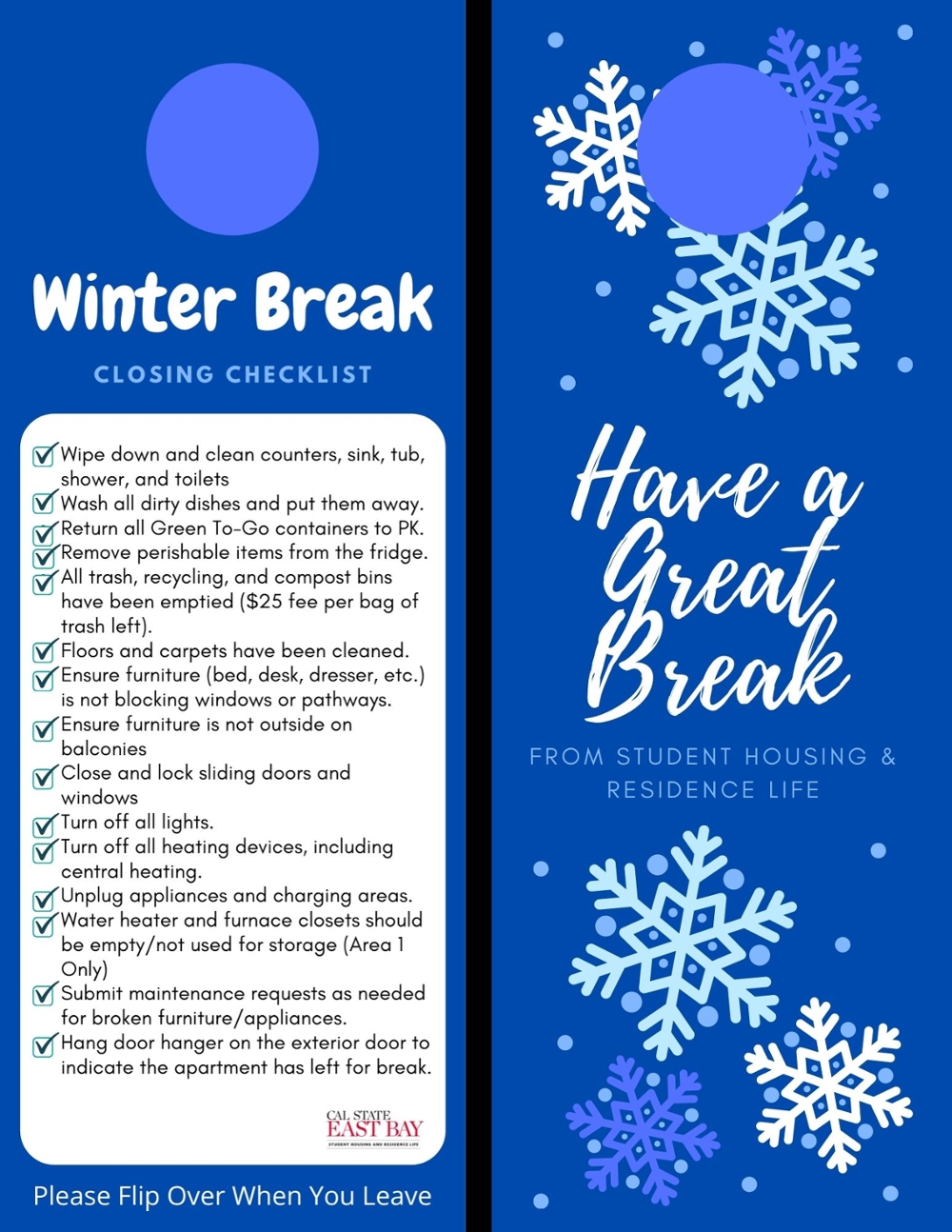 Wipe down and clean counters, sink, tub, shower, and toilets.
Wash all dirty dishes and put them away.
Return all Green To-Go containers to PK.
Remove perishable items from the fridge.
All trash, recycling, and compost bins have been emptied ($25 fee per bag of trash left).
Floors and carpets have been cleaned. Item 6: Ensure furniture (bed, desk, dresser, etc.) is not blocking windows or pathways.
Ensure furniture is not outside on balconies.
Close and lock sliding doors and windows. 
Turn off all lights. 
Turn off all heating devices, including central heating.
Unplug appliances and charging areas.
Water heater and furnace closets should be empty/not used for storage (Area 1 Only).
Submit maintenance requests as needed for broken furniture/appliances.
Hang a door hanger on the exterior door to indicate the apartment has left for break.
COVID Safety Guidelines
For those of you who may be leaving campus for the break and traveling in between locations, we ask that you take precautions to maintain safety for yourself, your friends, your family, and your home here with us. To minimize risks regarding COVID-19, please review CSUEB resources to learn more about best practices and daily health assessment.
NOTE: All residents will be expected to complete the Student Housing Pre-Questionnaire 72 hours prior to your return to campus for the Spring semester. The questionnaire will be sent in early December for your reference.
This questionnaire is designed as a tool to help residents increase awareness of personal health/safety, available campus resources, and shared support and expectations around community living. This tool is not meant to take the place of consultation with your healthcare provider or to diagnose or treat conditions. It is provided as an example of a self-assessment inquiry that may aid in your knowledge of symptoms. Information about COVID-19 is constantly changing and the level of COVID-19 activity varies by community, as does the availability of testing. For current updates on COVID-19 and details on testing and other health measures in your state, check with your local public health agency and visit the CDC website at cdc.gov.
Staying for the Break?
We look forward to continuing to support the residents living on-campus throughout the winter break. During the dates below, please note that the RA On-Duty numbers will be collapsed to only one or two duty phones. Please review the schedules posted below to ensure you are able to reach support during non-standard office hours. Additionally, Pioneer Dining's Fall meal plans will conclude with dinner on Friday, December 11. Spring 2021 meal plans will commence with brunch on Sunday, January 10. For more information about Pioneer Dining, click here.
November 23rd - 28th
Calaveras, Coloma, Tamalpais, Shasta, Diablo: (510) 258-8255
Sierra, Sonora, Juniper, Sequoia: (510) 331-6172
December 14th - January 9th
All Buildings: 510-331-6172