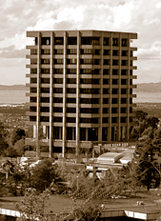 Warren Hall
Warren Hall, the former Cal State East Bay signature building that housed administration offices and classrooms for some 40 years, will be demolished by implosion on Saturday, Aug. 17, at approximately 9 a.m., as weather and safety permit.
The campus will close to the public as of 8:30 p.m. Friday, Aug. 16, reopening at 6 a.m. Monday, Aug. 19, according to Brad Wells, vice president, Administration and Finance, and chief financial officer for CSUEB. The University Police Department will set up and enforce an exclusion zone around the campus. Public roadways adjacent to the campus will remain open.
The campus will be closed due to safety considerations. Those wishing to witness the implosion are advised to locate a public place with a clear view of Warren Hall.
"The university is working closely with our contractors to ensure that the demolition is safe, efficient and as least disruptive as possible," Wells said.
The 13-story Warren Hall, which opened on the university's Hayward Campus in 1971, was determined by the California State University Seismic Review Board to be the most seismically vulnerable building in the CSU system. It has been empty for about two years, as most of the offices that once occupied Warren Hall were moved to a new structure, the Student Services Administration (SA) building on the east side of the campus.
The demolition process will isolate and then implode the key structural supporting elements of the building. With the demolition contractor using specially timed charges, the 195-foot structure will lean and then fall in a predetermined area away from nearby campus buildings.
Scientific research will benefit from the implosion. With Warren Hall sitting little more than a mile from the Hayward Fault, the U.S. Geological Survey – in cooperation with the university – will observe and record the implosion on hundreds of seismographs temporarily set up within a 1-mile radius of the demolition. The data gathered will help characterize the underground geology around the fault in three dimensions.
More information about the USGS-CSUEB research, called the East Bay Seismic Experiment, is available online.
Earlier this year, the CSU Board of Trustees authorized $50 million to demolish Warren Hall and replace it with a new structure. Read about the replacement project on the CSUEB news site.