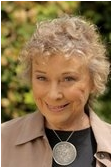 Marcelline Krafchick
It was the lack of a short, concise mythology book that led Professor Emerita of English Marcelline Krafchick to write her newly published fourth book, How Belief Stories Matter: An Approach to Myth (Regent Press). "I taught mythology for 30 years and wished the entire time that I had a short book to accompany the course," said Krafchick. When she retired from Cal State East Bay in 1997, she promised her colleagues that she would one day make their lives easier by writing that missing book.  Krafchick had retained all her class notes and with her 30 years of classroom experience teaching mythology, she just decided one day to start writing.
 How Belief Stories Matter deals with the vast range of worldwide belief stories -- Ashanti to Hindu, Christian to Navajo. "I apply a model in the book to show how all myths work," said Krafchick. "From South Africa to Mexico to Iceland, all belief systems have basically three parts."  Her book details how three interconnected components of belief-systems -- Doctrine, Story (myth), and Ritual -- reinforce one another to carry forward values that identify and cohere a society, and to reassure its members that there is order in the cosmos, within which they have significance.
Krafchick is not new at publishing. She also authored numerous articles and The Romance of Elsewhere: A Half-Century of Connecting By Sea, By Air, By Rail (Regent Press) and World Without Heroes: The Brooklyn Novels of Daniel Fuchs (Fairleigh-Dickinson University Press); contributed a chapter to Eugene O'Neill in China: An International Centenary Celebration (Greenwood Press); and co-edited with Jack E. Conner Speaking of Rhetoric (Houghton-Mifflin).
She will be reading from her new book at Bird & Beckett Books and Records, San Francisco, CA, on Sunday, July 18th at 2:00pm.
KL