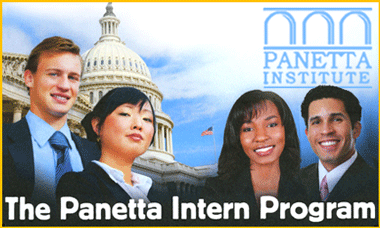 The panetta intern program
Cal State East Bay students with strong academic backgrounds and commitment to public service are invited to apply for the Panetta Congressional Internship. It is an opportunity to learn firsthand about the United States Congress and how it works.
The deadline for students to submit their application to the Office of the President of CSUEB is Monday, Feb. 17. The internship runs from Aug. 10 through Nov. 8, 2014. Students seeking to one day launching a career in public service, law, business, politics or research will gain valuable experience as an intern. The student selected from CSUEB, like all interns, will attend seminars held Washington, D.C., and will work in the office of a U.S. House representative fromthe California delegation.
Panetta interns receive 20 academic credits upon successful completion of the internship. All expenses during the internship are paid for, including the student's airfare, tuition, food and housing. Before working in a Congressional office, the interns will complete two weeks of training at the Panetta Institute for Public Policy, which is located in the Monterey area. After that they work for 11 weeks in Washington, D.C.
To qualify, applicants for the internship must be a junior or senior at the beginning of the fall 2014 quarter and be able to demonstrate superior academic achievement, oral communications and leadership skills, as well as maturity. They must be willing to submit to a background investigation and willing to live in group housing with other interns during their time training time at the instiute and the work/learning time in Washington. They also must provide a graded student paper demonstrating writing proficiency.
Internship candidates must complete the application cover sheet, up‐to‐date resume, a two-page essay that states reasons for their interest in the Panetta Institute's Congressional Internship Program, CSUEB transcripts (unofficial or official), and a copy of a graded paper -- at least three pages in length. 
All application materials should be submitted by Feb. 17 to the Office of the President in room SA 4900 of the Student Administration building, 25800 Carlos Bee Blvd.. Hayward, 94542.
Additional information about the internship is available by contacting Derek Aitken, director of government and community relations, at (510) 885-2513 or derek.aitken@csueastbay.edu. Further information about the Panetta Institute is available online at Panetta Institute.
-- Barry Zepel