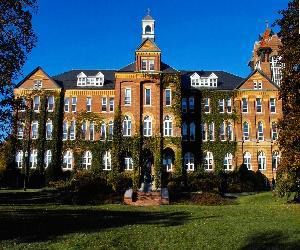 This program broadly addresses literature focused on African American themes published in the late 20th and 21st centuries. In summer 2020, our study abroad course will narrow that focus to study several works about African American issues written by contemporary authors that use Berlin as a key setting. In order to provide a literary context for these contemporary novels, our course will examine Germany as a recurring motif in African American writing across different historical eras from the 19th century, World War I, the Weimar era, World War II, and the Cold War. Ultimately, this course will lead students to understand contemporary internationalist expressions of African American experience and to more fully comprehend ideas of diaspora and transnational identity in the 21st century.
Coursework
(Open to major, non-major students)
ENGL 323: AFRICAN AMERICAN LITERATURE AFTER 1945
Units: 4 ; G.E./G.R. Area: C4; Diversity
A survey of writings by African Americans from the middle of the 20th century through the Black Arts Movement. Identifies major authors in a variety of genres and provides historical contexts for literary movements from the period.
Strongly Recommended Preparation: ENGL 200.
Prerequisites: Completion of GE areas A1, A2, A3 and B4.
Equivalent Quarter Course: ENGL 3692.
Possible Instructional Methods: Entirely On-ground, Entirely On-line, Hybrid (every section of this course may be taught both online and on-ground).
Grading: A-F or CR/NC (student choice).
G.E./G.R. Area Satisfied: C4 - Upper Division Arts or Humanities, Overlay - Diversity
Program Objective
At the end of this course students will be able to:
Summarize and Describe three distinct eras in African American history
Identify several key figures from African American literary history
Identify and explain several events from German history and their engagement with African American experience
Define and properly apply the term "diaspora" in discussions of African American experience
Use literary texts to articulate a connection between the humanities and the struggle for human dignity
Program Details
Students will spend most weekday mornings in class. For afternoons, students should expect a planned professional or cultural event, with free time planned for students to explore, shop, enjoy and relax. Students will have most evenings free and may eat dinner in the campus cafeteria or may choose to go on their own to one of the many nearby restaurants.
Three weeks in Berlin, Germany (Tentative dates: June 27-July 18, 2020)
Total Courses: 1
Total Units: 4
Estimated Costs*
Tuition Fee (tuition fees are subject to change at any time.):
Course Fee: $2,000 (lodging, orientation, some local transport, most activities, some group meals)
Estimated Additional Expenses
TOTAL: Estimated $6,500-7,000
*costs are approximate and subject to change
Passport/Visa Information
A valid Passport is required to travel outside of the United States.
Passport cost is $165 (if you do not already have a current passport)
Passports may take a few months to process, so students are encouraged to start the process early. More information on the Passport process can be found here. Please note: prices and totals displayed are subject to change.
Scholarships
Benjamin A. Gilman International Scholarship
Available to U.S. citizens who want to study abroad and who receive a Pell Grant. Recipients are awarded up to $5,000. The Gilman is an extremely competitive scholarship that requires an essay and proposal, so start the application early. For more information please visit the Gilman website.
Upcoming Info Sessions
2/11/20 at 12:00 in MB2565
2/20/20 at 12:00 in MB2565
2/28/20 at 12:00 in MB2565
3/5/20 at 12:00 in MB2565
3/12/20 at 12:00 in MB2565
Undergraduates and graduate students of every major are welcome to apply.
Apply for Cal State East Bay's Germany 2020 Summer Program here.
Completed applications are due by March 15, 2020.
Decision date is March 30, 2020.
Apply early! There will be an interview process. Enrollment is limited.