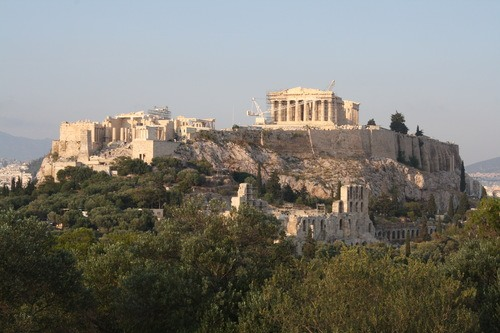 Gateway to Europe: Recovery and Resilience
Students will learn to navigate a new country as they immerse themselves in areas, which might include Greek university student life, politics, history, popular culture, the arts, street art, culinary arts, architecture, the club scene, and the refugee crisis, to name several. Students will be responsible for a daily diary and daily blogs on social media, on web pages pre-established for the experience.
Our students will experience the famous Greek hospitality at its finest. They will also come to understand what the concept, "filotimo" means to Greeks: Filotimo or philotimo is considered to be the highest of all Greek virtues and sets the standards for family and social living. The core concept is that of respect and walking down righteous paths. The word means friend (philo) and honor (timos). Hard to translate, but in its simplest form, the term means "doing good" in all our actions, which ensures that a person's behavior be exemplary and demonstrate his personality and represents the manner in which he was raised. Philotimo to a Greek is essentially a way of life, a guiding ethos.
All programs are delivered in English at the Athens-based International Center for Hellenic and Mediterranean Studies (DIKEMES), located next to the Kallimarmaro (Marble) Stadium and the National Gardens in the heart of the city.
Coursework
(Open to major, non-major students)
COMM 266 DIGITAL MEDIA PRODUCTION ABROAD
Units: 3; G.E./G.R. Area: C2
Theories and practices of digital media production. Students will produce documentary short films, experimental films, photographic images, travel blogs, articles and reports and research papers and will be establishing a web presence of their work while learning technical skills and executing their understanding of the planning process of digital media production in a multicultural environment.
Lecture Units: 2; Activity Units: 1
Equivalent Quarter Course: COMM 3691.
Possible Instructional Methods: Entirely On-ground.
Grading: A-F or CR/NC (student choice)
G.E./G.R. Area Satisfied: C2 - Lower Division Humanities
Program Objective
Tour focus will be to create media content, reports, articles, photography, blogs, vlogs and academic research. Students will choose, in advance, an area of interest and will have done extensive research before their trip so that they are somewhat familiar with the country and culture. The faculty will mentor students through this initial process and then in country will teach, critique, and direct their work. Students will:
Gain valuable work and travel experience studying, writing about, reporting on and creating media content about current issues from a Greek/European perspective.
Create keystone academic (research and research papers) and media content (which may include photography, landscape, portrait, urban, etc., photo essays or documentary style photography, magazine articles, academic, program-specific research, documentary shorts or experimental film) to become a mainstay and highlight of their personal portfolio, which will support them in their job hunt, and if they decide to explore a master's program.
Improve both their technical, research and writing skills.
Experience how powerful visual imagery helps tell compelling stories and learn what elements make a powerful visual story.
Explore historic sites and experience the rich Greek culture, which has given the world so much since 300 B.C.
Explore the Greek islands while expanding personal horizons and building confidence traveling in a foreign country.
Depending on a student's program of study at CSUEB, students may do internships/volunteer work for an NGO that is helping with the refugee crisis. Students can discuss this interest during the interview process. These will be established in advance through Dr. Cardaras with specific goals and outcomes in mind.
Program Details
Three weeks in Athens, Greece (Tentative dates: June 1-June 21, 2020)
Total Courses: 1
Total Units: 3
Students may petition for an additional unit of independent study with faculty to complete any outstanding or extra project work.
Estimated Costs*
Tuition Fee (tuition fees are subject to change at any time.):
Course Fee: $2,200 (lodging, orientation, some local transport, most activities, some group meals)
Estimated Additional Expenses
TOTAL: Estimated $5,500-6,000
*costs are approximate and subject to change
Passport/Visa Information
A valid Passport is required to travel outside of the United States.
Passport cost is $165 (if you do not already have a current passport)
Passports may take a few months to process, so students are encouraged to start the process early. More information on the Passport process can be found here. Please note: prices and totals displayed are subject to change.
Scholarships
Benjamin A. Gilman International Scholarship
Available to U.S. citizens who want to study abroad and who receive a Pell Grant. Recipients are awarded up to $5,000. The Gilman is an extremely competitive scholarship that requires an essay and proposal, so start the application early. For more information please visit the Gilman website.
Upcoming Info Sessions
All info sessions will be held in MI 3043.
January 28, 12:00pm
February 5, 4:00pm
February 13, 12:00pm
February 24, 12:00pm
March 3, 12:00pm
March 5, 12:00pm
March 10, 12:00pm
Undergraduates and graduate students of every major are welcome to apply.
Apply for Cal State East Bay's Greece 2020 Summer Program here.
Completed applications are due by March 15, 2020.
Decision date is March 30, 2020.
Apply early! There will be an interview process. Enrollment is limited.