Dining Services
Campus Operations



Did you know that wasted food is a local and global problem with profound financial, social, and environmental impacts?

Wasted food is the #1 item in the landfill. In the US, we throw away enough food to fill the Oakland Coliseum to the top 1.5 times each day.
Approximately 40% of food in the US goes to waste – that's like going to the grocery store, buying 5 bags of produce, and dropping two on your walk home without picking them back up.
Wasted food is a significant contributor to the climate crisis. In the US alone, the production of lost or wasted food generates the equivalent of 37 million cars' worth of greenhouse gas emissions.
If global food waste was a country, it would be the 3rd largest contributor to greenhouse gases behind the US and China. Reducing wasted food is an easy way to minimize your climate impact.




What We're Doing About this Problem at Cal State East Bay
With support from StopWaste, a local government agency in Alameda County and its Stop Food Waste campaign, Cal State East Bay has launched a pilot to increase awareness around food waste and provide simple actions to decrease wasted food in all campus dining options.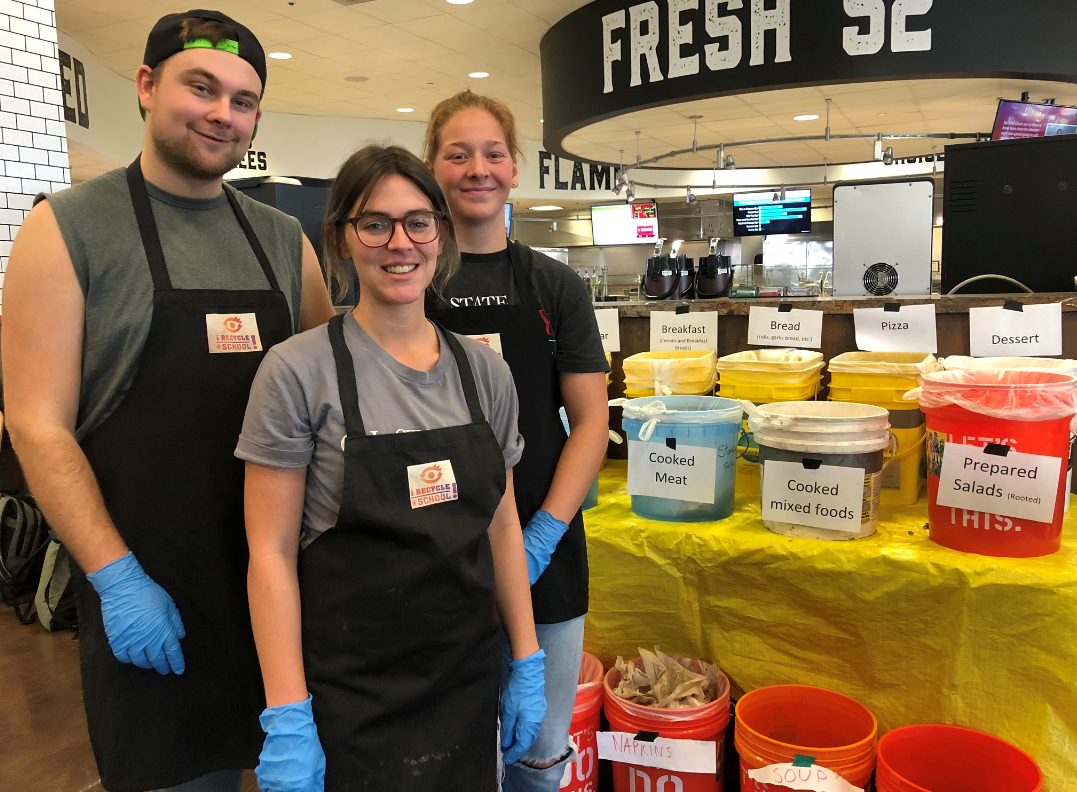 Cal State East Bay Sustainability Ambassadors (Patrick Murphy, Brooke Schuyler, and Adrien Van Dyke, left to right) during the preliminary food waste audit at Pioneer Kitchen

.
The pilot will run through the Spring 2020 semester and include:
Measurement of student food waste reduction behavior change through pre and post student surveys given to students living on campus;
Measurement of the reduction of wasted food generated by students at Pioneer Kitchen through pre and post plate waste audits; and
Educational materials displayed in Pioneer Kitchen and the Student Unions;
In-person outreach at food-focused events on campus; and
Data from the pilot will be posted to this website, so stay tuned!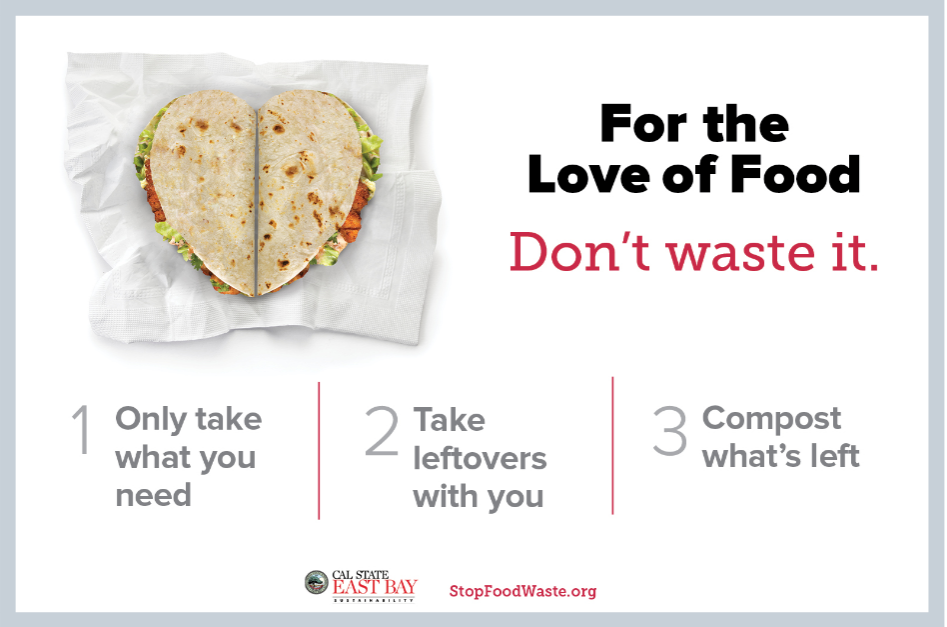 What can you do about the problem of wasted food?
In the dining hall:
Ask for samples if you're unsure
Start with a little bit and go back for more if you're still hungry
Eat what you take
Compost what's left
When eating out:
When possible, take leftovers with you (even better, carry your own container to store leftovers and reduce packaging)
Label leftovers with a name and date
Split a meal with a friend if you're not too hungry or you know portion sizes are large
In your residence hall or at home:
Seal any open packages to preserve freshness (and save money)
Try planning your week's meals ahead to make use of what you already have in your fridge
Create a "Shared" area of the fridge or counter so others can help you eat up the food you won't be able to finish
For more tips and tools to help wasted food at home and at school, please visit StopFoodWaste.org. To get involved with future Cal State East Bay sustainability efforts, contact sustainability@csueastbay.edu. 
See what the Pioneer Kitchen is doing here.