Fall 2019
--- US in the U.S. : Secrets Exposed
Directed by A. Fajilan
Performance Dates: September 20 & 21 at 7:30 pm
September 22 at 2:00 pm
Location: Studio Theatre
During the fall of 2016 we manifested CSU Ferguson to put a face onto the faceless hoodie. Since then we have toured from the South Bay to Spokane, Washington and across the Bay to the San Francisco International Arts Festival sharing our hopes for an Inclusive America.

In 2018, the Kennedy Center American College Theatre Festival acknowledged our work with a KCACTF Citizen Artist Award for insisting that theatrical production is central to the urgent social justice conversations. The US in the U.S. Ensemble continues to help audiences ready for the Browning of America because, despite efforts to make us disappear from the mainstream American Image, everyone needs a little reminder that: We have always been here and we are going to stay here; so let's figure out how to play together.

All are welcome. All are needed. As always our Act Two is our/your Community Circle. Your presence is critical as we develop a new production for a May 2020 San Francisco International Festival Production.
**Tickets are pay what you wish donations at the door the day of the performance. All donations will go to support the US in the U.S. ensemble with their participation in the 2020 San Francisco International Arts Festival.**
---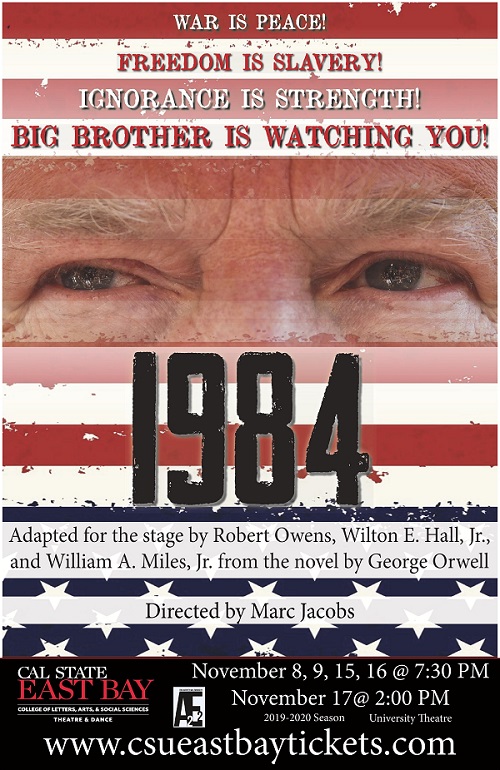 1984
Adapted by Robert Owens, Wilton E. Hall Jr., and William A. Miles Jr.
From the novel by George Orwell
Directed by Marc Jacobs
Performance Dates: November 8, 9, 15 & 16 at 7:30 pm
November 17 at 2:00 pm
Location: University Theatre
Based on George Orwell's novel, this production takes place in an America not distant from our own. Social media has become the people's opium, Big Brother sees all and the devices are watching us! This new society is built on fear and scapegoating of immigrants, people of color, differing religious faiths, and people of differing sexual orientations; anyone who can be considered "other" is marginalized.
But as Orwell predicted: "The people will not look up from their screens long enough to notice what's happening!"
**This production will have an NC-17 rating. No persons under the age of 17 or younger will be admitted unless accompanied by an adult. There will be scenes of graphic violence and sexual situations in this production.**
---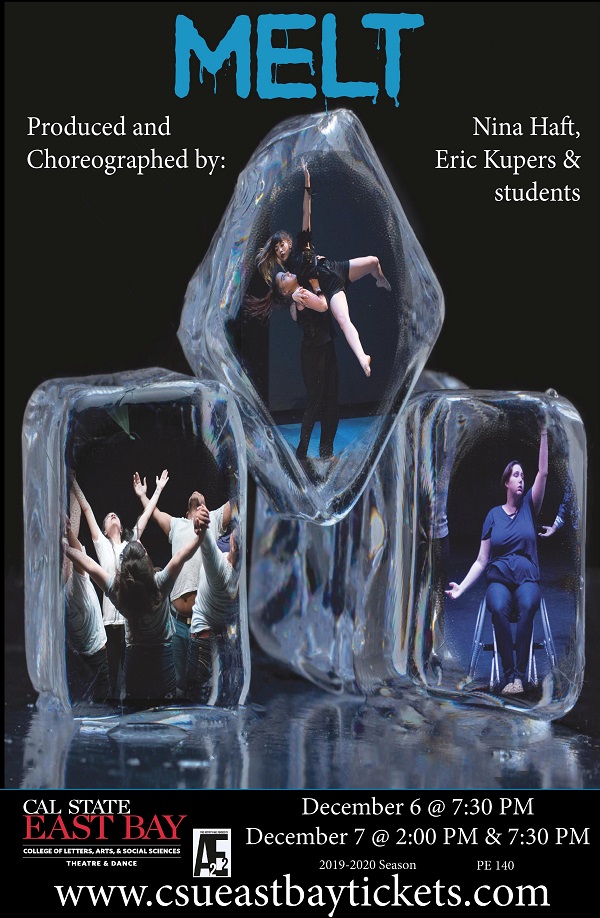 MELT
Producer & Choreographer: Nina Haft & Eric Kupers
Performance Dates: December 6 & 7
Location: PE 140
MELT is a weekend dance showcase of
powerful performance, created and performed by
Theatre and Dance students.
Join us in community as we give voice to our bodies, minds, and spirits!
Tickets are available to purchase 3 three weeks before opening night.
Spring 2020
---
**This production has been cancelled due to the "shelter-in-place" restrictions for Alameda County**
 Footloose: The Musical
Stage Adaptation by Dean Pitchford and Walter Bobbie
Music by Tom Snow
Lyrics by Dean Pitchford
Directed by AeJay Mitchell
Musical Direction by Sierra Dee
Performance Dates: March 13, 14, 20 & 21 at 7:30 pm
March 22 at 2:00 pm
Location: University Theatre
"When Ren and his mother move from Chicago to a small farming town, Ren is prepared for the inevitable adjustment period at his new high school. What he isn't prepared for are the rigorous local edicts, including a ban on dancing instituted by the local preacher, determined to exercise the control over the town's youth that he cannot command in his own home. When the reverend's rebellious daughter sets her sights on Ren, her roughneck boyfriend tries to sabotage Ren's reputation, with many of the locals eager to believe the worst about the new kid. The heartfelt story that emerges is of a father longing for the son he lost and of a young man aching for the father who walked out on him. To the rockin' rhythm of it's Oscar and Tony-nominated top 40 score and augmented with dynamic new songs for the stage musical, FOOTLOOSE celebrates the wisdom of listening to young people, guiding them with a warm heart and an open mind."
---
Wandering in the Wilderness
Directed and Choreographed by Eric Kupers
Performance Dates: April 9, 16, 23, 30 & May 7 at 8:00 pm
Location: PE 140
Wandering in the Wilderness is an experimental performance ceremony exploring the spaces in-between when we have moved away from the things that no longer work in our lives, but we don't yet know what is next. We are investigating the nature of uncertainty, groundlessness, and mystery—particularly inquiring into how to leave behind situations, attitudes, relationships, governments, homes, and habits of abuse, oppression, and dysfunction. How do we create our new lives without carrying forward the unwholesomeness we absorbed in our past? How do we end cycles of disempowerment? How do we shed our suffering armor? How do we learn new ways?
Wandering in the Wilderness plays with stories, practices, belief systems, and art forms from the many cultures represented in our ensemble, as well as others we encounter along the way. The work will experiment with the intersections of modern dance, new music, Japanese Taiko, Balinese Gamelan, multi-cultural body percussion, martial arts, contact improvisation, labyrinths, processions, rituals, and games. 
The work is directed/choreographed by Eric Kupers with assistance by Raven Malouf-Renning and additional choreography by a diverse collection of guest artists. It will be created collaboratively and performed by the CSU East Bay Inclusive Interdisciplinary Ensemble (IIE), which includes artists of all sizes, shapes, abilities/disabilities, cultures, ethnicities, art practices, and identities. The performance will be primarily in English, American Sign Language, with some sections in Hindi, Mandarin, Spanish, Croatian, and additional languages. Zahna Simon and students from Amy June Rowley's ASL classes will be collaborating with us to embed ASL into the choreography, rather than leaving it on the side. All sound will be live, composed by Jacob Goldstein, Eric Kupers, Raven Malouf-Renning, and UltraSonic Current.
With Wandering in the Wilderness, we are experimenting with performing evening-length work in the actual space and time frame that we rehearse every week, in order to go deeply into our relationship with the area, create intimacy, and share our ongoing process with audiences.
Performances take place over 5 Thursday nights, with limited seating of only 36 audience members per show.
---
 Pilipinx Consciousness Night
Produced in cooperation with PASA and Department of Theatre & Dance
Performance Dates:  Friday, April 24 at 7:30 pm
Saturday, April 25 at 6:30 pm
Location: University Theatre
Tickets are available to purchase online 3 weeks before opening night.