Fall 2018
---

Blood Wedding
By Federico García Lorca
Performance Dates: November 2, 3, 9 & 10 at 7:30 PM
November 11 at 2:00 PM
Location: University Theatre
The arid lands of rural southern Spain inspired Federico García Lorca to write his greatest tragedy, Blood Wedding. This classic drama of betrayal and murder is based on the true crime story of a runaway bride who, in 1928, fled from her arranged marriage on horseback to be with her true love. Lorca entangles these lovers in an age-old blood feud, a curse on the entire community. His poetic diction and rich imagery infuse the story with the fire and power, that spirit of duende, characteristic of his work and with a prophetic resonance that marked his own tragically short life. 
ICE/ICE-X
Producer & Choreographer: Nina Haft & Eric Kupers
Performance Dates: ICE, December 7 at 7:30 PM and December 8 at 2:00 PM
ICE-X, December 8 at 7:30 PM
Location: PE 140
ICE and ICE-X is a weekend dance showcase of
powerful performance, created and performed by
Theatre and Dance students.
Join us in community as we give voice to our bodies, minds, and spirits!
Tickets are available to purchase 3 three weeks before opening night.
Spring 2019

 Little Shop of Horrors
Music by Alan Menken
Book & Lyrics by Howard Ashman
Director & Choreographer: AeJay Mitchell
Musical Direction by Sierra Dee
Performance Dates: March 15, 16, 22, 23 at 7:30 pm
March 24 at 2:00 pm
Location: University Theatre
"The meek floral assistant Seymour Krelborn stumbles across a new breed of plant he names "Audrey II" - after his coworker crush. This foul-mouthed, R&B-singing carnivore promises unending fame and fortune to the down and out Krelborn as long as he keeps feeding it, BLOOD. Over time, though, Seymour discovers Audrey II's out of his world origins and intent towards global domination!"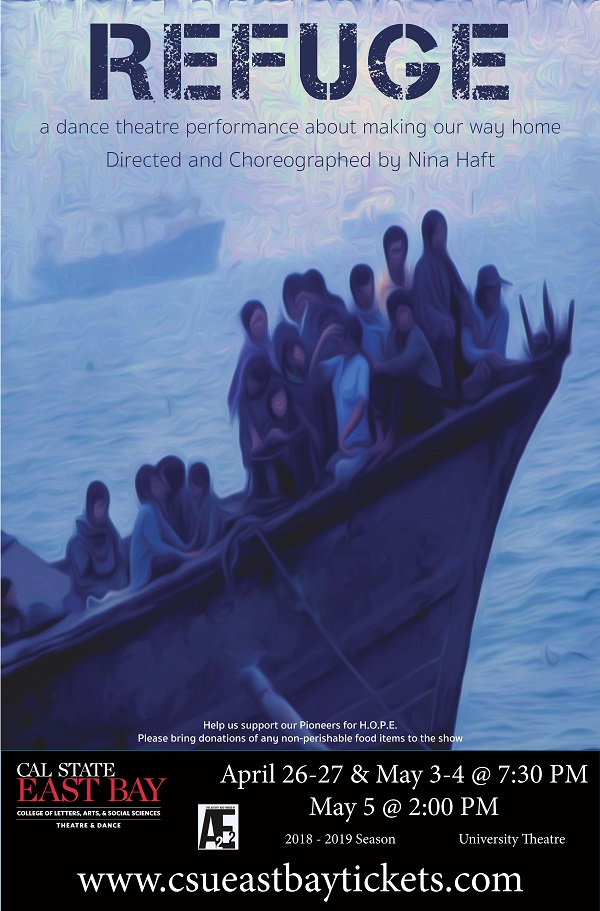 REFUGE
Directed and Choreographed by Nina Haft
Performance Dates: April 26, 27, May 3, 4 at 7:30 PM
May 5 at 2:00 PM
Location: University Theatre
A dance theatre performance about making our way home.
Please bring donations of any non-perishable food to the show.
REFUGE is a site-specific performance. Please wear comfortable shoes and clothing, and be prepared to sit outside and walk between locations just outside the theatre building for the first 30 minutes of the show.
Pioneers for H.O.P.E.(Helping Our Pioneers Excel) California State University.
East Bay's new intervention program will address the Chancellor's food and housing security initiatives to include wide-ranging efforts to immediately serve some of our most-at-risk students facing homelessness, food insecurity, and other various crisis situations.
Pilipinx Consciousness Night
Produced in cooperation with PASA and Department of Theatre & Dance
Performance Dates: April 19 at 7:30 PM
April 20 at 6:30 PM
Location: University Theatre
Tickets are available to purchase online 3 weeks before opening night.