COVID-19 Vaccination Certification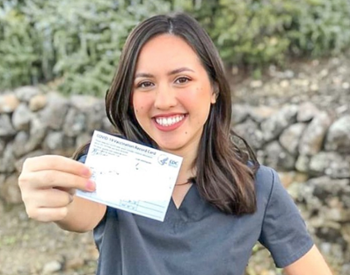 The California State University system has announced that it will require faculty, staff and students who are accessing campus facilities at any university location to be vaccinated against COVID-19. Cal State East Bay will align with this requirement, and anyone who plans to be at the Hayward, Concord or Oakland Center campuses must be vaccinated or have a valid exemption. The effective date of this requirement at Cal State East Bay is September 15, 2021.
The CSU's COVID-19 vaccination policy will allow students and employees to seek medical and religious exemptions.
See the FAQ section below for detailed answers to your vaccine-specific questions. 
Previously, the CSU had stated that the requirement was pending full approval of the vaccine by the U.S. Food and Drug Administration. Because of evolving circumstances, the university is implementing this requirement now without waiting for any further action by the FDA. 
Faculty, staff and students should attest to their COVID-19 vaccination status. Fully vaccinated means the person received, at least 14 days prior, either the second dose in a two-dose COVID-19 vaccine series or a single-dose COVID-19 vaccine. Students who have not completed the second dose of a two dose vaccination series should not complete the certification page in MyCSUEB until they have been fully vaccinated. These students will be subject to weekly testing until their vaccination series and the 14 day waiting period is completed.
Find out where you can get a COVID-19 vaccine.  
Students 
Access MyCSUEB. 

Click on the Classic View Icon.

Under the "Student" tab, select COVID-10 Self Certification.

Select the vaccination status and provide a digital copy of your vaccination record, as applicable.
Employees
Access MyHR
Click the "COVID-19 Self-Certification" link
Fill out the form
Provide proof of your vaccination (copy of your vaccination card, QR code from the state of California, letter from a health care provider)
If you decide to use another process to submit the form, please email it to hrpolicy@csueastbay.edu
To avoid weekly COVID-19 testing, faculy and staff should complete their vaccination certification on MyHR by close of business on Friday, Aug. 13. Students should certify their vaccination on MyCSUEB by Wednesday, Aug. 18 (first day of fall semester classes). Those who have not certified their vaccination by these deadlines, are still completing their vaccination series or have a valid exemption will be required to undergo weekly COVID-19 testing. 
Frequently Asked Questions