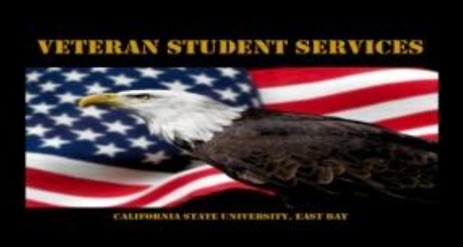 Veteran Student Services (VSS) is committed to supporting student veterans and dependents of veterans in their transition to student life on campus. We provide guidance with education benefits and academic services, and offer campus programming such as VA Home Loan Series, Vocational Rehab Information sessions, the SALUTE Veterans Honor Society and Graduation Celebration.
Eligibility:
Certificate of Eligibility for Education Benefits (DD-214 required for Veterans)
Veterans, Active Duty, Reservists, Dependents of Veterans
Academic Advising & Retention
Academic Counseling & Workshops (Veterans)
Graduate School Advising
Veteran Events & Programming
Scholarship Guidance
Military Credit (Veterans)
Peer Mentoring & VA Work Study
Student Veterans Organization
SALUTE Veterans Honor Society - Cal State East Bay Chapter
Counselor - Cherie Randolph, M.A.
(510) 885-2244
Email: cherie.randolph@csueastbay.edu
VA Education Benefits
Priority Registration (Veterans)
GI Bill Certification
Vocational Rehabilitation & Employment Certification
CalVet College Fee Waiver (dependents)
Enrollment Verification Letter (dependents)
Parent School Letter (to receive benefits at secondary school)
Grade Reporting (tuition assistance)
Counselor - Deborah Hansana, M.A.
(510) 885-3669
Email: deborah.hansana@csueastbay.edu
VA Education Benefits - Applications to Use/Update Benefits
If this is your first time utilizing education benefits, be sure that you have completed the VA application. Once you receive the Certificate of Eligibility letter from VA, pleasesubmit to the Veterans Benefits Coordinator prior to enrollment certification.
Counselor - Deborah Hansana, M.A.
(510) 885-3669
Email: deborah.hansana@csueastbay.edu
VA Education Benefits - Request for Certification Forms
Veterans Request for Certification (VRC) Form

The VRC form is to be used by active duty service persons, veterans, reservists, Guardsmen and dependents to request that their enrollment be certified to the U.S. Department of Veterans Affairs for education benefits. This process must be completed every term of enrollment after you register for classes.


Request for Parent School Letter

A student may take courses that apply to his or her degree at more than one school.The school that will grant the degree is the student's "parent" school and all other schools are "secondary".
Counselor - Deborah Hansana, M.A.
(510) 885-3669
Email: deborah.hansana@csueastbay.edu
Commonly Used Campus Resources
Veteran Peer Mentors
Assist incoming students with their transition into EB


Provide programs and services for enrolled veterans


Active officers with the Student Veterans Organization

Notable Events
Veterans Graduation Celebration


SALUTE Veterans Honor Society Induction Ceremony


Operation Giveback - Sock and Toiletry Drive for homeless veterans


Student Veterans Organization events - Study Break sessions, Voc Rehab Info Sessions, VA Home Loan Information Sessions, Writing Skills Test (WST) Workshops


Fundraising through Landmark Events - security for Oakland A's, Jay Z & Beyonce concert, Oakland Raiders, Cal football and SF 49ers games

Community Resource Partners
Swords to Plowshares - Mission is to heal the wounds of war, restore dignity, hope, and self-sufficiency to all veterans in need, and to prevent and end homelessness and poverty among veterans.
Vet Centers - are community-based counseling centers that provide a wide range of social and psychological services, including professional readjustment counseling to eligible Veterans, active duty service members, including National Guard and Reserve.
Photo of veterans and quote from student

I Chose Cal State East Bay
Because...

"I chose East Bay because it
caters to minorities, its diversity,
and how progressive it is!
This picture exemplifies
those points"

-Rodney Middleton
Class of 2019
US Army Retired Veteran
What is there to do on Campus?
STARBUCKS!!!!!
Work out in the gym
Join a sorority or fraternity
FREE Concerts, Movies, Food
Play video games or shoot pool in The Cave
Get a massage through Student Health and Counseling
More than 100 events hosted annually by clubs and organizations
learn more at our website