2019 Accounting Alumni Celebration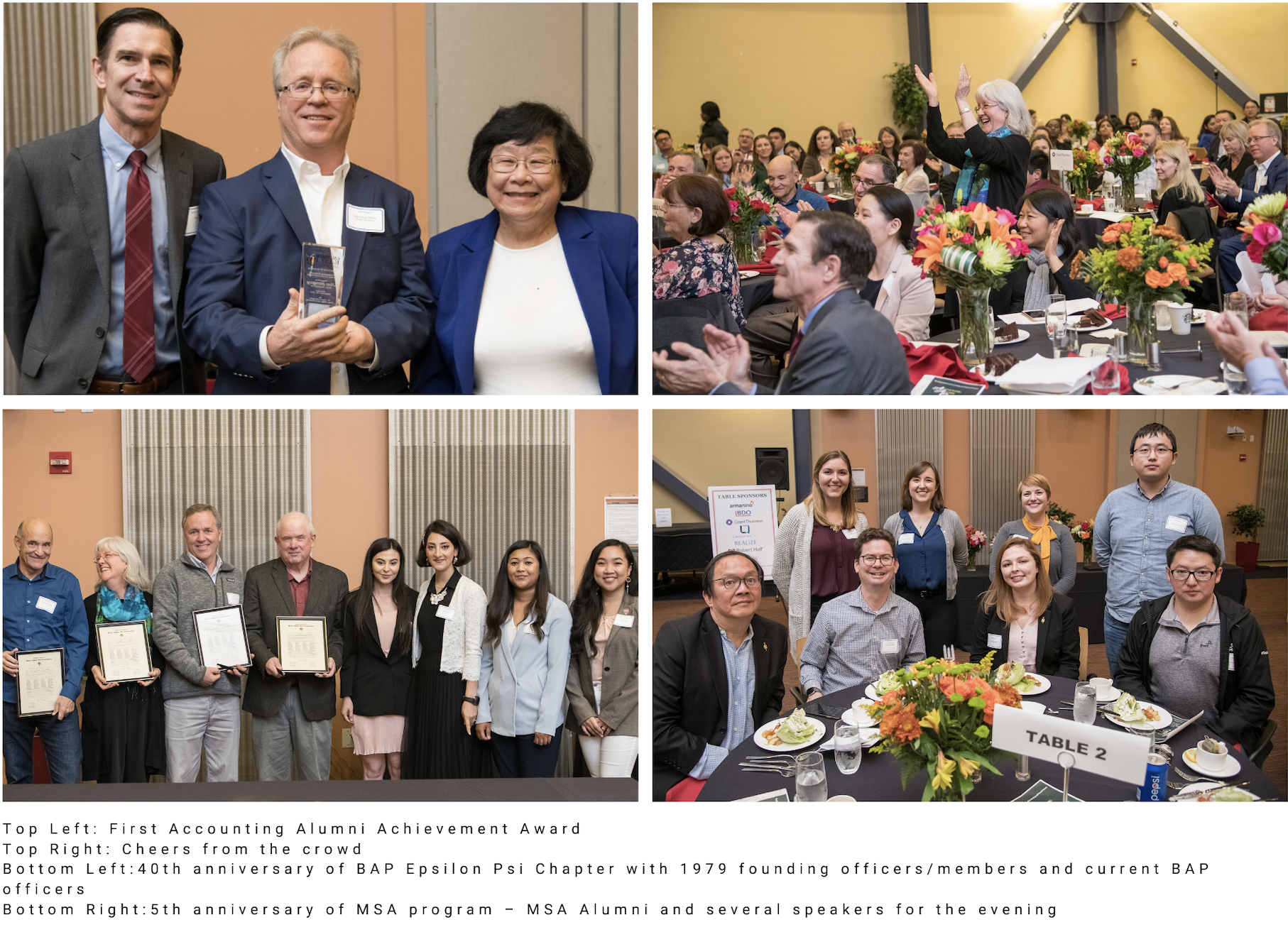 Celebrating the 1st Accounting Alumni Award, the 5th Anniversary of the MS in Accountancy program and the 40th Anniversary of Beta Alpha Psi.
Cal State East Bay College of Business and Economics honors alumnus, trustee, accountant Jim Songey (BSBA Accountancy '82)
The Cal State East Bay Department of Accounting & Finance in the College of Business & Economics (CBE) gathered over 180 alumni and students for the Accounting Alumni Celebration on November 16, 2019. The evening offered networking, mentoring and a reunion to celebrate the first Accounting Alumni Achievement Award, five Years of the Master of Science in Accountancy (MSA) program and 40 years of Beta Alpha Psi, Epsilon Psi Chapter. Cal State East Bay's Accounting program has long been known for preparation of outstanding graduates in Accounting, who have had a significant impact in the field and in their careers. This event celebrated the prominence of the program and the achievements of the graduates. 
That evening, Jim Songey became the first recipient of the Accounting Alumni Achievement Award for his noteworthy professional accomplishments as well as service and impact to Cal State East Bay and the community. 
Jim graduated in 1982 with a BS in Business Administration-Accounting. He received the Accounting Department Scholarship for highest Accounting GPA of 4.0 and was active in Beta Alpha Psi while a student.
He began his career as an auditor for Deloitte Haskin & Sells in 1982. After three audit cycles, he found his niche and transferred into tax. In 1985, he joined KPMG to focus on corporate and partnership tax. Jim was selected to do a rotation at KPMG's National Tax Office in Washington, DC and at 31 was promoted to partner. While at KPMG, he started their State and Local Tax Practice (SALT) in San Francisco and went on to lead the SALT practice for the West Region for 9 years. At age 40 he was promoted to be Area Managing Partner-Tax for the Western Region, responsible for managing the entire tax practice in the West and serving on the national leadership team for the firm. Following that role, he was asked to lead KPMG's national SALT practice – a service line that employed 800 people and $200 million in revenue. In 2007, he joined Grant Thornton, the world's fifth-largest professional services network of independent accounting and consulting member firms, where today he is a tax partner serving clients in the Bay Area. 
Throughout his career Jim has always focused on developing people, providing excellent client service and being creative in addressing tax issues. He has worked with some of the largest clients in the world on tax strategy and planning opportunities and complex tax issues. Jim also worked with clients that were family businesses where the tax advice made a huge difference in their family situation.
Jim spends countless personal time giving back to the accounting community by mentoring and coaching staff, serving on the Enforcement Advisory Committee of the California Board of Accountancy and giving back to his alma mater.
Jim Songey has served as a Trustee of the Cal State East Bay Educational Foundation since 2007. As a Trustee, he is currently a member of the Executive Committee and Chair of the Audit Oversight Committee. He has been a member of the Audit Oversight Committee for several years and provides invaluable expertise to the university. Since graduating, Jim has continued to give back to the university by recruiting Cal State East Bay students to Grant Thornton, speaking to classes as an inspiring model, and representing the Financial Women of San Francisco (FWSF) scholarship committee on campus.  Due to Jim's dedicated efforts, several CBE students received the prestigious scholarships from Financial Women of San Francisco each year since 2018, which enables students to complete their study at the university and provides recognition to Cal State East Bay.
The nominees for the 2019 Outstanding Accounting Alumni Achievement Awards include Meimei Fu (Controller at Gotion Inc.), Minfang Gao (Controller at Asian Art Museum at San Francisco), Jill Lervold (Senior Partner at Realize CPA, LLP), Christina Minasi (Audit Partner at BDO USA, LLP) and Paul O'Grady (Audit Partner at Armanino LLP).
Three prominent Cal State East Bay alumni, Michelle McCann - Partner at Lindquist CPA, Sharon Smith-Lenox - Controller Emerita of Energy Recovery Inc., and Paige Venable - Managing Director at KPMG served on the 2019 Outstanding Accounting Alumni Achievement Awards selection committee. This committee recognized all the nominees and the final award recipient at the event.
Celebrated at this event is also the five years of MS in Accountancy (MSA) Program that graduated many successful students. MSA program had 100% placement rate last year and an excellent record of CPA exam passing rate. Many alumni went to work for Big 4 and other prominent accounting firms. Successful alumni from each cohort of the MSA program, Amber Archambo (2015, BDO), Scott Bradley (2016, Squar Milner), Christine Putkey (2017, BDO), Wantao Yin (2017, PwC), Jenna Green (2018 Grant Thornton) and Kelly Miller (2018, BPM) shared their experiences of what it meant to be a Cal State East Bay Alumnus and how they achieved their success through their education from the MSA program. Several successful BSBA alumni, Aaron Weisz (2015, Electronic Arts) and Tsephel Dolma (2018, PwC) also spoke on their appreciation for the accounting education at Cal State East Bay for their achievements.  
The evening also celebrated the 40th anniversary of Beta Alpha Psi (BAP) Epsilon Psi Chapter at Cal State East Bay. Four founding members from the 1979 inaugural BAP chapter at Cal State East Bay attended the alumni celebration. BAP founding President Dale Lottig (BSBA 1979) and Vice President Tom King (BSBA 1981) recounted their fond memories of the first year of the chapter and their struggles and accomplishments for BAP 40 years ago. Current BAP Epsilon Chapter continued to carry on BAP's excellent work and was recognized as a Superior Chapter again in 2019.
Joy, pride, excitement, appreciation and enjoyment filled the event at this first accounting alumni celebration that will be remembered by many accounting alumni.
Department of Accounting wishes to thank the support of many table sponsors for this accounting alumni event: Armanino LLP, BDO USA, Grant Thornton LLP, Lindquist LLP, Realize CPA LLP, Robert Half, and Cal State East Bay University Extension.