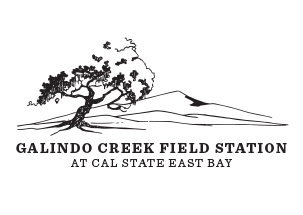 The Galindo Creek Field Station encompasses 53.9 acres of Cal State East Bay Concord Campus land, located on the southeastern corner of campus. It includes an approximately 1,200-foot section of Galindo Creek, which runs through the eastern edge of campus, and is surrounded by a legally mandated 50-foot riparian buffer that protects the waterway. The field station also houses a tributary and wetlands area that form a number of marshes providing additional habitat.
The southern border of the Boatwright Sports Complex forms the field station's northern boundary. The eastern boundary consists of the eastern campus border, which abuts homes along Discovery Way in the city of Concord. The southern boundary is marked by the campus-Crystyl Ranch border. Designed to protect the western tributary and associated wetlands, the field station's western boundary creates a grasslands buffer averaging 365 feet from the wetlands.
According to the National Science Foundation, Field Stations and Marine Laboratories (FSMLs) are outdoor reserves supporting "research and education conducted in the natural habitats of terrestrial, freshwater, and marine ecosystems."
Cal State East Bay Galindo Creek Field Station's mission is to establish the site as a natural preserve in order to:
Provide faculty with an on-campus area suitable for research.

Provide students with a rich environment for fieldwork.

Provide a site suitable for collaborative endeavors involving external 

partners and aligned with the educational mission of the university.

Position the Cal State East Bay Concord Campus as a leading steward of the East Bay's rich natural environment.
Visit the National Weather Service for the current weather conditions at the field station. 
For general questions regarding Galindo Creek Field Station, please contact the field station administrator at gcfs@csueastbay.edu.