Mount Diablo Beacon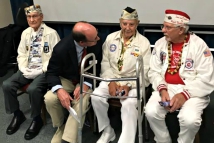 To honor those who died in the attack on Pearl Harbor, Cal State East Bay, Save Mount Diablo, and the Sons and Daughters of Pearl Harbor Survivors, Chapter 5, sponsor an annual Pearl Harbor Remembrance Day event at CSUEB's Concord Campus. Held every December 7th, the ceremony typically concludes with a lighting of the Mount Diablo aviation beacon, a rotating lantern installed in the late 1920s to assist transcontinental aviation. To ease fears that the beacon would be used as a navigational aid by enemy submarines, the system was deactivated during World War Two, and only reignited on Pearl Harbor Day 1964 at the suggestion of retired Admiral Chester Nimitz, wartime commander of the U.S. Pacific Fleet. The tradition has continued to the present day.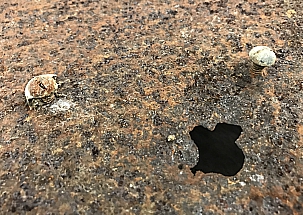 In recognition of its participation in the Pearl Harbor Remembrance Day event, in 2020, Cal State East Bay was chosen to receive a small relic from the USS Arizona. Although most of the Arizona lay at the bottom of Pearl Harbor, portions of the ship above the water line were cut away for use on other vessels or designated for scrap. Additional sections were removed during the construction of the Arizona Memorial. Because of the historical importance of the ship, most of the scrap was placed in a secret location on Oahu.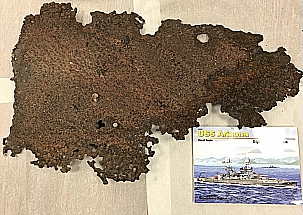 In 1994, the Department of the Navy and the National Park Service developed a protocol to donate these "Sacred Relics" to deserving institutions. Because of its support for past Remembrance Day activities, Cal State East Bay was chosen as a recipient. The relic, shown in the photograph at left, formed part of the Arizona's boatdeck, and was received at the Concord Campus in the summer of 2020. The university is currently developing an exhibit in the Concord Campus Academic Services Lobby, the display scheduled for completion in time for the 2021 Remembrance Day ceremonies.
The university is currently developing an exhibit in the Concord Campus Academic Services Lobby, the display scheduled for completion in time for the 2021 Remembrance Day ceremonies
Timeline of Mount Diablo Beacon
1921: Mount Diablo State Park Established
1928: Standard Oil Constructs First of California's 5 Aviation Beacons (Standard-Diablo
Aviation Beacon)
1939: Civilian Conservation Corps Constructs Summit Building
December 8, 1941: Beacon Deactivated
1945-1964: Diablo Beacon Dormant
1964: Chester Nimitz re-lights beacon on December 7
1964-2009: Annual lighting of beacon in memory of Pearl Harbor casualties 
2009: Snow Storm Reveals Poor State of Beacon
2010: Assemblywoman Joan Buchanan Advances Bill Allowing SMD to Restore the Eye of Diablo
2012-2013: Beacon Restoration