A New Heart of Campus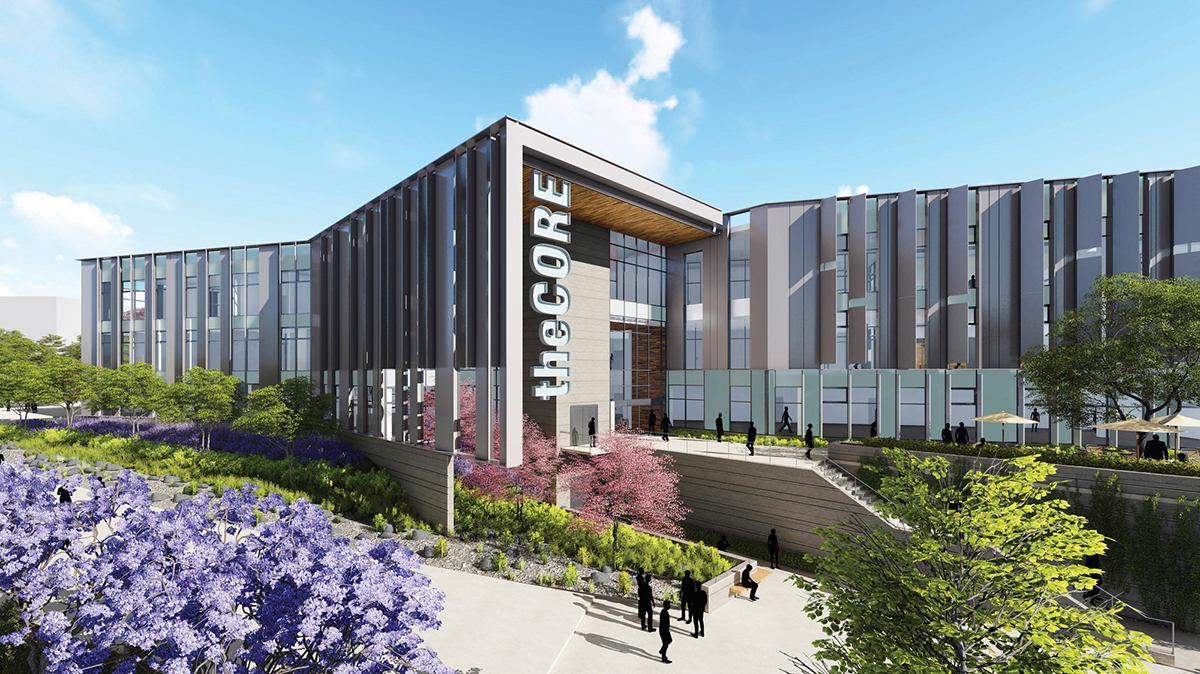 To say that Cal State East Bay is one of the most diverse public institutions in the country means something different to those who actually walk its campus. From the outside, diversity might speak to the range of ethnicities on campus—the look of the students—or even the incredible number of first-generation graduates the university produces each year (62 percent in 2020).
But for the students and faculty who call Cal State East Bay home, diversity is more than a statistic; it's an engine. It drives discussion within classrooms, it poses questions inside research labs and it responds to global and national challenges from a distinct perspective. It fuels dreams and aspirations. It enriches our region and our world.
At Cal State East Bay, we believe diversity is the answer to the urgent demand in the Bay Area and beyond for qualified industry professionals who are fluent in technology; can approach new digital tools with curiosity and confidence; work collaboratively; and who understand the inherent value of varied perspectives. Being able to enter those careers will likewise have a direct impact on our economy and surrounding communities, as more than half of Cal State East Bay students are residents of Alameda and Contra Costa counties—and 80 percent of our graduates spend their careers here at home.
"There is research to show that industries that recruit and retain diverse employees tend to have better problem-solving, creative, and teamwork skills," said Edward Inch, provost and vice president of Academic Affairs.
CORE is a reflection of all those things. A purpose-built home for academic inquiry and exploration, designed to meet the future needs of our region and student population, and fulfill the things they strive to achieve. CORE is a nucleus of innovation that synthesizes the offerings of a traditional library with opportunities for students to test their coursework in the outside world; find critical services and assistance located in one place; take advantage of dedicated space for group projects, presentations, and research; gain direct exposure to technologies that promote digital literacy and critical thinking skills; and consider questions of social justice and community engagement.
"This is the only place where we are actually creating an incubator-type environment that promotes inquiry beyond the classroom," Inch said. "A place where students think and learn together to extend learning beyond their courses, beyond the curriculum and beyond disciplinary boundaries. A place purposely designed to promote student learning outside the classroom has not existed on this campus until now."
OUR STUDENTS' ASPIRATIONS
A career at a hot tech startup. Work as a digital artist, project manager, or physicist. To create life-saving drug therapies. Perform research. Become an entrepreneur. Or a teacher. Or a social worker or computer programmer or data analyst. Find a way to support their families and contribute to their communities.
No matter what our students aspire to do, the skills they need to enter the workforce are only partly found in the classroom. Being able to decipher fact from alternative fact in a complex digital world, collaborate with people from different backgrounds, and articulate ideas with clarity and conviction are what differentiates one job candidate from another.
"The CORE serves as a launch pad for our students' personal and professional success in a knowledge-rich, technology-enhanced world," Inch said. "It engages us as a community to grapple with the world's great issues and challenges in new and engaging ways."
While hands-on learning opportunities and research have long been hallmarks of an education from Cal State East Bay, CORE creates a landscape for students to hone the soft skill sets they need to be competitive in today's world, while also accessing support in specific areas of need. For instance, librarian-taught digital literacy classes that give students a foundation for parsing vast quantities of information will be offered to all sophomores in CORE.
As well, CORE will be home to the university's Student Center for Academic Achievement, a dedicated, purpose-built space that is immediately visible to students as they enter the building. It's a well-deserved boost for a service that transforms personal outcomes, with analytics showing that an ongoing tutoring session of once per week can spike student performance by half a letter grade.
THE LIBRARY OF TOMORROW
The library has long been considered the "heart" or "core" of any university campus. By transforming Cal State East Bay's library to meet the needs of its students and faculty, CORE will become the intellectual hub of our university.
The need is urgent. More than one million visits to the library are made each year, making it the busiest in the California State University system. Beyond that, the current university library, built in 1972, was meant to accommodate about half of today's current student population.
The way CORE will use space will also be vastly different—and more efficient. For example, rather than large static areas devoted to books and siloed services, CORE will showcase architectural flexibility, enabling spaces to be repurposed according to changing needs. It will also feature three times as many rooms dedicated to student use as the current library has, and only about 20 percent of Cal State East Bay's books will make the transition: Those that are most important, most popular, and most current will be placed in CORE, while the remainder stay in their current location. An online retrieval system is in the works. Technologies that exist on campus but are typically tied to departments will be a part of CORE as well. One possibility is "maker" labs where cross-disciplinary projects—perhaps media and business students working together to simulate a product launch—will come to life through shared resources such as a 3-D printer or plasma cutter.
While CORE offers pragmatic services that are increasingly essential to student success, Dean of University Libraries John Wenzler believes the new building will play an even greater role in enriching campus life.
"The library is a home away from home for our students," Wenzler said. "Many of our students, especially with a large commuting population, spend most of their time on campus here. By making CORE the focus of the university's attention, by creating an inspiring, innovative building, and by investing in a place at the center of their campus life, we are telling students how committed we are to their futures. And for faculty, we want to also give them an attractive new environment that draws them into the hub of campus and promotes interacting with each other and students in new and different ways."
---
Cal State East Bay is grateful to those who have donated to CORE, and who will have a named space in the finished building.
Jack Acosta
Debbie Chaw
Patrick Devine
Linda Dobb
Elizabeth and Richard Graw
James Hannan
Edward Inch
Leroy M. Morishita
Michelle Rippy
Richard Sherratt

If you are interested in naming opportunities within CORE, contact William Johnson, Vice President of University Advancement, at william.johnson@csueastbay.edu or (510) 885-4170.