Marvin and Susan Remmich Commit $5 Million to Support Applied Sciences Center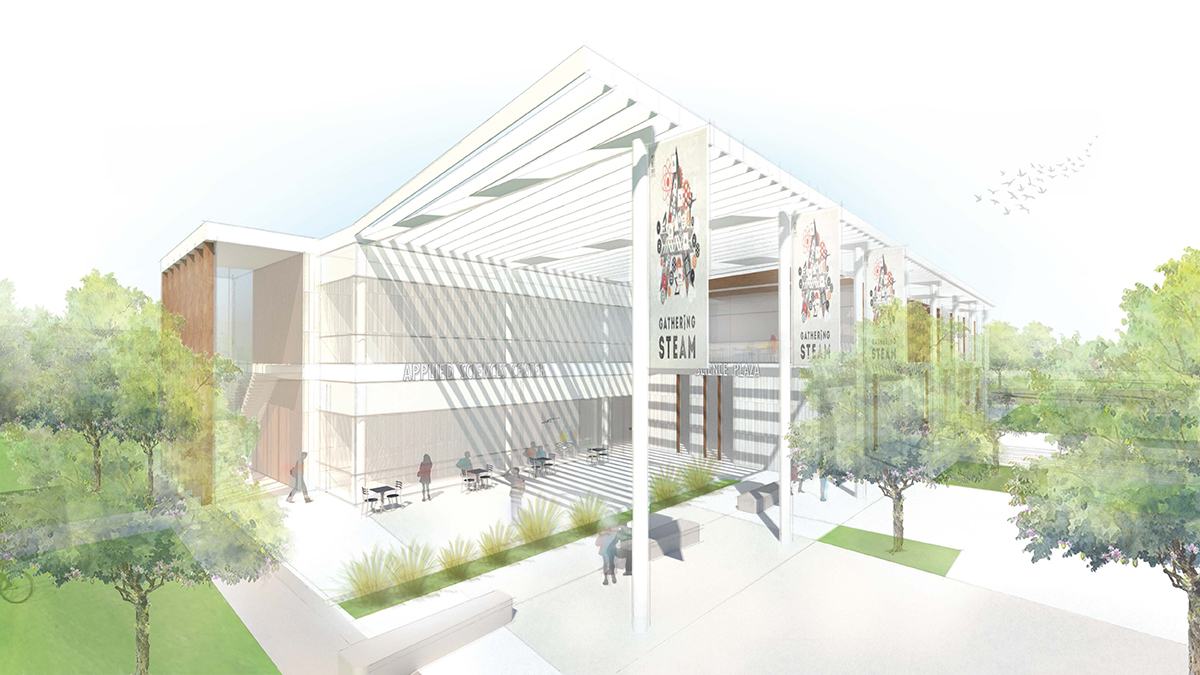 Cal State East Bay received its largest individual gift on record from Marvin Remmich (BS '69, Business Administration), a community business leader and president of RAM Properties, and his wife, Susan. The couple have committed $5 million toward the creation of the university's Applied Sciences Center.
The 20,000 square foot Applied Sciences Center will have two floors with a unified theme of providing spaces for students to engage in their learning actively—whether in the classroom or research laboratory—with up-to-date technology as a hallmark of each lab and learning space. It will also house the newly-created Green Biome Institute, the first plant conservation and genomic profiling institute in the California State University system. Students who participate in the Green Biome Institute or any of the research labs will graduate having had a unique faculty mentored research experience that will boost their confidence as scientists and their career prospects.
"Marv and Susan's commitment to our students' futures and the university's aspirations is not just commendable, but remarkable," said President Leroy M. Morishita. "Their generosity leaves a legacy that will benefit generations of budding scientists and our faculty researchers through best-in-class facilities. We are grateful for their dedication to Cal State East Bay."
Remmich has a long history with Cal State East Bay both as a student and as a member of the Cal State East Bay Educational Foundation Board of Trustees, which he has served on since 2005. He was Board Chair from 2017-2019.
"The university has meant a great deal to me, and Susan and I are pleased to support an area that will become a beacon for the entire East Bay region," said Remmich. "Not only will this new space be a state-of-the-art learning environment, but it will inspire the work that will solve today's and tomorrow's pressing issues in healthy living, natural resources and environmental sustainability. We are honored to have a role in those possibilities."
The university has raised more than $24 million toward this $30 million project and seeks further private support to complete the facility, as well as install fixtures and equipment. The new facility, planned for the Hayward campus, is expected to open in late 2022.
The Remmichs' gift is part of Cal State East Bay's Rising in the East campaign, which concludes with more than $71 million—well above its $60 million goal—raised for the ideas of "people, place, and purpose."
"The Rising in the East campaign provided the resources elevate our students' experiences through improved facilities and further support for our faculty," said Bill Johnson, vice president for University Advancement. "Marv and Susan's support is evidence that these efforts are essential to the university, but more so, the people of the East Bay region."
---
 Cal State East Bay is grateful to those who have donated to the Applied Sciences Center, and who will have a named space in the finished building. Thank you for sharing our foresight and commitment to furthering the success of our students!
Jack Acosta
Randall W. and Patricia Davis
Cherrie Nanninga
Marvin A. and Susan P. Remmich
Rich Robbins, The Nancy P. and Richard K. Robbins Family Foundation
Richard Sherratt
If you are interested in naming opportunities within the Applied Sciences Center, contact William Johnson, Vice President of University Advancement, at william.johnson@csueastbay.edu or by phoning (510) 885-4170.