Alumni Mike and Arlene Abary Create Marketing Department's First Endowed Scholarship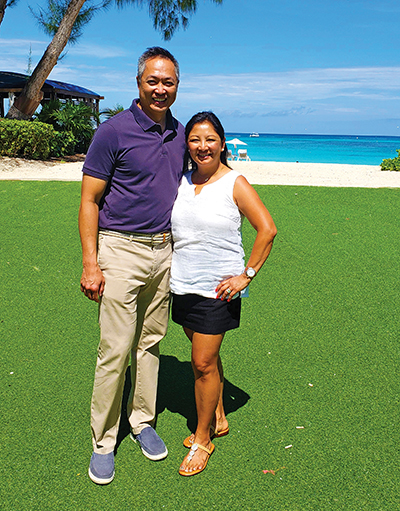 To recognize the strengths of the Marketing Department in the College of Business and Economics, and career success that began at Cal State East Bay (Hayward), alumni Mike and Arlene Abary have created the Marketing Department's first endowed scholarship. 
The scholarship will support undergraduate Business Administration students pursuing an option in Marketing who are first-generation students and/or demonstrate financial need. 
The Abarys both came from similar backgrounds and have a particular interest in supporting these students. The Abarys are establishing their scholarship in gratitude for the impact of their time at Cal State Hayward, where they met. Mike earned his B.S. in Business Administration in 1988 and Arlene completed her B.S. in Health Sciences the following year. 
Arlene spent 11 years as a health administrator for Kaiser Permanente in Hayward before devoting her time to raising their two children. Mike has had a strong career in tech marketing and is currently vice president for Asia Pacific Devices and Services at Google in Singapore. 
Previously, Mike was vice president of the North American Consumer Group at Lenovo, where he led sales, product management, and operations. During his four-year tenure there, he led the division to double market share, and Lenovo became the fastest growing consumer PC brand in the U.S. and Canada from 2015 to 2018. 
Prior to Lenovo, Mike held positions with Samsung Electronics, Sony Electronics, and Synnex, a national commercial IT distributor. In addition, Mike founded and manages Mahogany Holdings Corp., which acquires and transforms small businesses serving low-income communities into high-performing, profitable entities. Mahogany Holdings is designed to give back to the communities it serves through charitable contributions and discounted services. 
Mike recognizes that he has been blessed with an outstanding career, and that it started during his time at Hayward. 
"My degree provided me with a foundation on which to rely upon. Skills such as critical thinking, problem solving, and understanding people—these were fundamental skills I learned from Cal State East Bay that I have carried throughout my career," he said. 
A frequent volunteer for the university, Mike was the featured speaker in 2010 for Cal State East Bay's Honors Convocation. 
More recently, he hosted "Zoom Happy Hour with An Exec" for the College of Business and Economics to provide career advice to business students, and served as a judge for the Smith Center's start-up pitch competition.
 "This is a wonderful gift," said Professor Yi He, chair of the marketing department. "An endowed scholarship will benefit and inspire many generations of students. I am proud of the achievements of our marketing alumni and excited about the role this scholarship will play in propelling our students forward in their careers." 
Gold Nugget Advice 
Mike offered some wise career advice for Pioneer students and alumni: 
Find that person who believes in you, whether that be a mentor, boss, or colleague, and leverage that person to help you ascend. 

Pursue things you are good at, not just passionate about. Look for those opportunities that you are naturally skilled in. 

Never underestimate those five minute conversations in the hallways. This is where networking and relationship building happens, which can turn into opportunities. 

Even if you don't have a lot of work experience, show results on your resume and let people know how you think. For example, you can turn your customer service experience into an impressive outcome. "I was able to resolve 90% of customer complaints within the first phone call."