Life in the East Bay
The East Bay's Communities
Our students, faculty and staff live throughout the East Bay and beyond. Within an hour's commute, you can choose from small towns, larger cities and suburbs — there's a place for everyone. You may also want to consider information on crime and schools when deciding on a community. Here's a little more about what you'll find in Hayward and the surrounding areas.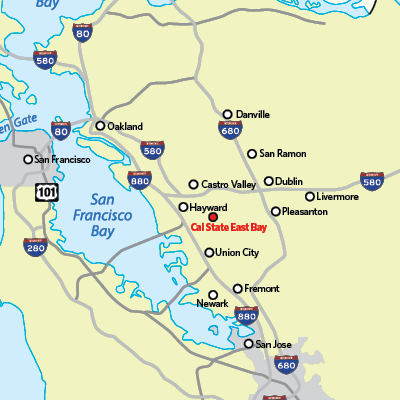 Hayward: A large city with quite a few redevelopment projects happening simultaneously especially as it relates to multi-family housing in the South/North Hayward region. The Hayward hills above and around the campus offer some separation from the larger city living. They have local amenities such as a downtown just a few minutes from campus along with movie theatres and even a mall. 
Commute time: Depending on location most regions in Hayward can get to campus in 5-15 minutes.
Castro Valley: A smaller town in Alameda County that has recently undergone a transformation of its downtown. Castro Valley offers a variety of local shopping with some major retailers in the village but definitely has a feel of a smaller community. You can experience a holiday light parade, an annual street festival, and even a spring event that happens right before the annual rodeo. 
Commute time: Depending on location, most regions in Castro Valley can get to campus in 10-25 minutes.  

 
Oakland: The largest city in the East Bay and its cultural hub. Oakland features an urban downtown, Lake Merritt and regional parks in its hills. The city is known for its food and music scenes. It's home to the Oakland A's baseball team, the Oakland Zoo, several theaters and performing arts venues and much more. 
San Jose: A larger city in Santa Clara County and the 10th largest city in the United States, San Jose is considered the heart of Silicon Valley.  Despite its population, San Jose offers a variety of neighborhoods which feel like smaller towns within the city limits including Willow Glen, Naglee Park and the Rose Garden districts among many others.  Additionally, the city has many opportunities for dining, shopping and entertainment. 
Commute time: Depending on location most regions in San Jose can get to campus in 35-45 minutes (30 miles from campus).  
Tri-City Area (Fremont, Newark, Union City): This area has several mid-size cities with many single family homes and some new construction developments. There are major retailers near most of its communities. The Tri-City area is a convenient location if you have a partner commuting to San Jose or the south bay. 
Commute time: Depending on location most regions in Fremont can get to campus in 20-30 minutes.    
Tri-Valley Area (Pleasanton, San Ramon, Dublin, Livermore, Danville): An area of smaller, family-oriented cities located over the hill to the east. Pleasanton has a small town feel, especially in the downtown area. The area is primarily suburban and is warmer than the communities further west during the summer. A freeway is usually needed to get to campus from most of these communities. BART is also an option from this area - exit at Castro Valley and take the shuttle to campus. 
Commute time: Depending on location most regions in Pleasanton can get to campus in 20-35 minutes.