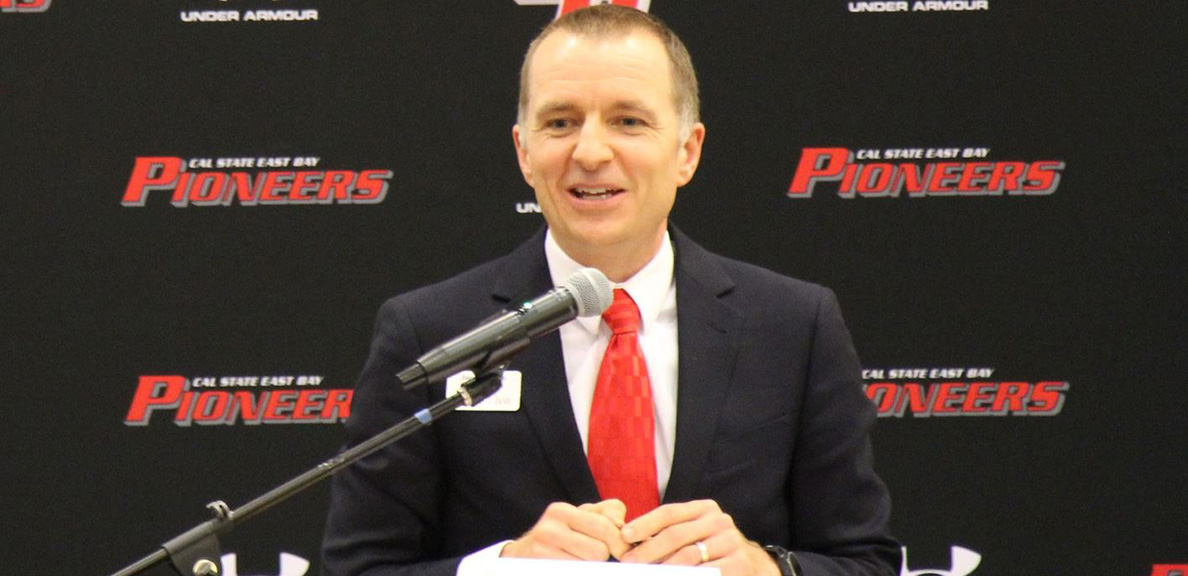 Athletics Director Jason Carmichael to Lead Program at University of West Georgia
BY Cal State East Bay
March 25, 2021
Cal State East Bay Director of Athletics Jason Carmichael has been announced as the incoming athletic director at the University of West Georgia.
"I've already shed some tears this morning, as it just strikes home how much I'm going to miss this place and the relationships I've made here," said Carmichael. "From the student-athletes, to the administrators, staff and fans, you're what makes Cal State East Bay special. I'm going closer to home and closer to family, which makes it easier in the long run. But it doesn't make it any easier in the short run."
A Division II public university located 50 miles southwest of Atlanta in Carrollton, Ga., West Georgia is a member of the Gulf South Conference and has 13 athletic programs, including football.
Carmichael, who has been director of athletics at Cal State East Bay since January 2017, previously held the same position for two years at Western State Colorado University in Gunnison, CO, after having the same title for four years at Mid-South Community College in West Memphis, AR.
Under Carmichael's watch, the Pioneers recently led the California Collegiate Athletic Association 2020 Fall All-Academic Team with 50 honorees, and have maintained a department-wide GPA of at least 3.20 for eight-consecutive academic terms.
In addition, East Bay had 105 student-athletes named to the 2020 fall semester Athletic Director's Honor Roll, far surpassing its previous total of 89 in 2019. It was the fourth time since the AD's Honor Roll was instituted in 2016-17 under Carmichael that all 13 programs posted at least a 3.0 average.
Carmichael also collaborated with staff and university personnel to implement a return-to-participation plan that kept student-athletes safely engaged, physically and mentally, during the ongoing COVID-19 pandemic.
"Jason's leadership has been a boost to the entire Pioneer Athletics program," said Debbie Chaw, vice president for Administration and Finance. "He has made great strides to improve the organizational structure and professionalism in the athletics department. More important is the influence he has had helping our student-athletes succeed, both academically and in their sports." 
Carmichael helped create the department's inaugural "CARE" team for identifying and supporting student-athletes who were at risk, and was instrumental in launching an annual fund in Pioneer Athletics, the Pioneer Athletic Club, focused on athletics aid enhancements.
In addition, Carmichael initiated and administered the process for the selection of a department-wide apparel provider, Under Armour.
The athletics department also successfully hosted the 2019 Women's and Men's CCAA Basketball Tournament and served as a mentor for the 2019-20 D2 ADA/NCAA DII Mentoring Cohort.
In competition, Pioneer women's cross country finished a program-best 9th at the 2019 NCAA Division II Cross Country Championships, while swimming won back-to-back Pacific Coast Swim and Dive Conference championships. In addition, volleyball participated in their first-ever NCAA DII Tournament in 2018, and women's basketball qualified for the NCAA DII tournament in 2016-17.
"I know I speak for many in the East Bay family by saying that we will miss Jason greatly," said Chaw. "We wish him much success in this new opportunity, and wish him and his family a safe and healthy journey to Georgia."
Cal State East Bay will appoint an interim athletics director in the coming weeks, and will begin a nationwide search immediately, with expectations to have a new athletics director hired by Fall 2021.