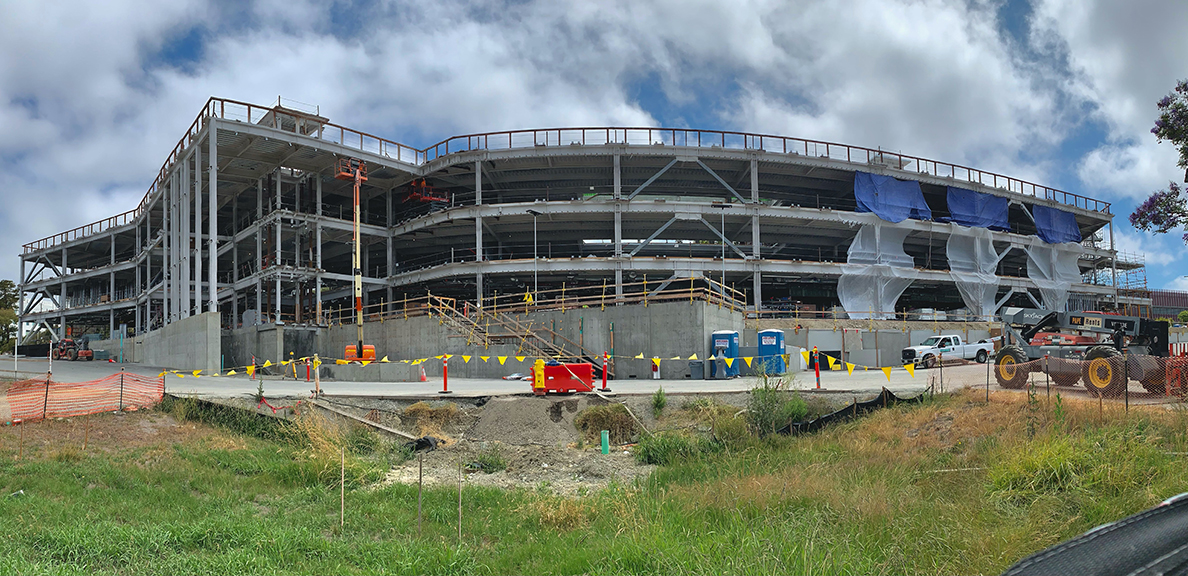 CORE Building Construction Site Honored with Statewide Construction Safety Recognition
BY Cal State East Bay
July 20, 2021
Rudolph & Sletten, the construction firm overseeing the CORE Building, recently received recognition from CalOSHA Consultation's Voluntary Protection Program (VPP) - Construction. This is only the 16th building statewide and the eighth Rudolph and Sletten project to receive this distinction.   
Cal/VPP Construction certification acknowledges active employee involvement in their construction site safety and health management system to reduce accidents and injuries at the site. 
Construction of the CORE Building has continued during the pandemic, and the university celebrated its progress at a March topping out ceremony. 
Alumnus Bryan Luna '18 is a project manager directing the construction team working on the CORE Building.
"I definitely take a lot of pride in being part of this venture," Luna said, describing the CORE Building as a particularly challenging project. "Everyone starting out in their career needs to progress in their career pretty quickly, and this is a really interesting, tough project with a lot of things you wouldn't see in many buildings."
When completed in 2021, the CORE will become a center for learning, engagement and collaboration located at the heart of Cal State East Bay's hilltop campus. The CORE's 21st-century academic library will teach students how to navigate the information age economy and become self-directed learners. The Student Center for Academic Achievement, located on the top floor, will focus on providing the skills needed for student inquiry, development and research. The Hub for Entrepreneurship — prominently placed on the ground floor — will provide a nexus for students and faculty to explore innovations that will propel the creative economy into the next generation and beyond.
Watch construction live cam views from the Library and Mieklejohn Hall.