Allison Kern Named Cal State East Bay's Athletic Director
BY Cal State East Bay
August 10, 2021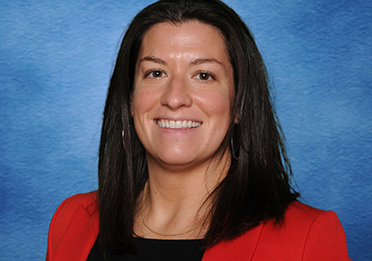 After a nationwide search, Allison Kern has been named as the Associate Vice President/Director of Athletics for Cal State East Bay. 
"I am thrilled to be joining Cal State East Bay," said Kern. "Everyone I met during the interview process is incredibly invested in the university's mission and student success." 
Kern will lead Cal State East Bay's 15 intercollegiate athletics teams, with more than 230 student-athletes who compete in the California Collegiate Athletic Association (CCAA), the Pacific Collegiate Swim and Dive Conference (PCSC), and the Western Water Polo Association (WWPA). 
"Allison brings a terrific skill set to Cal State East Bay, including her time as a student-athlete and her experience as a well-rounded university leader," said President Cathy Sandeen. "I am impressed by her ability to develop partnerships across the organization and throughout the community, connecting students with financial, academic and professional development opportunities that support their success."
Kern has been the director of athletics at Saint Xavier University in Chicago, Ill. since July 2019. There, she increased revenues to athletics, including donor support, and co-chaired a pillar of the university's strategic planning committee. Saint Xavier University is in the National Association of Intercollegiate Athletics (NAIA) and part of the Chicagoland Collegiate Athletic Conference (CCAC). The school has 19 men's and women's varsity sports.
Prior to her time at St. Xavier, Kern was with Agnes Scott College in Decatur, Ga., where she served as the head women's basketball coach and later assistant director of athletics for external relations before assuming the role of director of athletics in 2018. 
Kern, a student-athlete in basketball, received her bachelor of arts in political science from John Carroll University in Ohio. 
"The value of college athletics can't be understated in the role it plays for student success," Kern said. "Student-athletes develop skills that are unique to their experience and position them for leadership throughout their lives. It is clear to me that Cal State East Bay's program is student-centered and aligns its efforts toward success, academically and in competition." 
Since 1961, the Pioneers have won a total of nine team national collegiate championships and eight individual national championships. Cal State East Bay has produced over 250 All-Americans and over 80 conference championships in NCAA Divisions II and III, as well as in the National Association of Intercollegiate Athletics (NAIA).