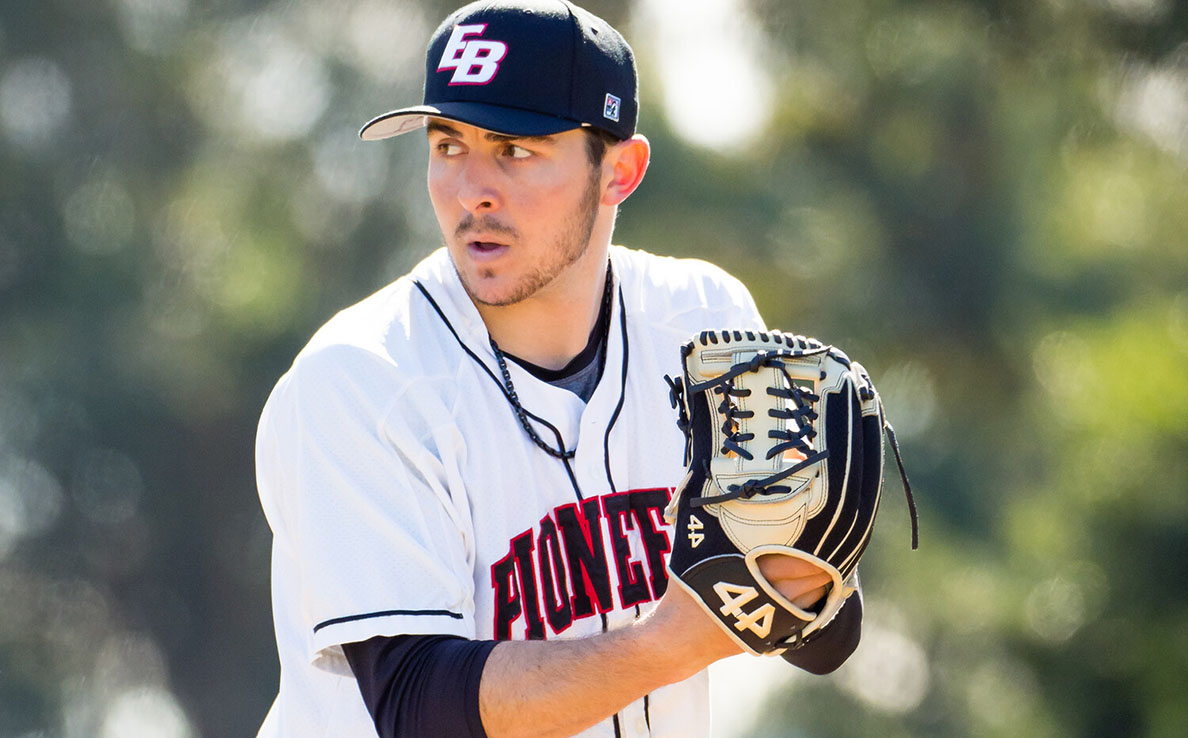 A Major League Pioneer
BY STEPHANIE HAMMON
PHOTOGRAPHY BY KELLEY COX
September 1, 2021
As the playoff race heats up for the Los Angeles Dodgers, Cal State East Bay alumnus Alex Vesia has become a reliable arm out of the bullpen for the defending World Series champions. 
It's a remarkable climb for someone who was a 17th round draft pick as a college senior and had just a single scholarship offer coming out of high school — Cal State East Bay. 
Now, after a record-setting career with the Pioneers, the 2018 graduate has used his strong work ethic and unique fastball to become a valuable contributor to one of the best teams in baseball. After being recalled from the minor leagues in mid-July, the left-hander has been nearly unhittable for a long stretch of time. In 19 games, he's allowed just two earned runs with 25 strikeouts in 20.2 innings pitched. 
"I think he's found his confidence, his swager and certainly, the performance has been very consistent."
—
Los Angeles Dodgers manager Dave Roberts
"I think he's found his confidence, his swagger, and certainly, the performance has been very consistent," Dodgers manager Dave Roberts told the LA Times in August. "It's been a huge add for us."
Coming out of high school at Steele Canyon outside of San Diego, Vesia didn't exactly seem destined for success at baseball's highest level. 
"I didn't throw hard, I feel like I (physically) matured really late," Vesia said. "I was tall but there was no muscle on me whatsoever. I feel like I was really just an average high school baseball player. Nothing really stood out." 
Still, Vesia's high school coach sent his highlight film to college coaches throughout the West Coast. Only Cal State East Bay took notice. 
Once he got to Hayward, Vesia's success was pretty much instant. He quickly earned a spot in the starting rotation as a freshman and after an impressive first season, Bob Ralston, the Pioneers' coach at the time, called Vesia into his office. 
"He told me, 'You can be a professional baseball player,'" Vesia recalled. "I was like 'Nah, no way' and he said, 'If you keep working hard like you do, things can go your way.' I took that and I ran with it." 
Though Vesia graduated as Cal State East Bay's all-time leader in career wins (24), strikeouts (249), and innings pitched, his college career wasn't without bumps. He had a losing record and an earned run average of nearly 5 during a disappointing junior season.
"I think he put a lot of pressure on himself," said Mike Cummins, who took over as the Pioneers' head coach after Vesia's sophomore year. "Scouts saw him and he wasn't quite ready. When he came back his senior year, he had a new sense of urgency. We talked a lot about letting the game come to him."
Vesia's senior season was the best of his college career and, just days before graduation, he was drafted by the Miami Marlins. After working his way through the minor leagues for two seasons, he made the Marlins' opening day roster in the pandemic-shortened 2020 season. 
It was a time of ups and downs for Vesia. When he made his MLB debut, his parents had to miss it due to COVID-19 restrictions. He was also one of several Marlins to contract COVID-19 on a team bus ride during the first week of the season. But he pitched in five games that season, getting a glimpse of what's needed to succeed at the major league level.  
Then, just before Spring Training began earlier this year, Vesia got a surprise phone call. He had been traded to the Dodgers.
"I was speechless," he said. "I thought I was a secondary piece to a trade, I didn't know I was the big piece until I saw it on Twitter. I was super happy because I know how great the Dodgers organization is and I knew it would bring my game to the next level." 
"People always say you can't get to the big leagues from Division II. Yes, you can. I'm proof."
It also means his parents can attend every home game at Dodgers stadium from within reach of San Diego, and Vesia's family and friends in Southern California can support him regularly. 
Throughout his journey, Vesia hasn't forgotten his Cal State East Bay roots either. When the Dodgers were in the Bay Area to play the Giants in July, he invited some old Pioneer teammates as well as Cummins and the Cal State East Bay coaching staff. He also texts with Cummins regularly.
"I like giving them updates and I'm now passing them down information from what I've learned up here in the minors and in the major leagues," Vesia said. 
His success has impacted the baseball program in other ways, too. "When we're recruiting, we always tell the story of him," Cummins said. 
Though Vesia is the first player from Cal State East Bay's baseball program in over 40 years to make the major leagues, he hopes he's not the last. 
"I can't wait for the alumni game next year so I can go up to East Bay and talk with the team and maybe be a little bit of an inspiration to them," Vesia said. "If I can do it, anybody can do it. People always say you can't get to the big leagues from Division II. Yes, you can. I'm proof."