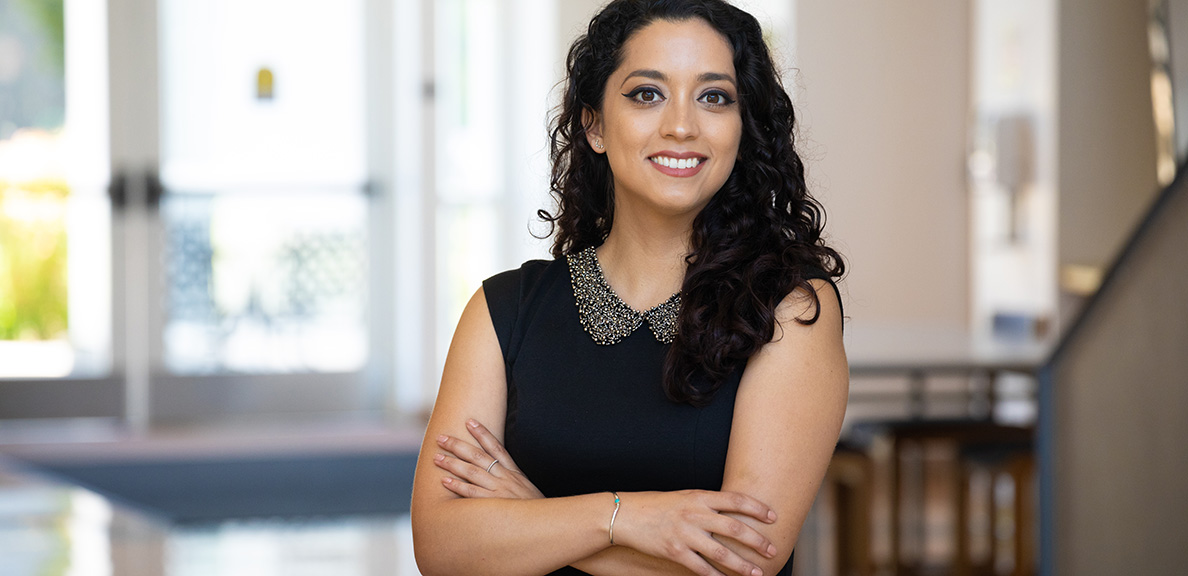 Cal State East Bay Student Angelica Gurrola Named William Randolph Hearst Scholar
BY Cal State East Bay
PHOTOGRAPHY BY Garvin Tso
September 14, 2021
Angelica Gurrola, a graduate student in business administration was one of 23 scholars to receive the 2021 Trustees' Award for Outstanding Achievement during the September 14 CSU Trustees meeting. She is the only recipient from Cal State East Bay. 
"I am so grateful and honored for this award," Gurrola said. "My many thank yous go to all who helped me and continue to provide support. Just to be recognized and not to have the financial pressure of more loans is meaningful to me. I can focus on school, networking and making connections on campus." 
The Trustees' Award is the university's highest recognition of student achievement. Each award provides a donor-funded scholarship to students who demonstrate superior academic performance, personal accomplishments, community service and financial need. 
"These 23 scholars wonderfully exemplify the ideals of the California State University," said CSU Chancellor Joseph I. Castro. "Every year, and especially this year, our Trustees' Award honorees demonstrate resilience, tenacity and resolve—together with a keen intellect—while making an indelible, positive impact on their families and their communities. They are truly an inspiration."
More than 400 students have been honored with the Trustees' Award since the scholarship program was established in 1984 by the William Randolph Hearst Foundation. In 1999, the Hearst Foundation partnered with the CSU Board of Trustees to supplement the endowment with contributions from CSU Trustees, CSU Foundation board members and private donors. Awardees have all demonstrated inspirational resolve along the path to college success and many are the first in their families to attend college.
After completing her undergraduate degree at UC Berkeley, Gurrola returned to her hometown in Southern California. The idea of graduate school continued to inspire her, and with the support of her family, she applied to Cal State East Bay. Its program that couples Human Resources and organizational behavior fit her goals to work in senior leadership in a consulting firm.
"I picked East Bay because I really missed the culture of the Bay Area," she said. "It's been my home away from home."
James Carroll, director of student conduct, has known Gurrola since she was at UC Berkeley, and now supervises her work as a student assistant.
"Angelica embodies the spirit of a Cal State East Bay student as she has shown her persistence for education," he said. "I admire her resourcefulness to accomplish her goals as a first generation, low income college student and her passion to help and make change in the world. She is a true example of Per Aspera Ad Astra." 
"It's been a rewarding process to be recognized with the scholarship and I know that others believe in me," she said. "I look forward to paying it  forward. I know I'm not the only one who faces these challenges."
---
More than 70 percent of Cal State East Bay's students are eligible for financial aid, and scholarships provide essential support for tuition and other expenses. Donor support relieves financial challenges, and provides a vote of confidence to encourage students to persist in their studies. Learn more about scholarships.