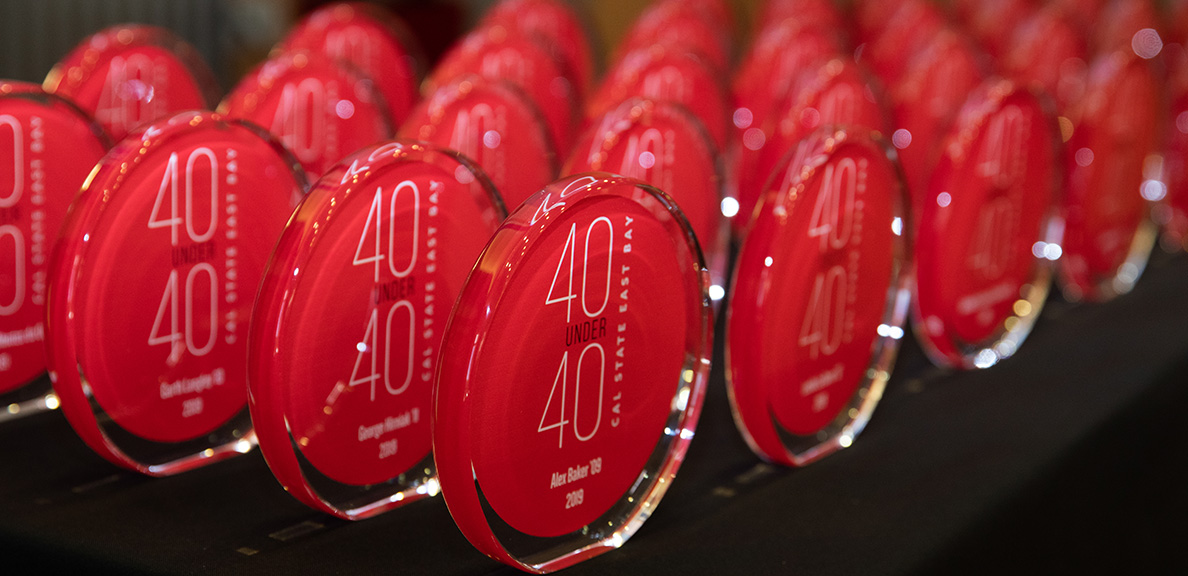 Honoring Outstanding Young Alumni
BY Cal State East Bay
October 25, 2021
Cal State East Bay and its Alumni Association are celebrating their exceptional young alumni this week at the 40 Under 40 Awards. 
The annual awards event recognizes alumni aged 40 years old or younger who have demonstrated dedication, excellence and development in their professional, philanthropic and personal endeavors. They will be honored for the significant contributions they have made toward improving and uplifting their professions, personal endeavors and communities in which they serve and live. 
This year's celebration is Saturday, Oct. 30 at 10:30 a.m. on the Hayward Campus. 
Cal State East Bay will recognize the following alumni this year. 
Gil Kenneth Advincula '11 (B.S. Applied Mathematics)

Mark Almeida '12 (B.S. Business Administration)

Jericho Apo '17 (B.A. Sociology)

Rohit Arora, DO, FACOI '10 (B.S. Biochemistry & Biological Sciences)

Marci Bertuzzi '20 (B.S. Business Administration)

Aaran Callahan Smith '18 (B.S. Health Sciences)

Rocio Camarena '15 (B.A. Sociology)

Tanisha Cannon '18, '20 (B.A. Sociology, MPA)

Hanita Chalabi '16 (B.S. Business Administration)

Shaun Collins '16 (M.S. Education)

Veronica Collins '19 (B.S. Health Sciences)

Deja Croft '18 (B.A. Sociology)

Cinthia Diaz '21 (MPA)

Chinna Ford '14 (B.A. Ethnic Studies)

Will Freedman '11 (B.S. Business Administration)

Tiffany Gatehouse '10 (B.A. Communication)

Meagan Gerling '17 (M.S. Business Analytics)

Babatunde Iroko '16 (MPA)

Kameron Klotz '17 (B.S. Psychology)

Erin Lockhart '03, '05 (B.A. Liberal Studies, Teaching Credential)

Dennis McCollins '16 (B.A. Anthropology)

Lauren McCollins '16 (B.A. Communication)

Dung Kim Nguyen '11, '21 (M.S. Education; Ed.D.)

Elizabeth (Lizzy) Ortiz '12 (B.S. Biological Science)

Jeremy Pagdanganan '12 (B.A. Sociology)

Janelle Peck '04 (B.A. Psychology)

Michael Pham '21 (MPA)

Daniel Ponce '10 (B.S. Business Administration)

Marissa Rafael '08 (B.S. Nursing)

Gregory Rocha '06 (B.A. History)

Jason Rodriquez '15 (B.S. Kinesiology)

Ashok Shastry '13 (B.S. Business Administration)

Sunny Singh '10 (B.S. Finance & Corporate Management)

Mecole Tate '10 (B.A. Criminal Justice)

Zebib Teklyes '10, '19 (B.S. Civil Engineering; M.S. Construction Management)

Stephen Theall '04, '07 (B.S. Business Administration; M.S. Kinesiology)

Precious Tolentino '19 (B.S. Business Administration)

Theodore Vuong '17 (B.S. Business Administration)

Isiah Walters '18 (B.A. History)

Theresa Jingyun Yao '18 (M.S. Speech Language Pathology)