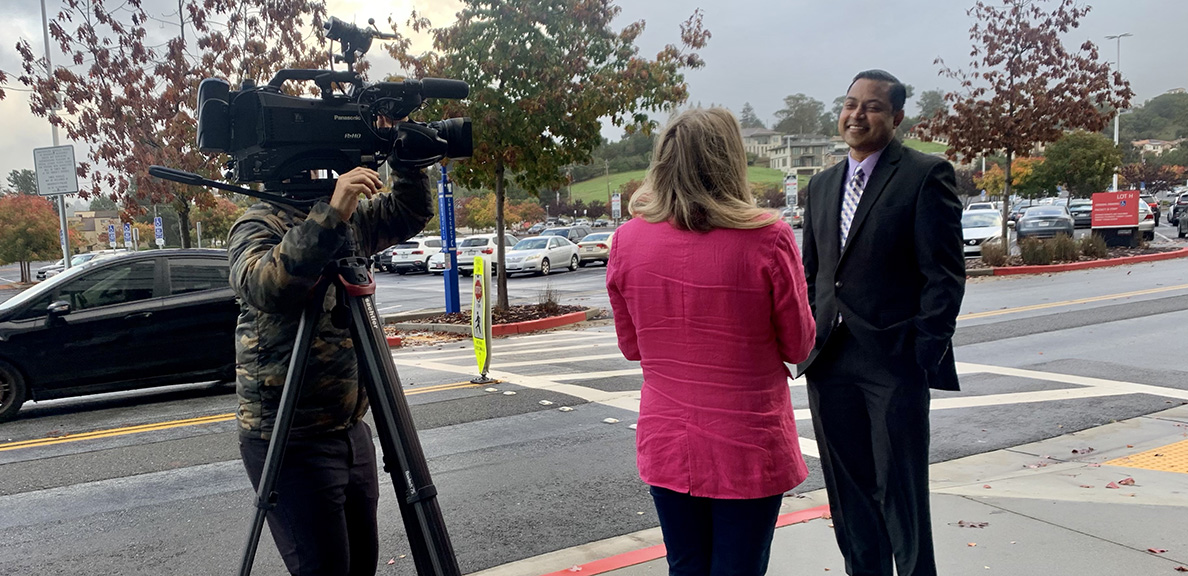 Cal State East Bay in the News: January 2022
BY Cal State East Bay
January 5, 2022
Each month the Cal State East Bay News Center will share the media articles featuring the university and its faculty, staff and students. Check back as more articles are added to this running collection.  
An op-ed from alumnus Prem Pariyar shining light on his experience and why a change to the CSU's discrimination policy was necessary. (January 31, 2022 | SF Chronicle)
---
Recent alumnus Prem Pariyar was a vocal advocate in helping get the CSU's anti-discrimination policy tweaked to include caste protections. (January 30, 2022 | CNN)
---
Cal State East Bay is one of several Bay Area universities planning to return to in-person classes after starting the semester virtually. (January 26, 2022 | East Bay Times)
---
If the pilot project proposal is passed, Cal State East Bay would be one of five campuses piloting a universal basic income program. (January 24, 2022 | Fresno Bee)
---
Alumnus Michael Obah shares his experience as a Black teacher and why he changed careers to teach. (January 21, 2022 | EdSource)
---
A Cal State East Bay alumnus was one of the biggest advocates for this policy change. (January 20, 2022 | LA Times)
---
Cal State East Bay is one of 45 universities selected to be part of a historic program to provide college students with a debt-free path through service. (January 19, 2022 | KRON-4)
---
Cal State East Bay is one of the campuses under consideration for the pilot program. (January 14, 2022 | LA Times)
---
President Cathy Sandeen is one of several leaders of California colleges and universities to give perspective on how the recent surge of COVID cases is affecting classes and campus operations. (Ed Source | January 14, 2022)
---
Julie Glass, chair of the math department, shares how the university has transformed its calculus classes to strengthen students' basic math skills. (January 12, 2022 | Ed Source) 
---
Arnab Mukherjea, chair of Cal State East Bay's public health department, shared thoughts on how to stay safe during the current COVID-19 surge, when it might end and what the future may look like. (January 12, 2022 | NBC Bay Area)
---
Management professor Kaumudi Misra discusses how companies implement "unlimited PTO" and what it means for employees. (January 11, 2022 | Fatherly)
---
Cal State East Bay is the latest college campus to delay the return of in-person classes. (January 6, 2022. Additional sources: KRON, LA Times, Bay Area News Group, San Francisco Chronicle).
---
Arnab Mukherjea, chair of Cal State East Bay's public health department, gives advice for parents on how to keep kids safe at school during the current Omicron surge. (CBS News | January 5, 2022)
---
Criminal Justice professor Cory Lepage discusses the difficulty of solving freeway shootings. (ABC-7 | January 5, 2022)
---
Management professor Kaumudi Misra gives insight on why so many people are seeking new employment opportunities. (NBC Bay Area | January 4, 2022)