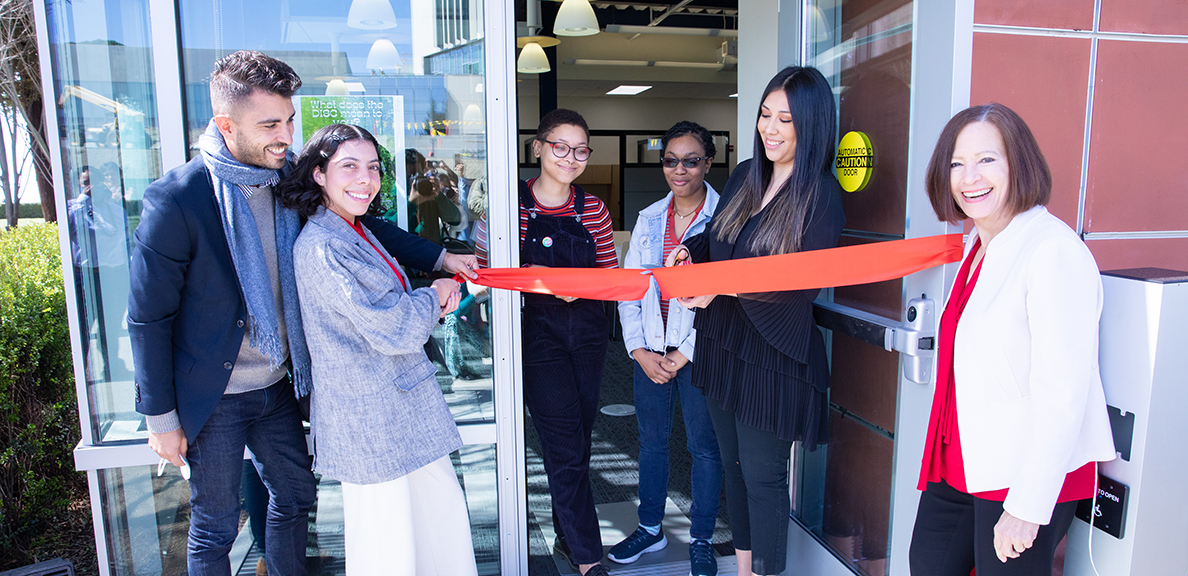 Affinity Student Success Centers Open at Cal State East Bay
BY Cal State East Bay
PHOTOGRAPHY BY Garvin Tso
March 14, 2022
Finding a sense of community at college is closely tied with higher graduation rates. Cal State East Bay knows the impact that feeling connected can have on student success and is facilitating this with the opening of four affinity student success centers on its Hayward campus. 
These new spaces, where students can make meaningful connections with their peers and find the resources they need to be successful, are now welcoming students. Students, faculty and staff celebrated the centers with a grand opening and ribbon-cutting celebration on March 17.
The four new success centers are for students who identify as Black, Latinx, undocumented and Asian American Pacific Islander (AAPI). The Black and Latinx centers are located in the Old University Union while the Undcumented and AAPI centers are in the New University Union. Additonally, the Diversity and Inclusion Student Center (DISC) has been remodeled.  
"From what the students have been telling us all along, they want a space that is going to help with their sense of belonging," said Martin Castillo, Associate Vice President for Campus Life. "These centers are meant to really help with that while also centralizing services, programs and events for those communities to build their own little social network of support amongst themselves. It's really meant to address the equity gap and to create a space where they feel welcome." 
The idea of creating these affinity student success centers had been in discussion for years. When President Cathy Sandeen started in early 2021, she made a decisive move just seven weeks into her tenure to  approve the centers. Shecreated a task force of students, faculty and staff to provide implementation recommendations.   
"Our students and graduates tell us that one of the critical factors to their success is the sense of community they find at Cal State East Bay," said President Sandeen. "I am grateful to the students, alumni, faculty and staff who have collaborated to identify the best practices and programmatic offerings that support student equity and graduation rates."
In addition to being a welcoming space for students to gather and socialize, the affinity centers will also bring the many wraparound resources that the university offers, such as counseling and financial aid, to students in a place they feel comfortable.
"At the very least we want to give them knowledge of all the different services that exist on this campus for them," Castillo said. 
Each of the affinity student centers will have a staff coordinator. Miguel Pimentel (undocumented), Cookie Garrett (Black) and Krystle Tonga (AAPI) have been hired, and the search for a Latinx student center coordinator in its final stages.