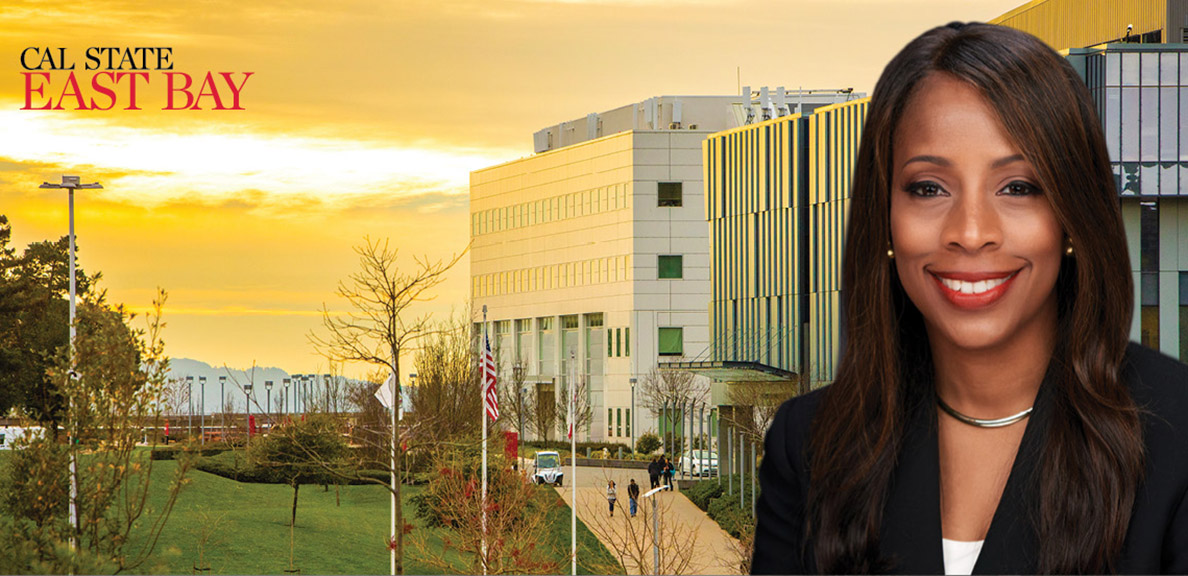 Myeshia Armstrong Named Vice President for Administration and Finance
BY Cal State East Bay
March 7, 2022
Following a nationwide search, Myeshia Armstrong has been named the university's new Vice President for Administration & Finance. She will begin her role in June. 
Armstrong joins Cal State East Bay from East Los Angeles College, where she serves as Vice President of Administrative Services. Prior to that, she held leadership positions at Mt. San Antonio College, Rio Hondo College and MiraCosta College, as well as the CSU System office.
"As we spoke during her interview process, I learned about Ms. Armstrong's personal commitment to creating an inclusive and innovative infrastructure that supports access to higher education and student success, as well as lessons learned during the COVID-19 pandemic," said President Cathy Sandeen. 
Armstrong has more than 20 years of experience in public education administration and has managed a portfolio of institutional assets exceeding $1 billion. Her professional experience includes leadership and oversight of key administrative units such as accounting and budget, payroll and personnel, facilities maintenance and operations, construction management, information technology, procurement and campus safety.  
The Vice President for Administration & Finance leads essential university areas including Human Resources, Facilities Development & Operations, University Police Department, Financial Services, Risk Management and Information Technology Services. 
"As an educational leader, my role as the vice president is to work collaboratively with campus stakeholders to inspire innovation, strengthen services and program support, build community partnerships, attract additional resources and promote the University's competitive advantages," said Armstrong. "I am excited to join Cal State East Bay as the university finalizes its Future Directions planning. I was inspired by the engagement of faculty and staff during the recruitment process and I know that I am joining a committed and dedicated team." 
Armstrong received her undergraduate degree from Cal State Long Beach and her master's degree in business administration (MBA) from DePaul University in Chicago, Illinois. She devotes her time to serving the community through a variety of community outreach activities. Armstrong served on the Board of Trustees of Mt. Sinai Baptist Church, she is a fellow of the Los Angeles African American Women's Public Policy Institute, a member of The Links, Inc. and a member of Delta Sigma Theta Sorority, Inc.  
Search committee members represented areas throughout the university, and included Christian Rosseler, Paul Carpenter, Ryan Heryford, Monika Sommerhalter, Nancy Mangold, Vareece Lincoln and Roditha Reomiro.