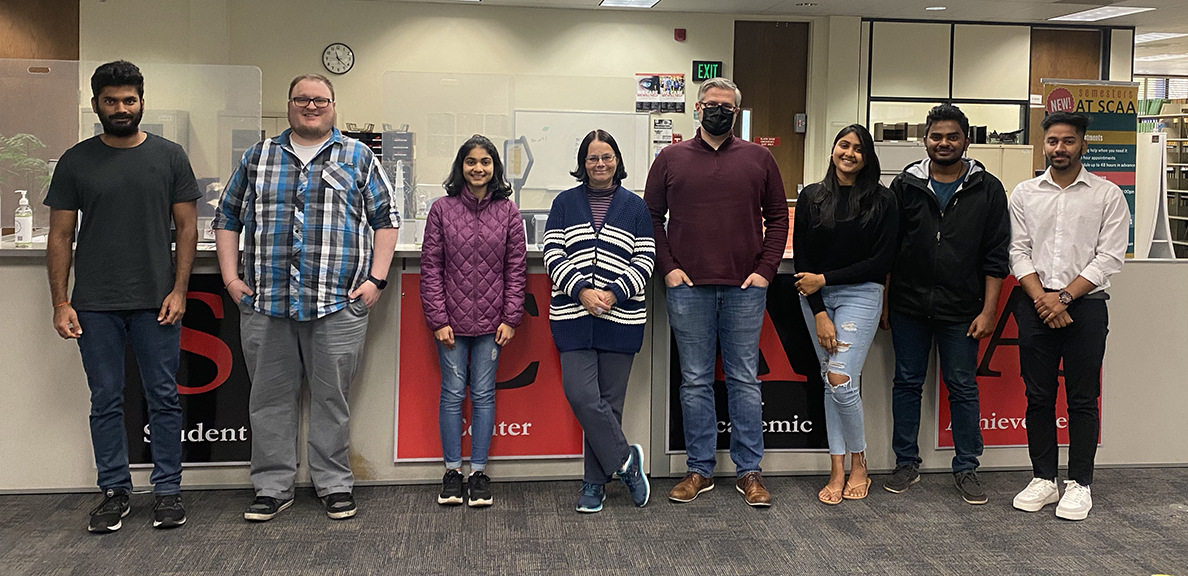 SCAA Celebrates 20 Years of Innovative Programming and Student Support
BY Simrun Bhandal
April 13, 2022
For many students -- whether local or from far off places -- going to college is both exciting and at times nerve-racking, especially if they find themselves struggling with classes. But help is available. Students can find support at Cal State East Bay's Student Center for Academic Achievement also known as SCAA (pronounced Ska).
Celebrating SCAA
Since 2001, SCAA has focused on providing free tutoring for CSUEB students in math, writing, and science, plus they offer other learning services. This Thursday, April 14, SCAA celebrates its 20th Anniversary
Building support for students 
From its inception, SCAA's mission and objective has been three fold: The first focus is to help students develop and improve their skills and abilities to meet the demands of college-level coursework. The second is assisting students in achieving and maintaining academic excellence. Lastly, SCAA focuses on supporting students in accomplishing their academic and career goals and graduate as self-directed, life-long learners. 
Breaking the stigma around tutoring
SCAA Interim Director Sara Schupack said, "Some people associate tutoring with struggle and failure. First of all it is not a sign of weakness to seek help. Secondly, very competent and capable students also seek help." 
Schupack further stated, "This is true with not only writing but with all subjects, sometimes having another pair of eyes look at your work, and talking out loud helps." 
Creating a family culture
Many of SCAA's peer tutors, supplemental instruction (SI) leaders, receptionists and staff call themselves members of the SCAA family. This culture is apparent in SCAA employees' dedication to its students. 
"Within the time I worked at the SCAA, I've seen countless students achieve more than they thought possible due to the support we provide,." Rider Schwenk, a previous writing tutor, said. "Some of my favorite moments include both the beginning and end of semesters. New students who are unsure of their work grow into wonderful writers over the term and seeing their insecurity turn into confidence is what compelled me to continually improve my work there." 
Providing a 360 degree approach
With the ongoing changes in our world and students having to balance classes, work and their personal lives, SCAA offers many different options for tutoring both onsite and online.
Onsite offerings include drop-in hours for students to pop in between classes.
There is also an innovative Supplemental Instruction (SI) program, where SI leaders provide peer-facilitated, collaborative and active study sessions for classes that they have previously taken and received either an A or B. 
Online, students can schedule hour-long peer tutoring, which is usually conducted over Zoom. 
There is also the online writing lab (OWL) for students looking to get written feedback on assignments within 72 hours. 
Lastly, there is 24/7 help through the eTutoring platform, which allows tutors from different universities to work with students synchronously and asynchronously. They answer questions in real time, replying to questions and essay submissions that students have left for review and commentary.