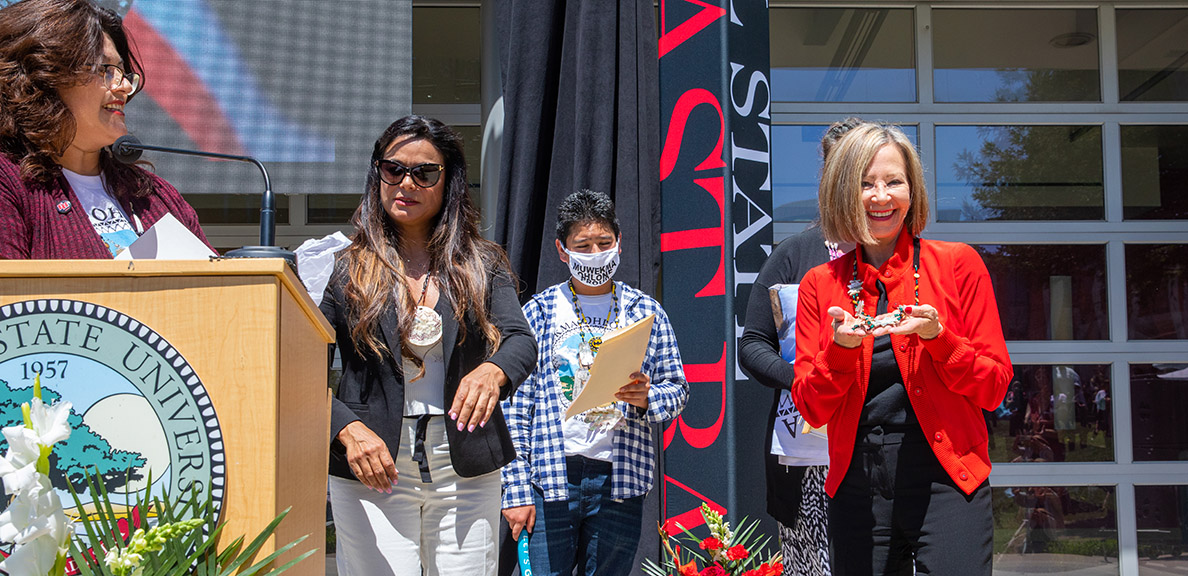 'From Inspiration to Innovation' Marks Momentous Events at Cal State East Bay
BY Cal State East Bay
May 4, 2022
Faculty, staff, students, donors and friends of Cal State East Bay gathered on the Meiklejohn Lawn on May 3 to recognize three momentous university events — the dedication of the new CORE Building, a celebration of the first year of President Cathy Sandeen's tenure and a land acknowledgement by the Muwékma Ohlone tribe.
The event, called "From Inspiration to Innovation," recognized important work and developments at the university over the last few years. 
Construction had barely begun on the CORE Building when the Hayward campus shut down in March 2020 because of the COVID-19 pandemic. The new three-story building, located in the heart of campus between the university unions and the science buildings, is now nearly complete. A library and innovation space, the building is expected to officially open its doors in fall of this year. 
Among the building's features will be a pathway named in honor of the Muwékma Ohlone tribe. President Sandeen called it a physical way for Cal State East Bay to acknowledge that its campus sits on indigenous land and will be an opportunity to educate those that visit campus about that regional history.
The event also included a formal land acknowledgement with members of the Muwékma Ohlone tribe. Chairwoman Charlene Nijmeh gave a welcome declaration followed by the land acknowledgement with several members of the tribe and a blessing. 
The land acknowledgement ceremony was important to President Sandeen, who has made great effort in her first year at Cal State East Bay to build relationships with local tribes and begin a formal effort to repatriate tribal remains and artifacts.
It's one of many initiatives that Sandeen has pushed forward since becoming the university's sixth president in January 2021. Instead of a more traditional investiture that is typical for new university presidents, Sandeen elected to mark the beginning of her tenure at Cal State East Bay with a less formal celebration.
Provost Kim Greer noted Sandeen's achievements so far — including the opening of four affinity student success centers, childcare and housing initiatives — and commended her for her innovative nature. 
The event opened and closed with student performances by "Ultrasonic Current," "The Wandering Ensemble" and the "East Bay Singers."