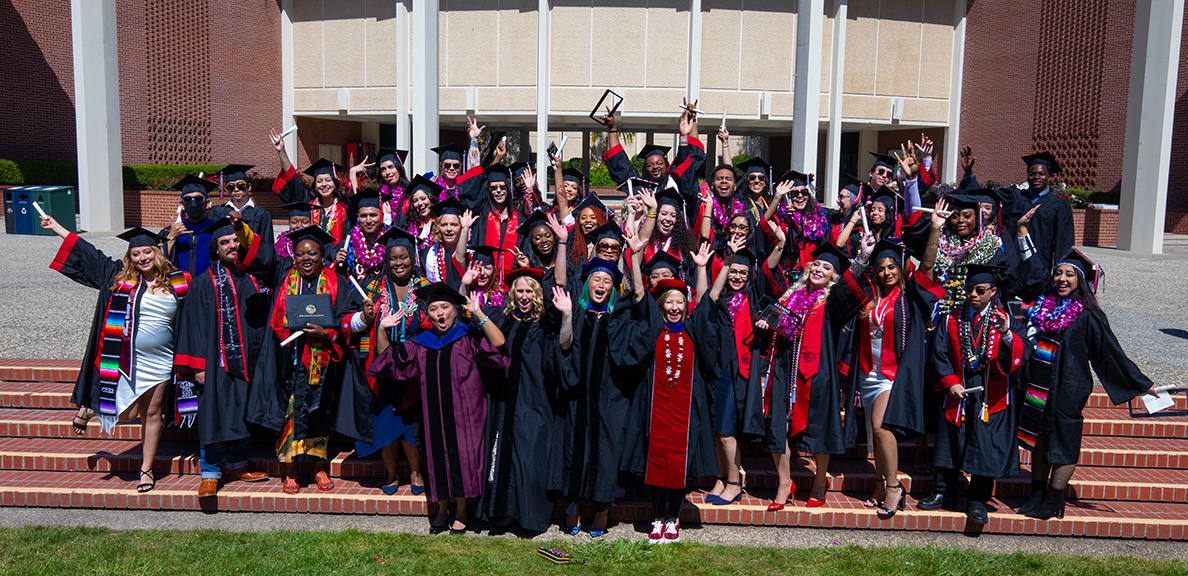 Highlights from Commencement 2022
BY Cal State East Bay
PHOTOGRAPHY BY Garvin Tso
May 17, 2022
More than 176 staff and faculty worked at 19 ceremonies for more than 840 volunteer hours.
Cal State East Bay celebrated its 62nd Commencement Ceremonies May 12-15, honoring the classes of 2020, 2021 and 2022. More than 50,000 guests joined us on the Hayward campus–one of the first in-person college graduation events in the region in two years. 
Take a look at our commencement photo gallery. 
Class of 2022
By The Numbers 
| | |
| --- | --- |
| Bachelor's | 4,328 |
| Master's | 1,153 |
| Doctorate | 31 |
| Total graduates | 5,512 |
| Youngest/oldest undergrad | 18 and 82 |
| Veterans | 110 |
Getting Social 
19,000 views of

ceremonies on YouTube

Half a million social media impressions

Most used hashtag: #CSUEBgrad

Favorite post: Graduates' fanciful caps 
Find us on Instagram | Twitter  |  Facebook
The Signature on the Diploma
President Cathy Sandeen grew up just a few miles from the Cal State East Bay campus and shares an important trait with many of our students: she is also a first-gen CSU graduate. This weekend, she…  
Follow President Sandeen on Instagram | Twitter | LinkedIn
Cal State East Bay in the News
More than 62.8 million viewers/readers in the Bay Area and beyond! Stories featured on KPIX, KTVU, NBC Bay Area, KCBA Salinas CW, Yahoo!, ABC-7, KCRA Sacramento, KION Monterey and Bay Area News Group.
Check out this great video segment from KPIX 
Honorary Doctorates 
Wayne Jordan, Dana King and Kristi Yamaguchi received honorary doctorates from the CSU. 
It Takes a Village 
More than 176 staff and faculty worked at 19 ceremonies for more than 840 hours of volunteer hours, handing out 57,000 programs and cleaning our 342-acre campus. Thank you for supporting our students!