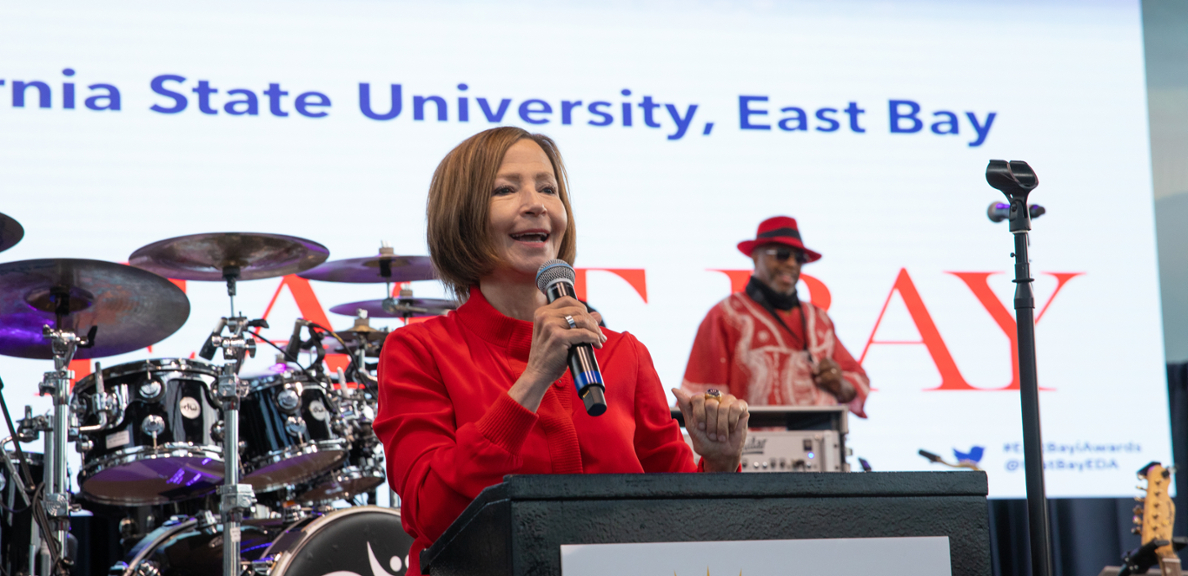 Cal State East Bay Receives 2022 East Bay Economic Development Alliance Legacy Award
BY Cal State East Bay
June 20, 2022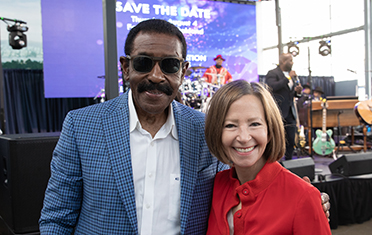 Alumnus Keith Carson, Alameda County Board of Supervisors, District 5, and President Sandeen celebrated at the East Bay Economic Development Alliance Block Party event on June 16.
Garvin Tso
Cal State East Bay has been named the honoree of the 2022 Legacy Award by the East Bay Economic Development Alliance for the lasting impact it has made on the region's economy and communities. 
The announcement was made at the East Bay EDA's Innovation Block Party on June 16. The honor is part of their annual East Bay Innovation Awards that celebrate the extraordinary companies and organizations that contribute to the East Bay's legacy of innovation and unique assets.
"As someone who grew up in the East Bay, I know innovation is part of our DNA and that access to education directly contributes to the vibrancy of the region," said Cathy Sandeen. "Wherever I go, I meet someone who tells me about their connection to Cal State East Bay as a graduate, parent of a student, or employer. The university is a deeply connected partner in innovation and entrepreneurship, and we are honored for the East Bay EDA's recognition of our history and our shared future."
Past recipients of the Legacy Award include Bayer Berkeley, Lawrence Livermore National Laboratory, the Port of Oakland and the East Bay Regional Park District.
"East Bay EDA is honored to recognize California State University East Bay as the 2022 Legacy Awardee for the 10th annual East Bay Innovation Awards," said Stephen Baiter MPA '10, executive director of the East Bay Economic Development Alliance."The university has been an anchor institution in our region for more than 50 years and is well-positioned to support the ongoing growth and strengthening of our economy by continuing to connect local talent to East Bay businesses across a variety of industries."
The university will be officially recognized for this achievement at the East Bay Innovation Awards ceremony on Aug. 4 at the Fox Theater in Oakland. The annual awards ceremony showcases outstanding organizations that embrace innovation in their manufacturing, products, services, design, and information. 
In addition to Cal State East Bay's Legacy Award, the university's Green Biome Institute is a finalist for an Innovation award in the Education category.