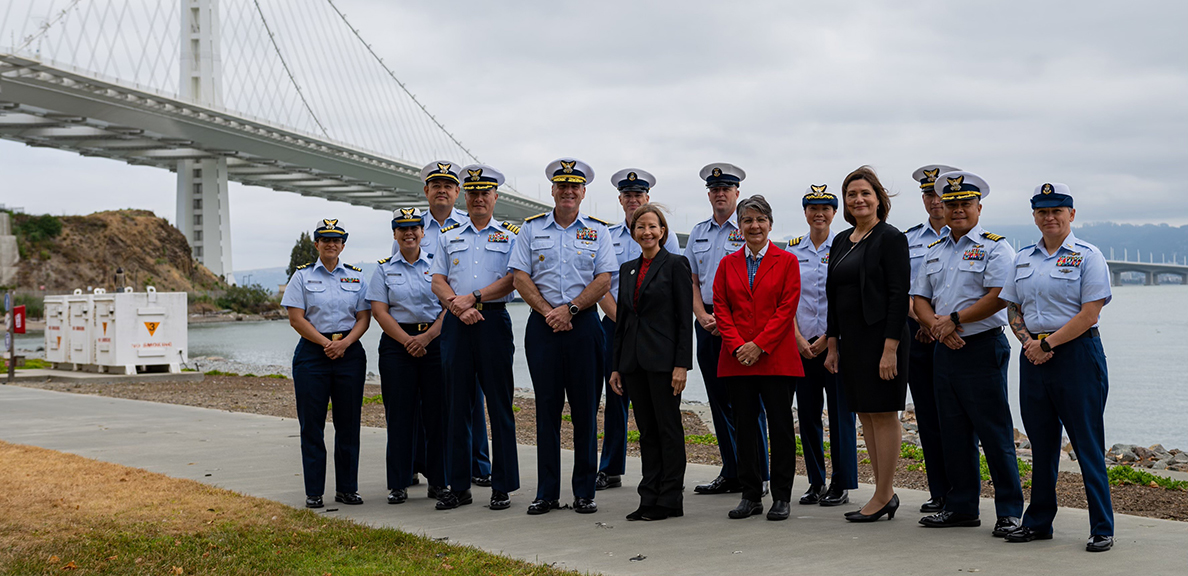 Continued Partnership with U.S. Coast Guard Gives Students Scholarships, Careers
BY Cal State East Bay
June 28, 2022
Cal State East Bay and the U.S. Coast Guard reaffirmed their partnership for the College Student Pre-Commissioning Initiative, extending the relationship another four years. The program provides students with scholarship and research opportunities, while also increasing the diversity of the agency's military officers. 
"This partnership gives our students incredible opportunities to access higher education affordably and step from college into a meaningful and rewarding career in areas as diverse and relevant as cybersecurity and marine environment protection," said President Cathy Sandeen. "The Coast Guard has a rich history in the San Francisco Bay Area, particularly the East Bay, and we are honored to be part of this continued legacy."
Cal State East Bay is one of three schools in California that have a CSPI-EXEC (CSPI Executive Champion Program) memorandum of understanding with the Coast Guard, and one of only 22 such agreements nationally. The other two California schools are Cal State Long Beach and San Diego State University. 
Students accepted into the program will receive up to two years of tuition, living expenses and a salary while attending school and are guaranteed commission with the U.S. Coast Guard following graduation.
"Maintaining diversity in proportion with American society is a vital goal for the Coast Guard, which endeavors to remain a service of choice for the best and brightest entering the workforce," said Vice Adm. Michael F. McAllister, Commander Pacific Area. "But, the challenges we face in the world of today and tomorrow demand that we continue to grow and adapt. The Coast Guard's College Student Pre-Commissioning Initiative – or CSPI – provides a rewarding pathway into Coast Guard service for talented students at Minority Serving Institutions such as Cal State East Bay." 
As part of the agreement, Cal State East Bay faculty will also have increased opportunities to work with the Coast Guard on projects of shared interest and wider scope such as marine biology and environmental science.
More than 530 students nationally have graduated from the CSPI Program since its inception. The USCG CSPI program started in 1989 to increase the participation of Historically Black Colleges and Universities (HBCUs) in federally sponsored programs. In 2009, the USCG expanded CSPI to all presidentially designated Minority Serving Institutions (MSIs) to include Tribal Colleges and Universities (TCUs), and colleges and universities located in Guam, Hawaii, Puerto Rico and the U.S. Virgin Islands.
Cal State East Bay students and prospective students should ask their U.S. Coast Guard recruiter the CSPI Program.