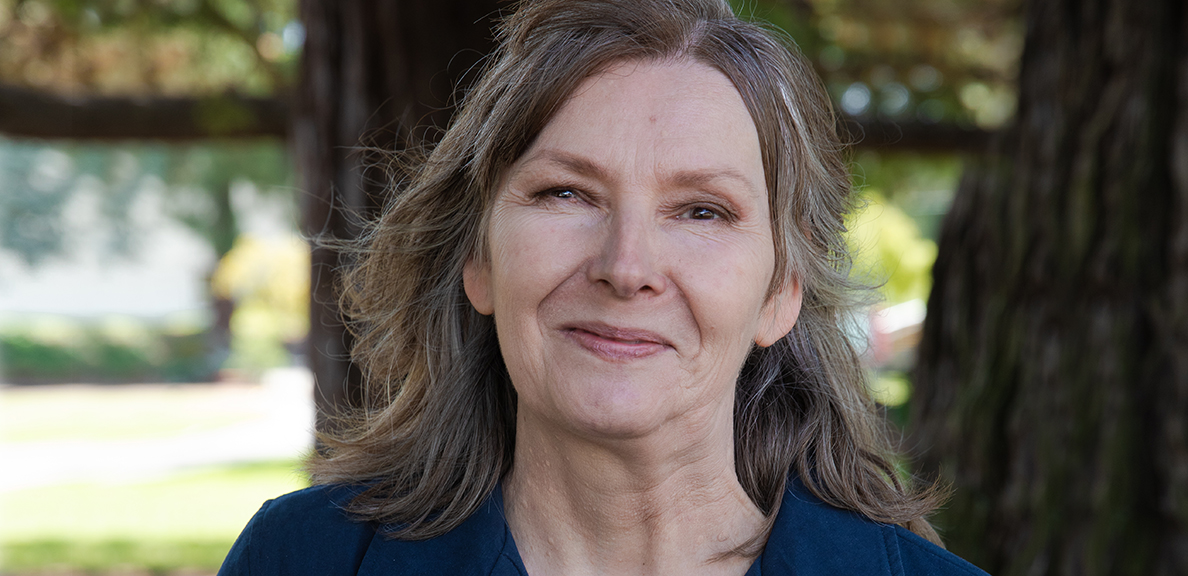 Marianna Wolff Receives 2021 Vivian Cunniffee Staff Award
BY Cal State East Bay
PHOTOGRAPHY BY Garvin Tso
June 21, 2022
Marianna Wolff, Administrative Support Coordinator in the Department of Speech, Language and Hearing Sciences, has been selected as the 2021 Vivian Cunniffe Staff Award honoree. 
The annual recognition highlights a non-management staff employee whose efforts go beyond their position and positively affect students, the university's mission and impact on the Cal State East Bay community. This is the first time in the award's 25-year history that a staff member from Speech, Language and Hearing Sciences (SLHS) has received the honor. 
"My favorite thing about my work is having the opportunity to help other people to do what they need to do well," said Wolff. "I see myself as a great facilitator. The nature of being an ASC — especially in a department that has a clinic that also serves our community — is to help people have their best experience on campus."
Wolff has been a mainstay in the department for nearly two decades, managing the daily operations, admissions and outreach events, and graduation activities. She also has a key role in planning for the Aphasia Tones Concerts, Aphasia Treatment Program fundraisers, Continuing Education courses and SLHS job fairs. She is also the first point of contact for community members attending the Rees Speech, Language and Hearing Clinic. 
"Our unique professional training program requires administrative support that goes beyond typical academic departments," wrote Shubha Kashinath and Ellen Bernstein-Ellis in their nomination recommendation. "It is fair to say the success of our department hinges immensely on Marianna's keen intelligence, strong observational and analytical skills, and problem solving abilities."
Vivian Cunniffe, for whom the staff award is named, started working for then Cal State Hayward when she was in high school. She earned her bachelor's and master's degrees at the university, met her spouse Ed Cunniffe on campus, and worked for many years in Financial Aid as a counselor. After she died unexpectedly in 1985 while vacationing in Europe, the annual staff award was created in her honor. 
Like Cunniffe, Wolff completed her education at Cal State East Bay, graduating magna cum laude with a Bachelor of Arts degree in music. She also earned a single-subject preliminary credential in music and a certificate in theater production.
Wolff has focused her work life on the university, first working in the music department as a bookkeeper before becoming the ASC for the SLHS department in 2004. Her creative life has also been nurtured at the university during her time here, through past collaborations as music director with the Theatre and Dance Department. She additionally has worked with the Music Department organizing festivals of music by women composers and opera workshop alumni activities.
In all her university-affiliated activities, Wolff believes that the attitude and approach recognized by this award are representative of Cal State East Bay's inclusive and collaborative culture.
"Though I'm being recognized with this award this year, there are so many other staff who are doing what I'm doing," she said. "Whether or not there is outward recognition, I like knowing so many of us are doing our best."