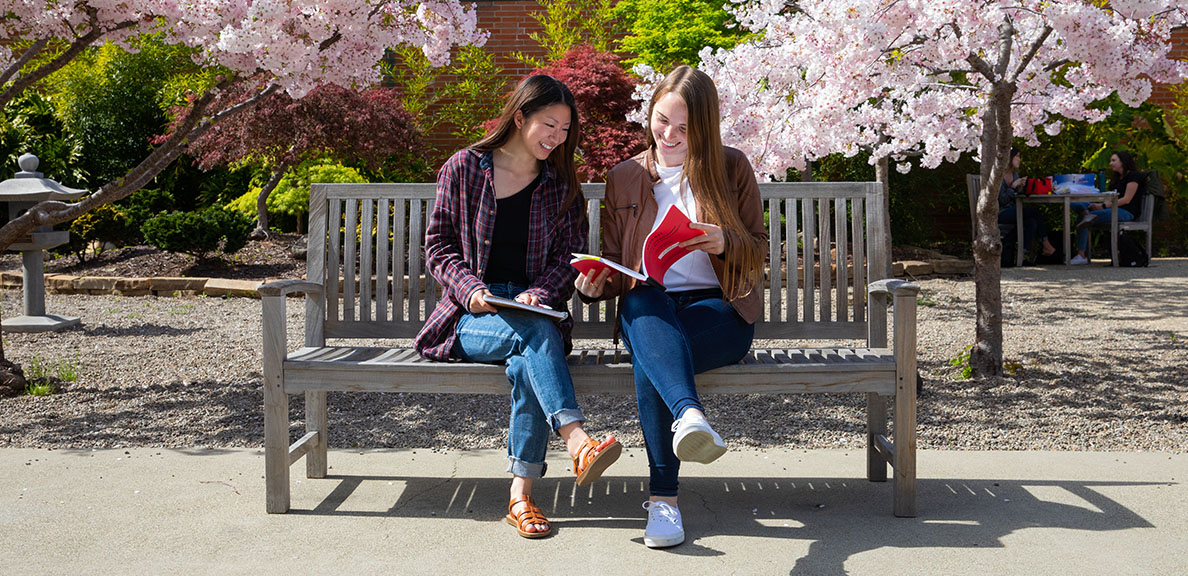 Cal State East Bay Wins CSU Photo of the Year
BY Cal State East Bay
September 22, 2022
Following a statewide competition among all 23 CSU campuses, Cal State East Bay's photo submission was selected as the CSU Photo of the Year. The winning entry shows two students enjoying an in-person visit in the Japanese Zen Garden adjacent to the Arts & Education Building. University photographer Garvin Tso took the image at the height of the cherry blossom bloom in Spring 2022.  
Campus photographers shared their favorite shot from the school year—excluding commencement—and explained why it captured the CSU spirit. Voting opened for the fan favorite in mid-August and the winner was announced at the September CSU Trustees meeting. 
Tso learned of the honor from President Cathy Sandeen, who was attending the meeting in Long Beach.
"You won photo of the year!!" Sandeen messaged upon the announcement. 
Tso, recognized by many across the campus, graduated from Cal State East Bay in 2007. He has held various staff positions in marketing and design, and became the university's official photographer in 2016. 
"Although I did not major in photography, I took photography under Scott Hopkins, Sharon Wickham and Lisa Levine," said Tso. "They were really tough on me as a student and forced me to put a hundred words to every picture I take."
His iconic photography style can be seen throughout the campuses on banners and signage, across the website and in the Oakland Airport's Terminal B. Tso views himself as a visual storyteller. 
"Listening to stories from each other makes me believe that we all have a lot in common," he said. "Telling a story and doing it using photos that stimulate the mind goes a long way in keeping me excited about photography. Of course, if I can make a picture pretty, that is a huge bonus."