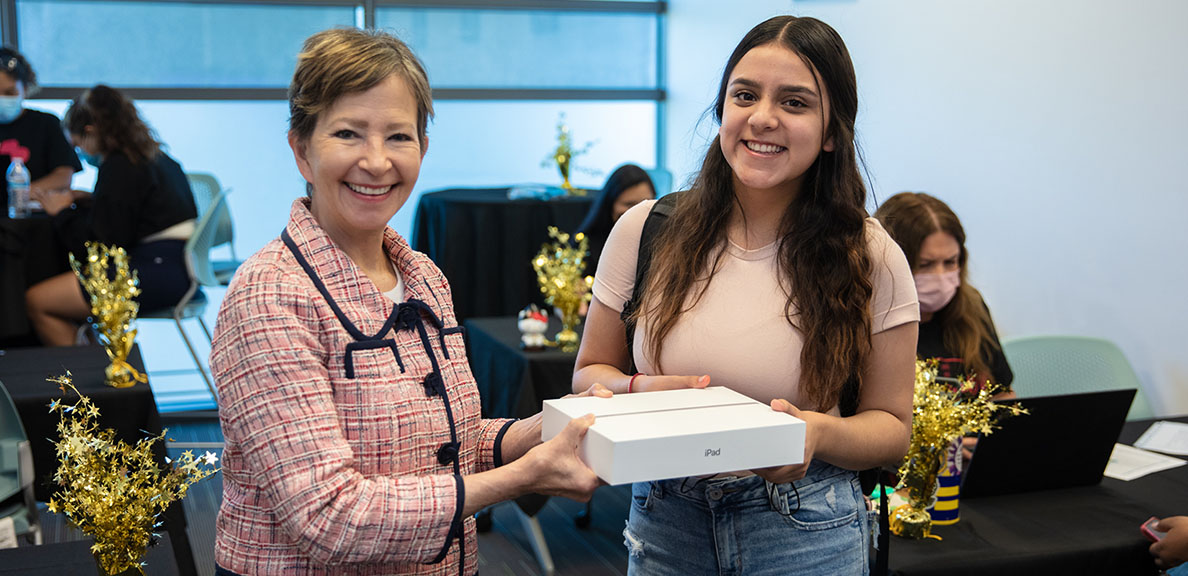 First-Year and Transfer Students Receive iPads, Laptops
BY Cal State East Bay
PHOTOGRAPHY BY Garvin Tso
September 1, 2022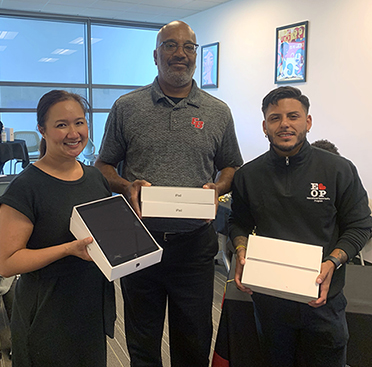 Fanny Yeung, Provost Walt Jacobs and Antonio Martinez greeted first-year and transfer students receiving iPads and device vouchers.
Garvin Tso
Starting at a new school is exciting, overwhelming — and often expensive. But Cal State East Bay is helping incoming freshmen and transfer students make their first year easier by providing an iPad with a keyboard or a $500 device voucher for selected laptops at the Pioneer Bookstore.
"We want our students to have success at the touch of their fingertips," said President Cathy Sandeen. "The challenge is that technology is expensive and that leaves some of our students having to make difficult choices about their educational resources. I am grateful Cal State East Bay students can be part of this program this fall." 
The California State University's CSUCCESS (California State University Connectivity Contributing to Equity and Student Success) program addresses the technology equity gap and enhances student achievement by providing iPads to the CSU student community. Cal State East Bay joins 14 other CSU campuses already participating in the program and has coupled the iPad rollout with the university's existing device vouchers for other technology options.
Ana Oliva, a first-year student, received her new iPad this week.
"Honestly, as a first-generation student, receiving this iPad is a blessing," she said. "It's one less thing to pay for. Instead I can use the money towards my tuition!"
"Technology is essential in any college program today," said Provost Walt Jacobs. "Whether it is access to the digital resources in our library or connecting with faculty and peers by Zoom, students must have reliable tools to be agile and successful in today's highly connected world." 
Samantha DeLima, a transfer student and psychology major, believes that the iPad will impact the way she is able to study for her classes.
"Before the semester began I told my family I wanted an iPad to use for notes and studying like my classmates had, as it looked very useful. Although, with all the other financial responsibilities at homeand school (books, parking, gas), it was difficult to budget for an iPad. Shortly after that, I received an email to pick up this device,"
Technology support is available for all incoming freshmen and transfer students who maintain full-time status (12 units or more) and are new to Cal State East Bay. Laptops and iPads will be given out on a first-come, first-served basis to up to 300 students who meet these conditions. If students have any further questions on eligibility requirements please contact a2e2@csueastbay.edu.