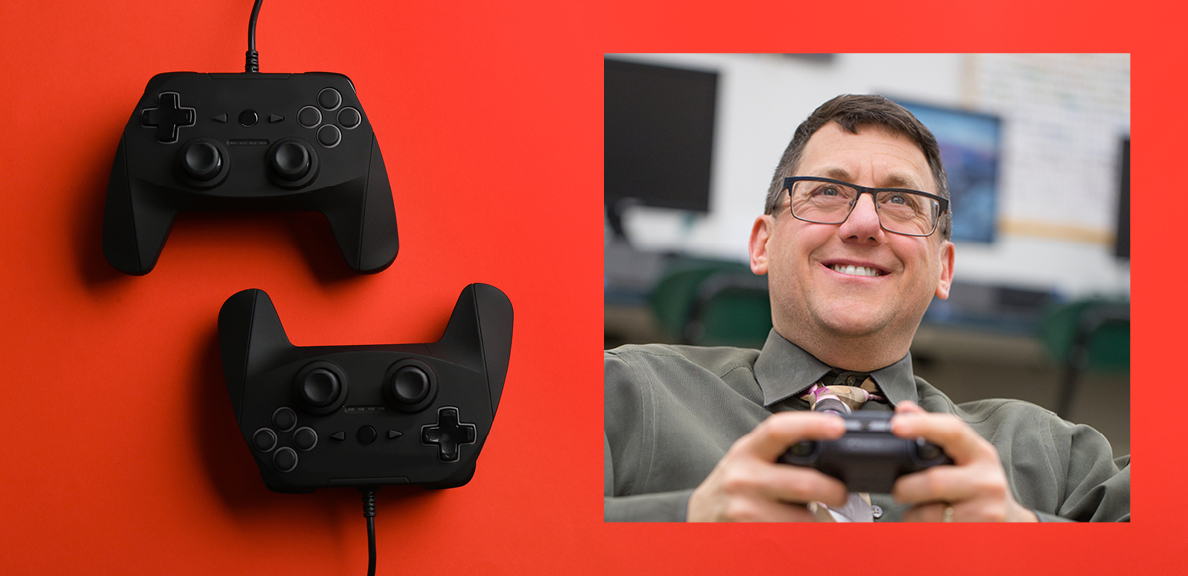 Game-Based Learning and the Future of Education
BY Erin Saint-Hilaire
PHOTOGRAPHY BY Courtesy photo
September 28, 2022
CSUEB eLearning graduate discusses the importance of interactive 3D technology in schools 
Steve Isaacs can recall his first experience with game-based learning. It took place in his high school economics class with a stock market simulation game—all paper and pencil at the time. Isaacs and his classmates were given a certain amount of imaginary money to invest and make trades on a weekly basis and follow their investment portfolio. 
"I loved learning about the stock market that way," said Isaacs (M.S.'07, Education, Online Teaching and Learning). "I learned more in that experience than I would've from a textbook without a doubt."
Looking back, Isaacs believes this introduction to game-based learning at a young age had a profound impact on the work he does today. Currently, Isaacs is the Education Program Manager at Epic Games where he provides resources for educators and students to learn and engage with industry standard interactive 3D tools including Fortnite Creative, Unreal Engine and Twinmotion. With these real-time 3D creation tools, the company is able to provide training and lesson plans for content areas including language arts, science, career and technical education, broadcasting, and video game design. 
Of course, game-based learning has come a long way since the days of pen and paper games and The Oregon Trail computer program, says Isaacs.
"When I think of game-based learning, I think of a big shift that has happened there," explains Isaacs. "Back in the day, game-based learning essentially meant that we were learning the content through playing the game, which is great. Then, when things like Minecraft, Fortnite Creative and Roblox came out, we started finding that we could use game technology as a creation tool and have kids create content there. So then [for example] instead of creating a PowerPoint presentation, [students] are creating an immersive experience."
Isaacs describes an example of a lesson plan using Unreal Engine development tools in which students can create a virtual history museum displaying various artifacts, videos, and research content through a virtual walk-through experience for their peers.   
Prior to his role at Epic Games, Isaacs was a classroom teacher for 28 years in his home state New Jersey. Throughout his teaching career, he learned firsthand the importance of using educational technology in the classroom and teaching in an online environment. This eventually led him to enroll in Cal State East Bay's M.S. in Education, Option in Online Teaching and Learning (now elevated to the M.S. in eLearning) program. 
"[CSUEB's program] was one of the things that shifted my views on how we can deliver education," said Isaacs. 
Now, he is passionate about providing opportunities for high school students to learn the skills that can potentially get them jobs using educational and game technology right out of high school and sharing this message with people from around the world.
In November, Isaacs will travel to Singapore to be a keynote speaker at EDUtech_Asia—Asia's largest conference and exhibition for educators and EdTech providers. His presentation "From player to creator: how gaming is shaping the Metaverse" will focus on how the metaverse, or virtual-reality space, is essentially being built on game technology and the importance of the role students will take in the evolution of the metaverse. 
"We have such an amazing opportunity to have our kids be the ones to learn [game technology] skills," said Isaacs. "I think so many things will be related to the metaverse that these are the jobs that are in high demand and the skills that are being highly sought after. There's so much benefit for having our students be immersed in these experiences and further develop and learn the technology so they can be in from the beginning." 
And Isaacs has good reason to think this way. The game-based learning market is expected to surpass $50 billion by 2028, as reported in a research study by Global Market Insights Inc., and the metaverse market is expected to surpass $500 billion in that same timeframe. 
Epic Games provides educators and students with the tools to create 3D graphics, which can be used in a variety of industries including game development, architecture, film and TV, fashion, and automotive and transportation. 
"My biggest hope is that kids continue to learn and be creative using these [3D creation] tools," said Isaacs. "This technology has so much importance in the future of our online worlds. It's going to transform everything, so why not have our kids be the ones learning and able to contribute to that in one way or another. Let's get them the skills that they need for the future."