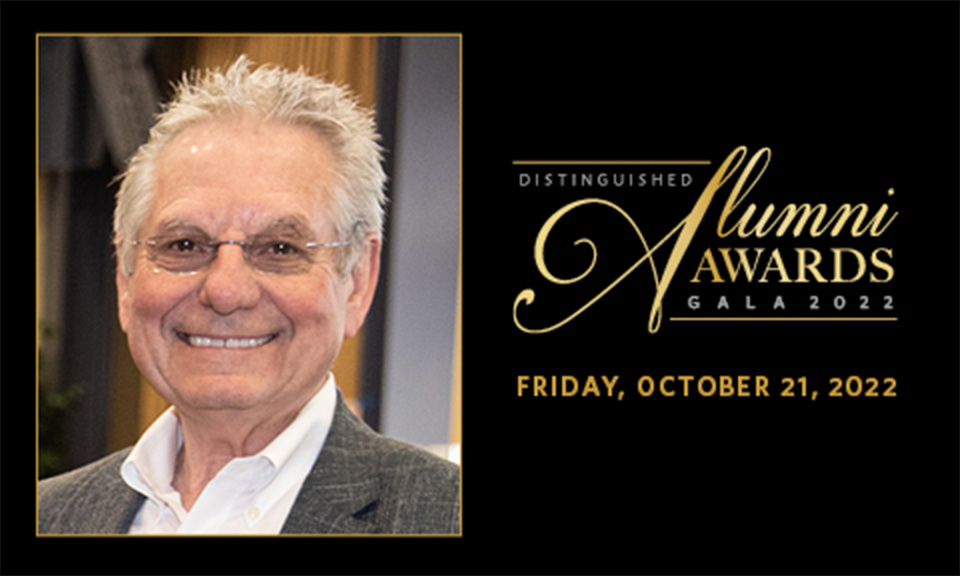 Distinguished Alumni Awards Honoree Marv Remmich
BY Kimberly Hawkins
October 5, 2022
Marv Remmich loves people, community and business and according to those who know him best, he embodies Mark Twain's quote, "You'll never spend a day in your life working if you love what you do." 
"Marv couples great business sense with a concern for integrity above all else – and has established an impeccable reputation because of it"  said Rob Robinson, Remmich's attorney and long-time friend. "People are clamoring to work with him."
Marv's reach extends throughout the Bay Area, where he has built, bought and managed a variety of commercial, industrial and residential income properties. For more than 25 years, as the owner of RAM properties, Remmich has helped hundreds of people successfully sell and buy homes. He is also dedicated to the community, having served on multiple associations, committees and boards.
Friends and colleagues agree that Remmich is one of the hardest working people they know, 
"He leads by example and demonstrates how you can be successful and yet modest," said longtime friend and golf buddy, Clarence Mou. "He donates generously and serves his community every opportunity he can."
Remmich has a long history with Cal State East Bay both as a student, having graduated in 1969 with a bachelor of science in business administration and as a member of the Cal State East Bay Educational Foundation Board of Trustees, which he has served on since 2005. He was Board Chair from 2017-2019.
"He leads by example." said Gary Sloan, Remmich's long time friend and colleague. "Marv is one of those people who pays it forward every day."
In 2019, Remmich and his wife, Susan committed $5 million toward creating the university's Applied Sciences Center. The gift is the largest ever given by an individual and ties as the second-largest private contribution ever received by the university. In 2011, he endowed a faculty award for the College of Business and Economics which recognizes faculty excellence in research teaching and service.
Management Professor Kaumudi Misra received the award for teaching in 2019. 
"With this award, he is encouraging us and supporting the learning environment that Cal State stands for," said Misra. "He is so humble, not seeking attention, but only seeking to reinforce what he believes in. This is his legacy."
Friends and colleagues who know Remmich say his loyalty to Cal State East Bay runs deep. He considers the university a vital part of where he has been and what he is doing now. 
"I can't think of someone more worthy of recognition for who he is, what he does and the community impact he has," said Ponder. " We've done a lot of things together and I've always been impressed with how he treats people. He is kind, generous and hard-working, and I am sure some of that comes from his time at Cal State."
Marv Remmich will be honored as a Cal State East Bay Distinguished Alumni honoree at an awards ceremony on Oct. 21 at 5:30 p.m. in the University Union on the Hayward campus. 
The Distinguished Alumni Award recognizes the accomplishments of individuals who have graduated from California State University, East Bay and made remarkable contributions in the areas of community or public service, or professional or personal excellence; demonstrate a commitment to the values of the university; contribute to scholarship, lifelong learning, and civic engagement; assume positions of ethical leadership within the regional and/or professional communities; and provide exemplary service to, or in support of, the university.