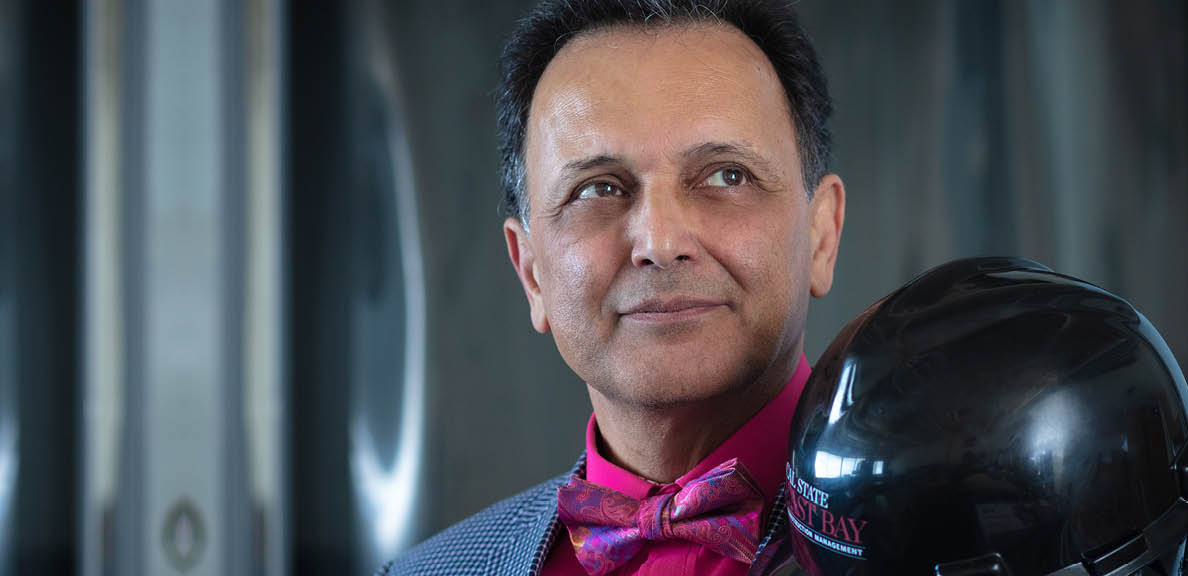 Dedicated to Students: Professor of Construction Management Receives Prestigious Award
BY Kimberly Hawkins
PHOTOGRAPHY BY Garvin Tso
March 10, 2023
Cal State East Bay's director of the Construction Management Program, Farzad Shahbodaghlou was in high school when he discovered his love of teaching. He started tutoring family members and then working as a teaching assistant to pay for his education, including his master's degree and Ph.D. 
Now, decades later, it's still his students that inspire him. "All these young minds in search of a bright future," said Shahbodaghlou. "I want to help them find it. I want them to be inspired by their possibilities. I want them to feel that they are the first ones in their families who are going to make the next big leap." 
Shahbodaghlou was just awarded the Albert Nelson Marquis Lifetime Achievement Award for career longevity and demonstrated unwavering excellence in their chosen fields. This honor from the Marquis Who's Who Publications Board is awarded on the basis of career longevity, philanthropic endeavors and lasting contributions to society.
Shahbodaghlou was previously listed in the "Who's Who in Science and Engineering" for the millennial edition in 2001 and in "Who's Who Among America's Teachers" in 1996.
"When I started with the Construction Management program in 2009, I used to promise my students that if they applied themselves, in the end they would get a degree with a job," said Shahbodaghlou. "Luckily, I have been able to keep that promise for 14 years. If our students don't have a job when they receive their diplomas, then I have failed them."
Shahbodaghlou has used his contacts in construction to bring companies to campus so students can find internships and get a foothold in the industry. In 2011, it started with a single company and last fall, Shahbodaghlou had 55 companies at the CMGT Exclusive Career Fair. 
Last year, Shahbodaghlou was also awarded the "2022 Construction Management Association of America's (CMAA) Mark Hasso Educator of the Year" honor and received the CMAA NorCal's President's Award. In 2021, his efforts were recognized by the Construction Employers' Association (CEA), with the "Donald L. Warmby Leadership Award." CEA has given the construction management program more than $220 thousand in grants since 2014. 
For Shahbodaghlou, teaching is more than lectures, tests and what happens inside a classroom — it is about connecting with his students and paving the path for them to have successful careers in construction. It is about showing them the possibilities and a way, he says, many can't envision for themselves until they get there.