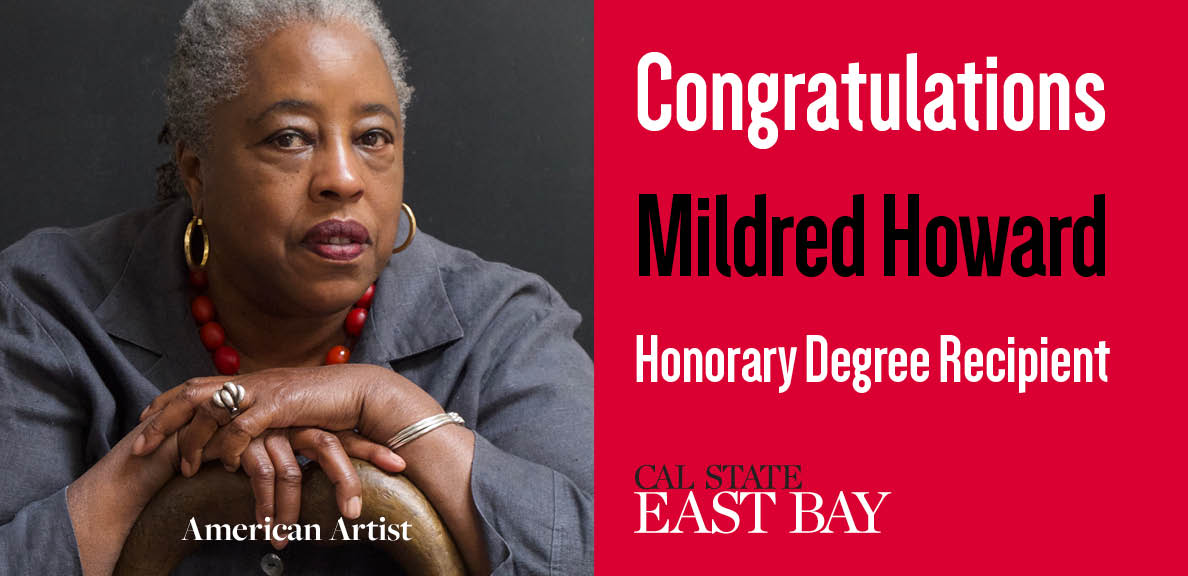 Cal State East Bay to Confer Honorary Degree to Bay Area Artist Mildred Howard
BY Sarah Harris
PHOTOGRAPHY BY Raymond Holbert
May 4, 2023
The California State University recognizes that there are many accomplished individuals who have made great contributions to areas that benefit CSU campuses and beyond. At commencement each spring, honorary degrees are conferred to such distinguished individuals. 
Mildred Howard has been nominated as Cal State East Bay's 2023 Honorary Degree Recipient. CSUEB Associate Professor of Art Ian Pollock nominated Howard and described her as, "a deeply caring, insightful, powerful artist and educator." Pollock was a graduate student of Howard's at UC Berkeley and still shares her advice, "to pay attention to what feeds us emotionally, intellectually, and spiritually," with his graduate students today. 
Howard, a lifelong East Bay resident, is an artist with sculptural installation and mixed-media assemblages on national and international display. Her art can be seen in the permanent collections of museums like the San Francisco Museum of Modern Art and the Oakland Museum of California. Howard has received numerous awards over the years, including from the Joan Mitchell Foundation, the National Endowment for the Arts, and the Flintridge Foundation Award for Visual Art.
"Ms. Howard's work centers the intersection of history, politics and gender, using everyday material in her sculptures to tell stories about home and belonging," said Cal State East Bay President Cathy Sandeen. 
Peter Selz, art historian and museum director, once said of Mildred Howard's work: "In freestanding sculptures, wall-mounted musings, graphic explorations, and representations of shelter, she has developed a language to address racism, injustice, need, and compassion. What sets her work apart from much politically engaged art is its grace and elegance."
Pollock learned to go beyond just looking at objects and actions from Howard. "Her work helps us discover the world in new ways and encourages us to be seekers for the meaning of things and not just accept the way things are," said Pollock. 
In addition to her significant contributions to the world of art, Howard has taught at several universities, developed a curriculum for elementary and middle school teachers to integrate art and science for the art and communities program at the Exploratorium in San Francisco and much more. "Ms. Howard has been an exceptional artist, educator and community leader whose distinguished contributions have enriched California State University, East Bay, the broader East Bay region, California, and our country. Ms. Howard is a model of citizenship, professional achievement and personal excellence," said Sandeen.
Howard will be presented with an honorary Doctor of Humane Letters during the May 14 commencement ceremony for the College of Letters, Arts and Social Sciences.