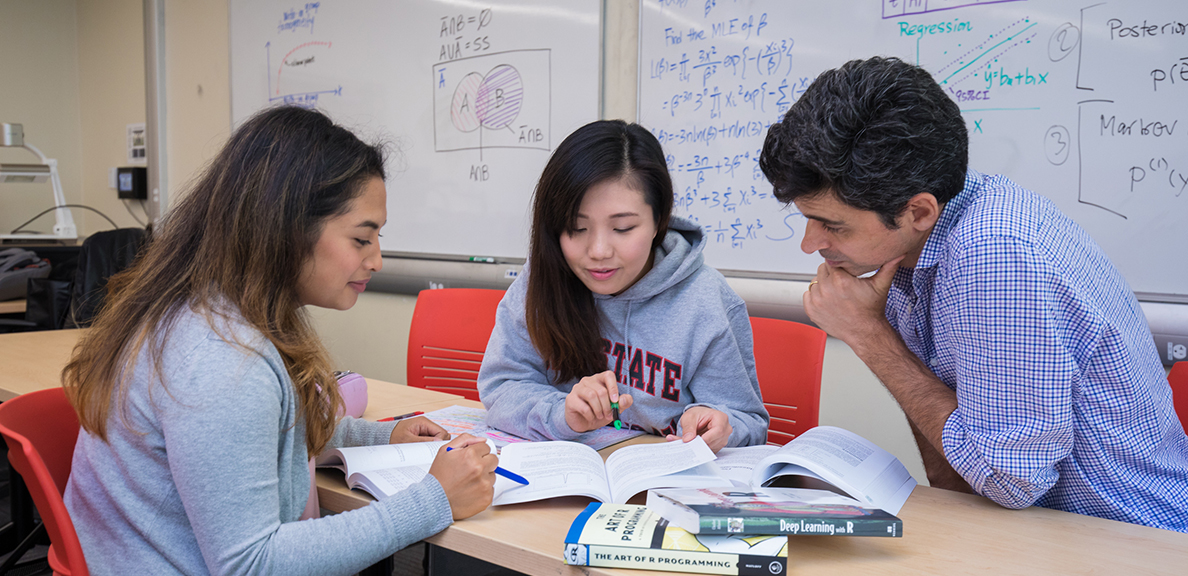 Answering the Demand for Data Scientists: Cal State East Bay Awarded $1 Million Grant to Redesign Degree Program
BY Kimberly Hawkins
PHOTOGRAPHY BY Garvin Tso
June 26, 2023
Cal State East Bay has been awarded $1.13 million to draw historically underrepresented students into data science. Cal State East Bay's INCLUDE project, led by Ayona Chatterjee, chair and associate professor of statistics and biostatistics, will design a new bachelor of science program that rethinks curriculum to include more students in the field of data science. The project will leverage relationships with Chabot College, Laney College and Skyline College to create pathways to Cal State East Bay's program — aimed at reducing barriers and deficit mindset among students to be successful data scientists.  
Chatterjee says traditional curriculum requires multiple semesters of calculus to start data science courses. "At East Bay, we envision our data science program to rethink historical prerequisites and create opportunities for individuals who do not see themselves as data scientists," said Chatterjee. 
The grant is part of the Learning Lab's Grand Challenge: Building Critical Mass for Data Science. The California Education Learning Lab is awarding more than $8 million across 13 grants that aim to embrace data science as an opportunity to build new pathways, modernize majors, attract historically underrepresented students into STEM and deepen both civic and interdisciplinary learning.
"The grant will help upgrade the existing undergraduate data science concentration at East Bay to a full degree program and provide the resources needed to implement a 'community-craft' approach to the program," said Chatterjee. "The pillars of the program lie in 3 key aspects — outreach, novel curriculum and industry skills to ensure the students in the program are able to get real-life experience."
Cal State East Bay is already working with its community college partners to create transfer pathways and hopes to launch the new degree program in Fall 2025.