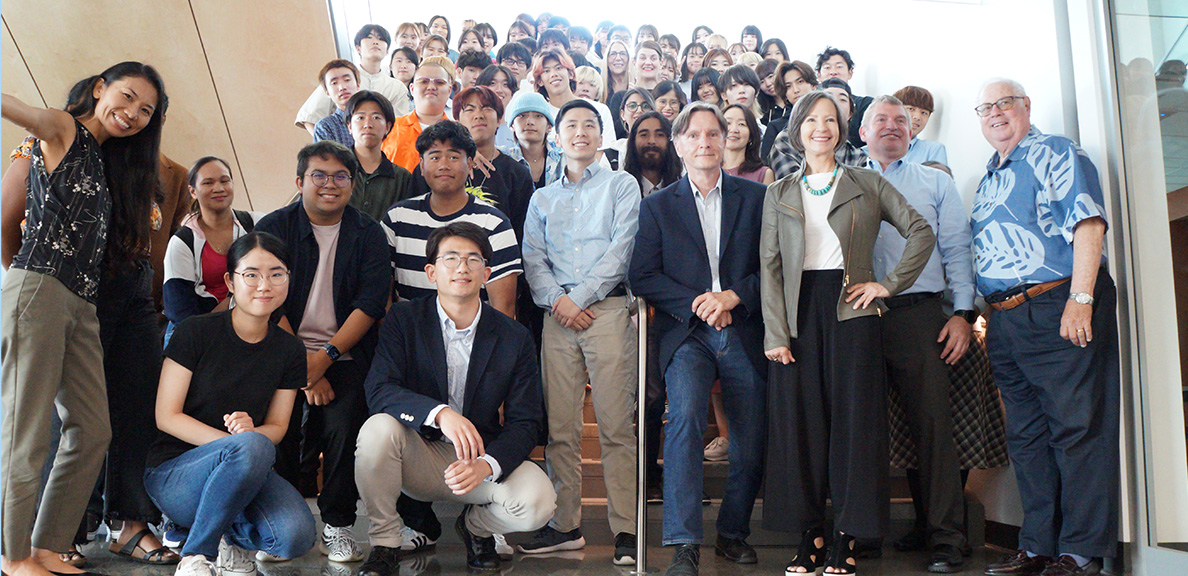 CSUEB's Global Academy Invites Japanese University for Immersive Three-Week Study Abroad Program
BY Elias Barboza, Marketing Communications Specialist | University Extension
PHOTOGRAPHY BY Elias Barboza
September 8, 2023
As a commitment to provide high-impact opportunities for student exchange, strengthen cross-cultural skills and broaden global understanding, Cal State East Bay's Global Academy recently hosted 48 students from Japan's prestigious Chuo University. They attended classes on CSUEB's Hayward campus, and had the opportunity to visit several Silicon Valley companies and popular Bay Area landmarks for a total of three weeks, ending on a high note during a farewell event on August 30th. 
"After many years of preparations, it is so great to finally welcome Chuo University students to our campus for an in-person experience," said CSUEB's Executive Director of International Programs Thomas Tyner.
Established in 2021, CSUEB's partnership with Chuo University was previously carried out online. This year marks the first time students visited CSUEB in person. Participants were instructed Monday through Friday in the Valley Business and Technology Center, on topics including Silicon Valley business culture, English reading and speaking skills and social hours, where students had a chance to interact with each other. Classes also welcomed guest speakers from several Bay Area companies.
In addition to attending classes at CSUEB, students traveled to Google headquarters, Apple's visitor center and Hotel Nikko in San Francisco. They were able to personally meet employees to learn about the Bay Area's business and technology environment. Students were also given a tour of San Francisco, including the Golden Gate Bridge and Fisherman's Wharf. 
On the program's last day, students presented in front of a full lecture room. They each reflected on their experiences in the Bay Area and CSUEB, sharing their most memorable pictures and stories. While some Chuo students expressed their excitement towards their courses and company visits, many of them commented that the best part of their trip was meeting CSUEB students and spending time with their local host families. 
"California's embrace has forever touched my life, and this truly was a once-in-a-lifetime experience," said Chuo University student Eri Maedokoro. "Everyone I met during my time here in the Bay Area was enlightening and inspiring." 
CSUEB's Global Academy's mission is to provide comprehensive and rigorous intensive English instruction to English language learners, and to prepare international students for academic and professional endeavors within the United States and throughout the world. They expect to host Chuo University once again in the near future. 
"Having Chuo students here on our campus is an important part of our university's mission to celebrate diverse life experiences, and our commitment to belonging and respect for all peoples and cultures," said Tyner. 
Visit CSUEB's Global Academy website for more information.