Community
Building relationships with our communities and historically underserved student populations
Cal State East Bay is committed to serving our regional communities with initiatives designed to prepare students to go to college and to guide them to succeed academically and personally in pursuit of a college degree. We educate parents, families and communities to help prepare students to enter college and make the most of the services that our university has to offer. Some of these programs include the annual Cal State East Bay Education Summit, Pioneer Promise, the CSU Super Sunday, and Train the Trainer Community Courses and Certificates.
We encourage parents, staff and other members of the community to get involved with our Pioneer programs by taking a training course, attending events, volunteering and giving back to the community.
Train the Trainer - College Readiness Advising Community Courses and Certificate
The courses offered by this program help train members of the community to teach students how to prepare for college at the California State University (CSU) system. Some of the courses offer continuing education credit.
A special thank you to our presenters and congratulations to our attendees! Please let us know if we can help answer any questions you may have.

Pictured above are the participants from the Train the Trainers College Readiness Basics Course; launched in Fall 2016 at Palma Ceia Baptist Church in Hayward, CA. From left: Eric L. Moore - Educate California (Presenter), Denise McNair, Abdul Middya, Diana Levy, Stan Hébert (AVP Student Affairs), Annette Walker (Parents and Community Relations), Reverend James Valdespino, Pastor Tommy Smith Jr., Rebecca Olivera, Pamela Ratliff, Michele Mosely, Jake Shiffer, Maria Funes, Rosemary Vazquez, Ashley Upshaw, Brooklyn Petty.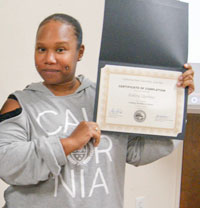 Pictured at right: Ashley Upshaw proudly displays her certificate of completion.