Department Spotlight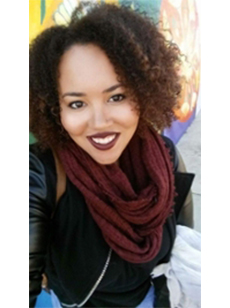 Briyana Haas, Political Science Major is CSUEB 2017 Panetta Representative
Political Science junior, Briyana Haas, has been accepted into the 2017 Panetta Institute Congressional Internship Program. She will join representatives from all the other CSU campuses for two weeks of training on the Monterey Bay campus in August, followed by 11 weeks in Washington, D.C. The representatives will work full time in the office of a congressional representative.
Briyana applied for the Panetta Internship and was successful in the campus interview process and later was selected for the campus nomination by CSUEB President Morishita. After meeting with Mrs. Panetta and other institute representatives, Haas was accepted as the CSUEB representative. The junior is among 26 students from California taking part in the program. The Panetta Institute awards scholarships to students from the 23 California State University campuses, along with one person from Dominican University, Santa Clara University, and Saint Mary's College.
Briyana commented, "I'm fascinated by how our government operates and gets things done. One of the best ways to see this process in action is by interning at a Congressional office and work in the Capitol building in Washington D.C.  I am really looking forward to this once-in-a-lifetime experience and am proud to represent CSU East Bay."  
Briyana is a transfer student from College of the Sequoias, Visalia, California and is completing her junior year at CSU East Bay.
The Panetta Institute Internship program is in its 19th year and is open to all academic majors. It is recognized as one of the best internship programs nationally because of the rigorous preparation and training it provides the students, the intensive hands on experience in our nation's capital, and because the Panetta Institute scholarship covers all student costs.