CSUEB computer science student teaches kids to grow their passion for STEM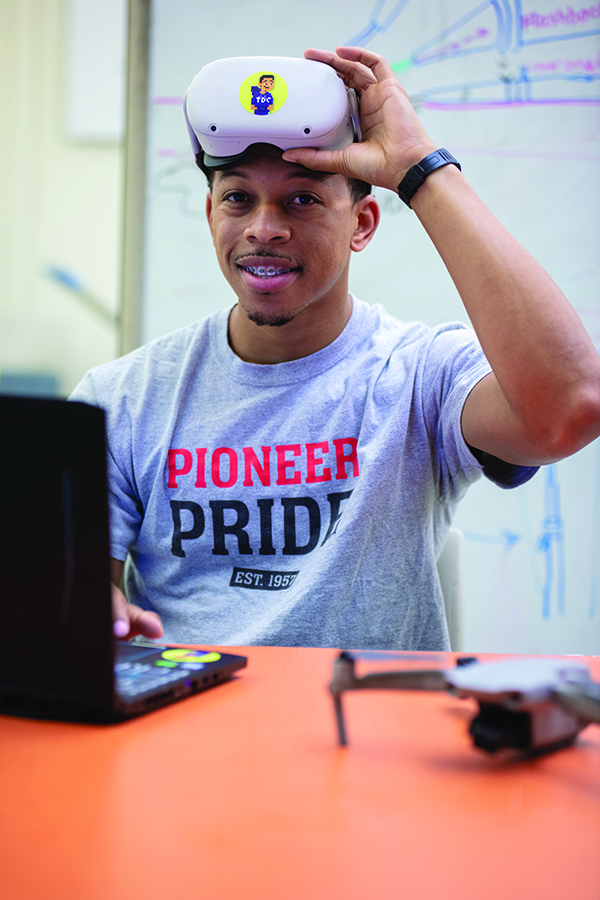 Devin Baldwin is a serious Star Wars nerd.
But it's that passion, with a healthy dose of "LEGO mania," that has led him to pursue a degree in computer science and work to ensure that middle and high school students in the East Bay have every opportunity to do the same. 
"I'm from LA but live in East Oakland and I play basketball at the parks and have met a lot of the kids of East Oakland," Baldwin says. "They need guidance, they need something to do. There's nothing else keeping them from doing the things that other people don't want them to do." 
So, he teaches them. 
In addition to being a full-time student and intern at Lawrence Berkeley National Laboratory, Baldwin is also a lead instructor at STEMTank, an organization working to prepare the next generation of technologists, innovators and entrepreneurs. His classes are focused on WebXR, which stands for "Extended Reality." Think augmented and virtual worlds that only require a web browser and can be used for everything from gaming to creating simulation modules for training employees or testing operating systems. 
"I was contracted by STEMTank to build a WebXR curriculum and teach the students the material and it was my first experience as a lead instructor," Baldwin says. "But I grew up raising a lot of my younger siblings, so I know how to appeal to kids. I wasn't scared." 
As an older student at Cal State East Bay — he's 27 — Baldwin also often finds himself in a mentorship role among peers. He took somewhat of a nontraditional route to higher education. He transferred to East Bay with his associate's degree in computer programming from Laney College and has held jobs at several Bay Area tech companies. But now, he says, he has a perspective that helps him in and outside the classroom. 
"First, I like that East Bay actually takes the time to curate the courses that will reflect what you'll actually be doing in the field," Baldwin says. "But another thing I've noticed as an older student is that there's a benefit to me sharing my experience. They think there is this expectation of perfection and I just let them know to focus on what you can do and be yourself." 
As for what's next, Baldwin has his eyes set on continuing to help students within his community find a role for themselves in tech and see a future they may not have even imagined for themselves. 
"I'm welcoming them into a space where they have the opportunity to really change and augment their current reality," Baldwin says. "I tell them, 'Your current reality may not be the most ideal for you and I know that's a lot to deal with. But when you come here, you have the opportunity, the space and permission to be yourself and to create the reality you see for yourself.'"